An Illinois boy who disappeared in 2011 at the age of 6 may have been found near Cincinnati, Ohio, said officials on April 3.
Timmothy Pitzen said that he had escaped from two male kidnappers who were holding him for the past seven years, NBC Chicago reported.
He also told police that he ran across a bridge from Ohio into Kentucky to get away from the men, before making his way back into Ohio to the Newport area, WCPO reported.
Police are working to confirm the identity of the boy, who is now a teenager, reported The Cincinnati Enquirer.
According to police radio, an officer received a report there was "a 14-year-old juvenile, male, white, says he was kidnapped from somewhere."
Police in Sharonville, Ohio, located near Cincinnati, said the boy identified himself as Timmothy Pitzen, who would now be 14 years old.
Tommothy Pitzen has been missing since 2011. Police say a boy claiming to be the boy told them he escaped tattooed kidnappers with "body-builder type" physiques after being held captive for seven years.

Posted by NBC Chicago on Wednesday, April 3, 2019
According to WIFR, citing a police report, the two kidnappers have been described as two white males with body-builder type builds.
One of the suspects has black, curly hair, a Mountain Dew shirt and hews, and a spider-web tattoo on his neck. The other suspect is short and had a snake tattoo on his arms, the report said.
"We were nervous," witness Crekasafra Night told WCPO. "We didn't know if somebody had jumped him or they were going to come back, because all he did was pace. He leaned up against the car. He didn't go anywhere until the police came."
Pitzen told officials that he was being held in a Red Roof Inn in the area, but he didn't know which one, WCPO reported.
Police agencies said they were told to check the Red Roof Inns in the area.
"It's hard to remember people, to be honest, because of so many people coming in and out," Kennedy Slusher of the Red Roof Inn Beechmont told the station. "But to hear something like that, it's kind of mind-blowing. It's scary."
The FBI said it will carry out a DNA test to identify whether the teen is really Pitzen.
According to the report, Pitzen was last seen with his mother when they checked out of the Wisconsin Dells resort on May 11, 2011. She first picked him up from kindergarten and drove him to the zoo and water parks. The boy's father reported him missing the next day.
His mother was found dead in Rockford, Illinois, according to reports. Her cause of death was ruled a suicide.
The mother left a note saying the boy was fine and in the care of unnamed people. "You'll never find him," it read, CNN reported.
Missing Children in the United States
There were 464,324 missing children reported in the FBI's National Crime Information Center (NCIC) in 2017, according to the National Center for Missing and Exploited Children.
Under federal law, when a child is reported missing to law enforcement authorities, they must be entered into the database. In 2016, there were 465,676 entries.
"This number represents reports of missing children. That means if a child runs away multiple times in a year, each instance would be entered into NCIC separately and counted in the yearly total. Likewise, if an entry is withdrawn and amended or updated that would also be reflected in the total," the center said.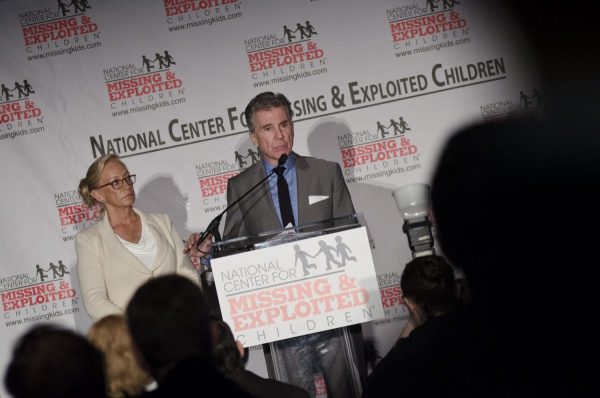 In 2017, the center said it had assisted officers and families with more than 27,000 missing children. In those cases, 91 percent were endangered runaways and 5 percent family abductions.
Nancy McBride, the executive director of Florida Outreach at the National Center for Missing and Exploited Children, said most of the runaways involve technology.
"[Technology] has great benefits and some potential risks," McBride told USA Today in 2017. "It's important to stay plugged into their lives." Tech is utilized by online predators, McBride said, who exploit gaps when the child's relationship with their parents is not the best.
About one in seven children reported missing to the center in 2017 were likely to be victims of child sex trafficking, the center said.