Two illegal immigrants raped an 11-year-old girl who is the younger sister of their friend, authorities said.
Police in Montgomery County, Maryland—a sanctuary county for illegal immigrants—arrested Mauricio Barrera-Navidad, 29, of Damascus, and Carlos Palacios-Amaya, 28, of Gaithersburg, this week.
Both were charged with second-degree rape.
The girl who said they raped her, now 12, said that she was introduced to Palacios-Amaya by her older brother.
At one point, the man "used his cell phone to video record the two of them having sex," police noted in court documents obtained by WJLA.
On a number of weekdays, the accused got the girl to stay home from school and raped her at her house as her parents were at work, the girl told a social worker.
Investigators obtained Palacios-Amaya's phone and found a slew of photographs showing him and the victim together.
Barrera-Navidad, the other man charged, met the girl at her older brother's birthday party in July 2018 and allegedly raped her that night.
An El Salvadorean native, Barrera-Navidad has four children. While a judge granted him $100,000 bond, he has not posted it and remains in jail.
Palacios-Amaya also hails from El Salvador. He was charged with four counts of rape and denied bond.
Immigration and Customs Enforcement said in a statement obtained by Fox 5 that both accused rapists are in the country illegally.
Palacios-Amaya was deported from the United States in 2014 but reentered the country at some point.
Barrera-Navidad was ordered deported in December 2016 but was never deported.
The agency lodged detainers with the Montgomery County Detention Center on both men.
"Detainers serve as a legally-authorized request, upon which a law enforcement agency may rely, to continue to maintain custody of an alien for up to 48 hours so that ICE may assume custody for removal purposes. Pursuant to ICE policy, all ICE detainers are submitted with an accompanying administrative arrest warrant or warrant of removal depending upon the circumstances of the individual case," the agency stated.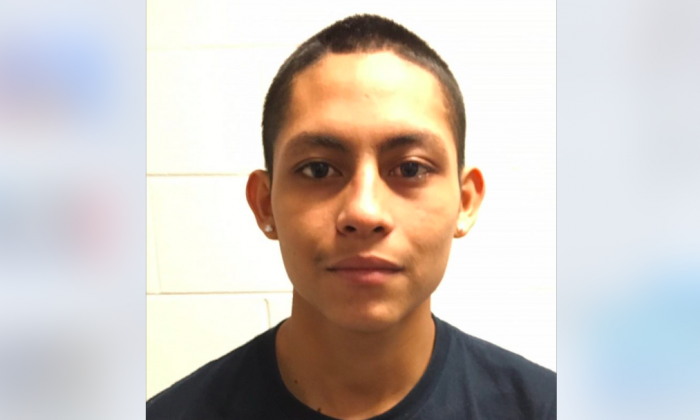 Sanctuary Policies
Montgomery County introduced sanctuary policies in 2014, 2016 (pdf), and 2017 (pdf). The county is a hotbed for the MS-13 gang.
Sheriff Chuck Jenkins told The Epoch Times earlier this year that statistics show "MS-13 gang crime is up [almost] 70 percent in Montgomery County."
Many MS-13 gang members have entered the country by crossing the southwest border illegally and being granted unaccompanied minor protections. Gang members also target other unaccompanied minors for recruitment, often in local schools.
Montgomery County Executive Marc Elrich said in an executive order (pdf) in July that county agencies are not allowed to ask people about their immigration status or, in some cases, help Immigration and Customs Enforcement (ICE).
"It is especially important that all county residents feel safe contacting police and other county law enforcement officials without fear that such contact could lead to negative consequences for themselves or their family members," he wrote. "Any perception that such contact could lead to negative immigration consequences for an individual or member of their family undermines that goal and erodes public safety."
"Enforcing federal immigration law is the sole responsibility of the federal government of the United States and it is not in the interests of Montgomery County to utilize its limited community resources to facilitate enforcement of federal civil immigration laws," he added.
Elrich said immigration detainers, which ICE places on people who officials believe are illegally in the country, are not something Montgomery County will be involved with unless there are accompanying judicial warrants.
Despite the raft of sanctuary policies, officials have in the past insisted the county isn't a sanctuary county.
"Montgomery County's policy is not to inquire about anyone's immigration status, nor does the county conduct any immigration enforcement or investigations. We believe that this is the right balance for this county. Montgomery County is not a 'sanctuary' jurisdiction," the county said in a statement.
"Local police and the Department of Correction and Rehabilitation work cooperatively with ICE in their work on immigration and customs violations and drug and human trafficking. The county's arrest and detention information goes to the state and all state information is accessed by Immigration and Customs Enforcement through their Secure Communities initiative."
Frank Madrigal, who is the Baltimore deputy field office director for ICE Enforcement and Removal Operations, told The Epoch Times that cooperation and information sharing among law enforcement agencies is critical to public safety.
"The notion that local officers might be legally barred from such cooperation with a federal law enforcement agency could put the public they are both sworn to serve and protect at greater risk," Madrigal said.
"Sanctuary policies like those proposed in Maryland could permit dangerous criminal aliens, with no lawful basis to remain in this country, to be released and to potentially re-victimize the communities to which they are returning."
Charlotte Cuthbertson contributed to this report.