Rep. Ilhan Omar (D-Minn.) defeated a well-funded primary challenger in Minnesota on Aug. 11, sailing to victory with a double-digit lead.
Antone Melton-Meaux, who raised millions in an attempt to unseat Omar, received 39 percent of the vote to Omar's 57, with more than 97 percent of the precincts reporting.
Melton-Meaux focused his campaign on Omar being a member of the so-called "Squad" of far-left Democrats in the House of Representatives. He argued that Omar's status as a national political figure made her out of touch with the district she represents.

Omar deflected the attacks by claiming that Melton-Meaux was funded by interests who want to remove her because she is effective.
Omar's victory follows a rocky first term in Congress. She was forced to apologize for her antisemitic comments and faced scrutiny for marrying her political consultant not longer after denying she was having an extramarital affair.
In the wake of George Floyd's police-custody death, Omar made headlines recently by calling for the abolition of the police department in Minneapolis in favor of something new.
Two other members of "The Squad"—Rep. Alexandria Ocasio-Cortez (D-N.Y.) and Rep. Rashida Tlaib (D-Mich.)—have also survived primary election challenges. The fourth member, Rep. Ayanna Pressley (D-Mass.), did not face a challenger.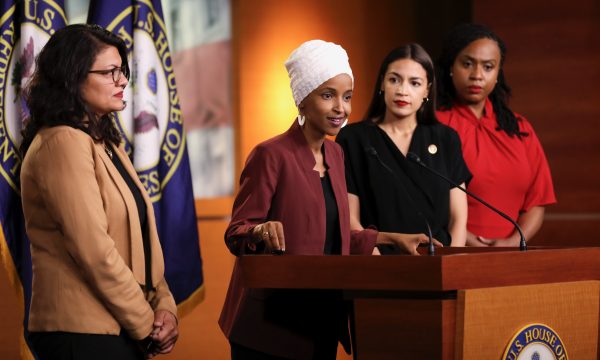 Omar in 2018 became one of the first two Muslim women elected to Congress, building on a national profile that started when the onetime refugee from Somalia was elected to the Minnesota Legislature just two years earlier. Her aggressive advocacy on liberal issues, and her eagerness to take on Donald Trump, made her even more prominent.
Catherine Thornton, 36, a General Mills researcher who lives in southwest Minneapolis, said Tuesday that she voted for Melton-Meaux.
"I have a lot of respect for Ms. Omar, but I personally don't align with just her focus on the progressive agenda. And I felt like Mr. Melton-Meaux would have more focus on our district and the people of our district's needs."
Wendy Helgeson, 57, a consultant, backed Omar two years ago, even installing a lawn sign in her yard, and said she was "awfully proud of her being the first Black Muslim woman that we elected." But she said she was concerned about campaign payments to Omar's husband's firm as well as her national presence, and found it easy to vote for Melton-Meaux, whom she said has been her friend for 12 years.
"I admire her as a woman," Helgeson said of Omar. "As a candidate, ehhh … I have some reservations."
The Associated Press contributed to this report.