Irvine's eternal summer, abundance of green space, diversity, and top-notch schools have landed it a top spot as one of the nation's most joyous cities.
The central Orange County, Calif. city was No. 12 in a Wallethub listing of the happiest cities in the United States. The personal finance website compared 182 of the largest cities.
"[Ranking] No. 12 nationwide is great, but we can be better," Mayor Farrah Khan told The Epoch Times March 16 via email.
"The City of Irvine strives to provide the best in quality of life for our residents, businesses and workers. It's no surprise that we rank in the top 15 when it comes to being one of the happiest cities. … I look forward to working to move Irvine toward the No. 1 spot."
Wallethub used 31 indicators as metrics to evaluate cities, ranging from depression and suicide rates to average leisure time spent per day and adequate sleep rate. It released its rankings ahead of International Day of Happiness March 20.
Irvine's high placement can be contributed to its inclusiveness, Councilman Larry Agran told The Epoch Times.
"We have grown increasingly diverse racially, ethnically, in terms of people, people's religious affiliations and beliefs," he said. "That diversity, coupled with thorough integration from one end of the city to the other, has created a pretty harmonious community, allowing people to kind of be happy under those circumstances."
He also attributed the city's contentment to "extensive affordable housing programs," and the city's "public education, which is high quality."
"People are able to take part in all the wonderful programs, events, resources that the community has to offer," he said. "The grim inequality that exists to such a great extent in other communities does not exist to that extent in Irvine at all. That makes for a happier community and generally happier lives."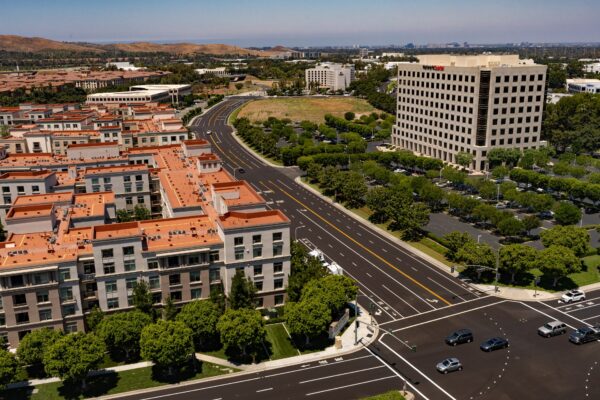 Vice Mayor Tammy Kim said Irvine is unique in that it offers all the amenities of a large city while remaining close to nature.
"Irvine is such a robust, diverse, and integrated community, which gives Irvine a very global and cosmopolitan feel, while still being friendly and tight-knit through our village planning concept," Kim told The Epoch Times via email.
"With our protected open spaces, our residents can enjoy miles of hiking trails, walking, and bike paths."
Of course, it hasn't been all smiles for Irvine—especially during the past year. Kim also acknowledged the losses the city suffered as a result of the COVID-19 pandemic.
"While it is great that Irvine has ranked as one of the happiest cities in America, I don't want to lose sight of the fact that many of our residents are struggling from the health, emotional, and economic impacts of COVID," Kim said.
Councilman Anthony Kuo said the city's happiness can be attributed to its economy and active engagement of the general public.
"I'm proud of our partnerships with major employers and small businesses that contribute to a healthy economy which enables us to develop world-class parks, support stellar schools, and partner with highly professional public safety professionals," Kuo told The Epoch Times in an email.
"You'll find our neighbors deeply active in local organizations, like PTA's, churches, and sports boosters. That sort of engagement where neighbors serve neighbors ultimately brings a unique positivity to our community."
University of Utah Health psychology professor Joseph Allen said the environment plays a key role in a person's happiness.
"For example, with COVID, and kids at home, living in a two-bedroom apartment may be suddenly an unhappy [or less happy] place," Allen said in a statement. "Geographic location does matter, to some extent, as is evidenced by seasonal affective disorder."
Fremont, California, took first place as the happiest city in the country, and Detroit, Michigan, as the least happy of the cities analyzed.
Other happy California cities included San Jose, ranked No. 5, Santa Rosa, 10, and San Francisco, 13.
Irvine ranked third for the highest sports-participation rate, and third for the lowest separation and divorce rate.