If the Coins in Bryant Park's Fountain Could Speak
April 8, 2014 6:04 am Last Updated: April 12, 2014 2:55 pm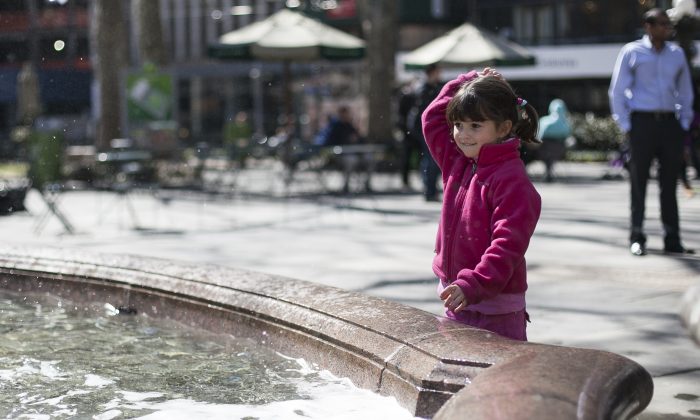 NEW YORK—Every day countless stories, in the form of coins, are deposited into Bryant Park's pink granite fountain in the heart of Manhattan. Some are wishes, some are a personal mark, and others are a promise to return.
What happens to the coins after that is another story.
The fountain's clear, bubbling waters are just blocks away from Times Square, and a favorite place for visitors and residents alike to throw coins. Nobody is counting the exact number, but they add up to roughly $3,000 to $4,000 a year.
Last year, coins from 76 countries, including the United States, were tossed in. Whether they're then picked out by scavengers (as is common in the summer) or retrieved by the park staff, they become a living, breathing part of the city.
"I like throwing coins in the fountain and sometimes my wish comes true," said Soleil Skjorsammer, 7, during a recent sunny spring afternoon in the park with her mother and sister. "Before, my wish was I could be a good tennis player, and my mom told me I got better. This time, I wished I could play soccer."
The Bryant Park Corporation (BPC), which manages the park, has embraced the custom that transcends many cultures. From its offices across the street, the nonprofit entity has devised an intricate system to process the piles of coins it fishes out of the fountain each month when it undergoes cleaning and maintenance.
To say the least, it's a complicated operation. But one that Jerome Barth, BPC's vice president of business affairs, approaches with a smile.
"There's no practical way to deal with it, so we just have fun," said Barth at the BPC office last week. "I think of it as a team building exercise."
The "fun" includes painstakingly sorting piles of grimy coins from a huge bucket using a gold-mining pan in the office kitchen sink. The work of donning pink rubber gloves to pick out rocks, debris, chewed gum, and cigarette butts before the coins are washed with Dawn soap is voluntary. Once washed, the coins dry in bowls on office vents.
"It doesn't smell like crisp, twenty dollar bills," said Barth.
The more curious pieces are taken as keepsakes by staff. A Chuck E. Cheese token here, a Fitness Planet coin there. In the winter the bucket, which is used to keep coins as they are taken out of the water, is full of silver. In the summer there is a copious number of U.S. pennies, as people have picked out the more valuable denominations.
"If people threw in at least 5 cents instead, we'd be doing a lot better."
That's an important detail to Barth, who has developed a very particular disdain for American pennies. The cost of the labor for the park to remove the coins is roughly equivalent to the value of the coins.
Once in a while something truly rare and unusual turns up, a curious testament to the value people place on putting something in the fountain. At the BPC office, a 50 centimes 1936 silver coin from French Indochina is estimated to be worth about $50. Another unique find was a 1955 all-silver U.K. shilling.
The U.S. coins are deposited at TD Bank, because of its coin-counting machine. Though the BPC staffers admit they've accidentally broken the bank's machine a few times with errant pieces of debris or dirty currency, they continue to go back.
Coin Study
The deposits from park visitors become part of the staff's work, which includes maintaining the park, and providing public programming and entertainment, including the popular free summer movies on the lawn.
Then there are the coins they can't spend.
Whether from tourists or foreign-born residents—it's impossible to tell which—last year park staff retrieved over 700 coins from 76 countries from the fountain. Those unique coins are sent to the American Numismatic Society (ANS) for study and research.
The member-driven society is a museum and research institute specialized in studying coins from all periods and cultures. Their collection includes coins, paper money, medals, and a library with rare books. It is open to the public for visits at no cost.
Gilles Bransbourg, an adjunct curator at ANS and a research associate at New York University, describes the society's heavily guarded offices in Manhattan as a repository of rare objects with a strong academic component.
"We believe that by collecting these objects, they survive," said Bransbourg at the ANS offices last week, where you have to go through two levels of security just to enter and cannot pass through the internal offices without a special pass. "If lost, the cultural history is lost forever."
In the case of the Bryant Park coins, Bransbourg, a former economist and market derivatives specialist, wanted to see what they could tell him about New York City. They collected the 714 foreign coins from the fountain in the year between the summers of 2012–2013 as a sample.
Among some of the more far-flung countries represented are Albania, Azerbaijan, Kazakhstan, Cuba, Zambia, Ghana, Iceland, Brunei, Aruba, and Vietnam. More commonly occurring pieces come from the eurozone (European countries using the euro), Australia, Japan, and Canada.
Traditions
"I believe the topic of Bryant Park is perfect for us," he said. "We can learn a lot about behaviors—let's say some cultures don't put coins in the fountain."
In fact, they don't.
Based on ANS's cataloged Bryant Park coins, aside from Israel, Egypt, and Morocco, the Middle East is not represented.
It's likely related to regional cultural traditions. Throwing a coin in a fountain is a somewhat uniform practice throughout Western Europe, and its roots are based in people's reverence for the divine.
"In European culture traditionally its a religious act," said Bransbourg, who said that in the Greek and Roman worlds this might include throwing a coin in a fountain. "These people would throw a gift to the gods."
The modern meaning differs slightly, though in places like Japan throwing coins to the heavens as an offering is still a custom at Shinto shrines.
"The answer is different, according to where you come from. For a Frenchman, it's a way to leave my mark," said Bransbourg, who hails from France. "For the English, it's a sign that they will come back to that place. For the Irish it means luck."
In Rome, it's big business for organized factions of coin collectors who regularly filter out most of the treasures left behind.
After Bransbourg's children Jeanne, 11, and Felix, 9, volunteered to help him catalog the Bryant Park coins, he put on his economist hat and crunched some numbers.
The countries with the most coins for the year were those in the European Union, the U.K., Canada, Russia, and Israel. There's no way to make a direct connection to the same year's tourism data, but the top five there were similar: the European Union, the U.K., Canada, Brazil, and Australia.
"If we can't prove these coins are from visitors, at the very least it's a tribute to the diversity of New York City."