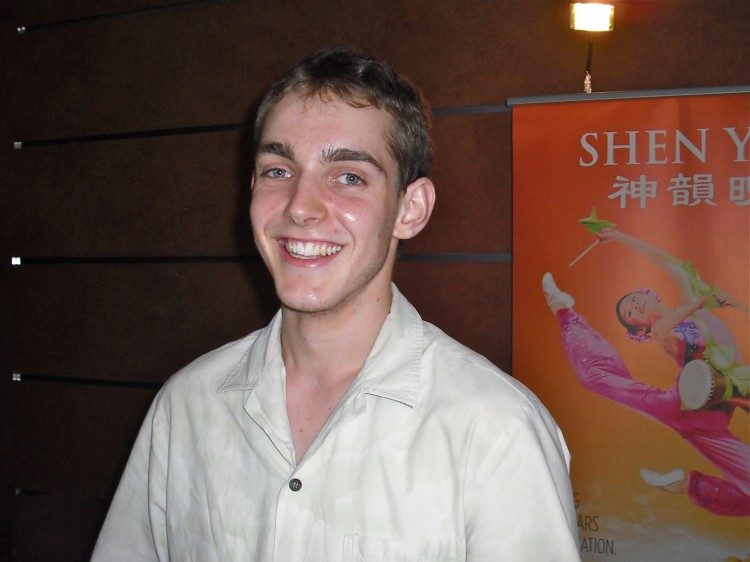 SYDNEY—Alexei Bernard is no stranger to dance. As a classical ballet dancer of 5 years, and soon to travel to Germany to study a Bachelor of Dance, he was impressed by the virtuosity and the deeper meaning expressed in Shen Yun Performing Arts' exhilarating presentation. He came to see the show at Sydney's Capitol Theatre on Friday evening, May 4.
"It's wonderful … the amount of virtuosity, amount of feeling of expressivity. But it has a meaning behind it I find as well, when you see the traditional dance, when it's done well," Alexei said.
Alexei, whom has also performed as a tap dancer for 14 years, particularly enjoyed the drumming in the opening act, An Era Begins.
"I love drums, and that feeling of rhythm, I really like that dance … ."
Shen Yun whisks audience members on a journey back through dynasties in Chinese history through inspiring and strikingly vivid performances of classical Chinese dance backed by flawless orchestral pieces combining both Western and Eastern instruments. The performances also offer an insight into some of China's ethnic minority groups. Alexei commented on the diversity that is portrayed in the Shen Yun performances.
"It's wonderful watching the vibrancy happening, every dance there is something new, like the snowflakes, [Snowflakes Welcoming Spring], how they twisted those props [handkerchiefs] around—it's amazing. If I was Chinese I would like to join the company."
Reporting by NTD Television and Rebel Eddy
Shen Yun Performing Arts, based in New York, has three touring companies that perform simultaneously around the world, with a mission to revive traditional Chinese culture. Shen Yun Performing Arts New York Company will perform at Sydney's Capitol Theatre through May 6.
For more information visit ShenYunPerformingArts.org
The Epoch Times is a proud sponsor of Shen Yun Performing
The Epoch Times publishes in 35 countries and in 19 languages. Subscribe to our e-newsletter.