President Joe Biden has sworn to protect U.S. sovereignty in the face of Chinese communist aggression amid bipartisan alarm over the growing threat posed by Beijing.
Biden said his order to shoot down a Chinese spy balloon that traversed U.S. airspace last week was evidence of his commitment to defend the nation and to bring the fight to China's communist regime when necessary.
"I am committed to work with China where it can advance American interests and benefit the world," Biden said during his State of the Union speech on Feb. 7.
"But make no mistake about it: As we made clear last week, if China threatens our sovereignty, we will act to protect our country. And we did."
The president used the opportunity to underscore that he had outlined the U.S. stance to Chinese Communist Party (CCP) leader Xi Jinping and made clear that it preferred competition over conflict, a statement the administration has repeatedly highlighted over the past two years.
"I've made clear with Xi that we seek competition, not conflict," Biden said. "And let's be clear: Winning the competition should unite all of us."
The president also appeared to go off-script when he asked the joint session if anyone could name a person who would change places with Xi, appearing to insinuate that, although many may fear China, few would want to be in the communist nation's position.
"Name me a leader who would change places with Xi Jinping!" Biden said.
"It's never ever been a good bet to bet against America. Ever."
The president said that before his administration, "the story was about how the People's Republic of China was increasing its power and America was falling in the world" but that this situation had turned around under his leadership.
Responses
But some Republicans disagreed with Biden's assertions.
"I thought it was unfortunate when he said that America's enemies are weaker today, that he's standing up to China," Sen. Ted Cruz (R-Texas) told The Epoch Times after the address.
"Sadly, the entire world laughed at the president while a Chinese spy balloon hovered over America for over a week. … We should have shot it down the instant it entered U.S. airspace."
Sen. Josh Hawley (R-Mo.) said he believed that Biden's framing of the issue was disingenuous.
"I thought it was a total failure to level with the American people about what's happened this last week, about his administration's failure to deter China, and about the fact that he's made us more dependent on China, with everything from his energy policies to his military decisions," Hawley told The Epoch Times.
Others Republican lawmakers said the president should have taken a stronger stance on the communist regime.
"The President should have more forcefully called out China as a threat to global security," Sen. Deb Fischer (R-Neb.) wrote in a tweet.
But Rep. Henry Cuellar (D-Texas) had a different take, saying that it was important to stand up to China.
"[Biden] said that he wanted to be strong against China," Cueller told The Epoch Times. "The balloon is only one aspect, but I think standing strong against China … puts us in a better situation."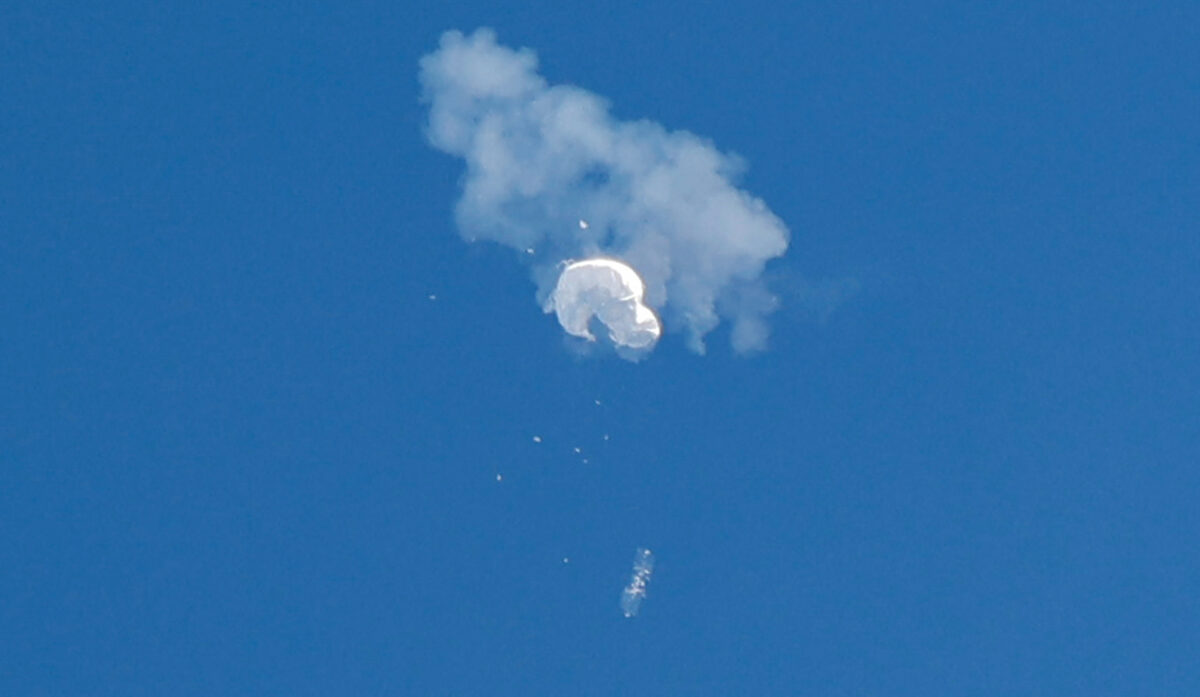 Scrutiny Over Biden's Balloon Response
Over the past week, Republican lawmakers questioned Biden's handling of the CCP spy balloon and his administration's claims that it discovered previously undetected balloon incursions that allegedly happened during the Trump administration.
On Feb. 6, White House national security adviser Jake Sullivan said that since Biden took office, the United States "enhanced" its surveillance capabilities to allow it to "detect things that the Trump administration was unable to detect."
Air Force Gen. Glen VanHerck, who serves as commander of North American Aerospace Defense Command (NORAD), also said three Chinese spy balloons had appeared to have previously gone undetected.
"I will tell you that we did not detect those threats, and that's a domain awareness gap," VanHerck said during a press briefing on Feb. 6.
Contrary to Sullivan's remarks, VanHerck said U.S. intelligence determined the previous flights after the fact based on "additional means of collection" of intelligence without offering further details on whether that might be cyber espionage, telephone intercepts, or human sources. The military was prohibited from collecting intelligence within U.S. territory, he said.
Rep. Michael McCaul (R-Texas), who chairs the House Foreign Affairs Committee, said the incident was the most provocative action taken by the CCP to date. He also questioned the existence of similar incidents during the Trump administration and why the intelligence community wouldn't have shared such information.
"This was the most provocative act that we've seen come out of Communist China and really a shot across the bow and poke in the eye of the president," McCaul told The Epoch Times on Feb. 7 ahead of Biden's address.
"If [previous incursions] did happen, it raises serious questions about our intelligence community, that if they had this information, why didn't they share it with the administration at the policy or political level?"
He went on to describe the spy balloon's trip as "very dangerous" and said he believed that the incident presented a failure for the Biden administration.
"They're really testing this administration, in my judgment, it's weakness versus strength. Every time we project strength as a nation … you have peace. When you project weakness, you invite aggression," McCaul said.
"I would argue that by allowing it to cross U.S. airspace across the country, taking pictures of our most secret or most sensitive national security sites, [Biden] failed the test to protect the nation. And therefore, China, the Chinese Communist Party, won in that test. And that's what Chairman Xi thinks."
Previous Incursions
Previous Chinese incursions may have happened but were likely discovered using data gleaned from this most recent balloon incident, according to John Mills, former director of cybersecurity policy, strategy, and international affairs at the Pentagon.
But he didn't recall any such incidents while he was at the Pentagon, he said, noting that it would be highly unlikely that such information wouldn't be passed along.
"I've done shift work at the National Military Command Center [NMCC] at the Pentagon; I can't imagine why NORAD/NORTHCOM would not pass the balloon information to the NMCC and why this would not be shared with the White House Situation Room," Mills told The Epoch Times.
"I've been working on sensitive China issues since 2007 at the Pentagon and National Security Council, and there was lots of Chinese trickery, but I never remember any Chinese balloon events."
To that end, Mills, who left the Pentagon in 2018, said it was more likely the Biden administration used the intelligence gained from the spy balloon to learn what such airships appear like on radar and went back to find more.
"It is not well-known, but we have always had very large gaps in radar and voice coverage in the oceanic approaches in air traffic," he said. "We would go broke trying to have perfect radar coverage. Other capabilities are relied upon to fill in the gaps. But I don't know what has been introduced during the Biden years to make any difference.
"Now that they know what a Chinese balloon radar return track looks like, they likely went back into historical radar track archives and spotted previous Chinese spy balloon tracks that weren't paid attention to."
Emel Akan contributed to this report.