The International Energy Agency (IEA) will release 60 million barrels of oil from its member nations into the global marketplace in an effort to cool down prices after the Russian invasion of Ukraine, following which prices have risen and remain reluctant to lower.
"The @IEA is moving ahead with a collective oil stock release of 120 million barrels (including 60 million barrels contributed by the US as part of its overall draw from its Strategic Petroleum Reserve)," Fatih Birol, executive director of the IEA, wrote in an April 6 tweet.
The move by the international agency follows the Biden administration's announcement last week that it will release 1 million barrels on average into the market every day for the next six months, which amounts to almost 180 million barrels.
"This record release will provide a historic amount of supply to serve as [a] bridge until the end of the year when domestic production ramps up," reads a White House fact sheet released on March 31.
The IEA, representing 31 mostly industrialized economies, will be making the coordinated release for the fifth time in its history and the second time this year. Russia—the second-biggest oil-producing nation—isn't part of the collective.
Supply disruptions and sanctions resulting from the war in Ukraine, combined with commercial inventories at their lowest levels since 2014 and scaled-down efforts by major producers such as Saudi Arabia to tap more oil, have added significant strains on the market and resulted in volatile price hikes.
Since the announcement, Brent crude came down to trade at $101.15 per barrel on April 6, from $108.58 per barrel on April 5, but has since moved up and is currently trading at $102.35 per barrel as of 11:41 p.m. ET.
The worldwide supply will increase by roughly 2 million barrels per day based on the IEA's release. Altogether, the group has about 1.5 billion barrels in strategic reserves.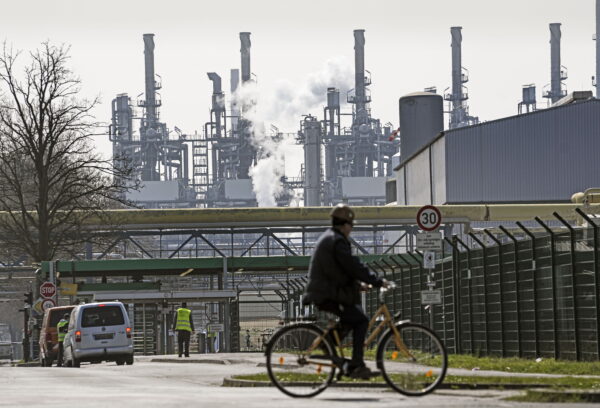 The Fed's hawkish stance regarding inflation and market expectations of higher and more frequent rate hikes have contributed to strengthening the U.S. dollar. As most transactions are conducted in the dollar, oil typically moves in the opposite direction of the currency, resulting in lower oil prices.
Analysts have largely downplayed the coordinated release, claiming that the war-time reserves will have a transient effect on the markets and won't have any significant effect on prices in the long run.
High inflation rates plaguing the U.S. economy, fueled by energy costs, have proven to be a vulnerability for the Biden administration ahead of the Nov. 8 congressional elections.
"In addition to the enormous global reserves release, demand destruction and recession are currently the only price-lowering mechanism in a world devoid of inventory buffers," Stephen Innes, managing director of SPI Asset Management, told Reuters.
Stalled Iranian nuclear talks have also contributed to renewed market jitters after progress was made in the previous week.