WASHINGTON—The acting head of Immigration and Customs Enforcement criticized members of Congress on July 23 for assisting illegal immigrants in evading the law.
"There were people in Congress sitting there giving instructions to people illegally in the country and telling them how to avoid detection and avoid the consequences of their illegal activity," Matthew Albence said during a call with reporters. "There's no way for us to quantify what impact that had, but you couldn't turn on any TV station anywhere in this country for several weeks without this being one of the lead topics."
Albence said ICE is targeting illegal aliens who have been issued a final order of removal by an immigration judge. While the biggest focus is removing those with criminal convictions, Albence said ICE is now removing family units who have failed to show up at court hearings and haven't applied for asylum.
A recent operation targeted family units that had final orders of removal and were given a chance in February to turn themselves in. Albence said ICE scooped up 18 of these people; they're in custody awaiting deportation. Another 17 were arrested as collateral and will remain in custody until a judge issues a decision. Albence said no families were separated during the operations.
Members of Congress, including Speaker of the House Nancy Pelosi (D-Calif.) and 2020 presidential candidates Sen. Bernie Sanders (I-Vt.) and Sen. Elizabeth Warren (D-Mass.), put out notices on Twitter, advising illegal immigrants on how to avoid being deported.
Pelosi wrote on Twitter on June 22: "#KnowYourRights. To people of faith: help immigrants 'know your rights' and tell the President to 'stop the raids.' Families belong together."
Sanders shared on June 13 a "Know Your Rights" document by the ACLU on Twitter, along with the message: "We have a president who is hellbent on terrorizing immigrant communities. If you, your family, or someone you know experiences an ICE raid this weekend, know your rights."
Warren shared a media article about upcoming ICE enforcement actions July 2, and wrote: "This kind of xenophobic fear-mongering is sick. In a Warren administration, immigrant communities will be able to live without fear or discrimination. I will fight for them every step of the way."
None of the politicians made the distinction between legal immigrants and illegal immigrants.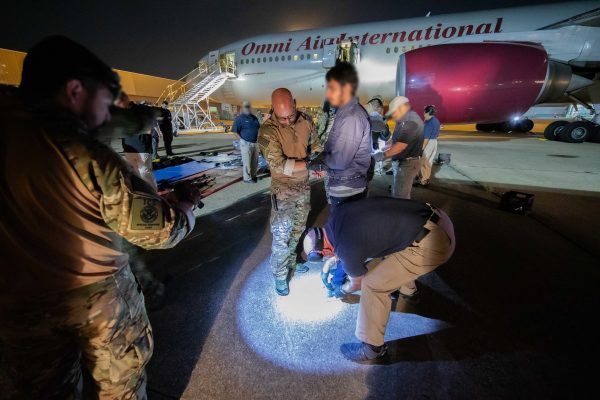 Albence said Congress appropriates ICE to find and remove illegal aliens who have been issued final orders.
"We're sworn law enforcement officers to conduct these exact sort of operations," he said. "There is no other law enforcement agency in this country that has been asked to ignore the lawful order of a judge."
He said the illegal aliens who got advice to change location and avoid ICE have only escaped detection for a short period.
"We're patient and we will continue to pursue these cases," he said.
Albence said there are at least 40,000 to 50,000 family units with final orders of removal in the United States and close to 1 million immigration fugitives. Almost 400,000 family units have been apprehended by Border Patrol after entering the United States illegally since Oct. 1, 2018.
The Department of Homeland Security announced July 23 that more illegal aliens will now be subject to expedited removal—which means they don't get a court hearing before deportation.
Now, expedited removal will apply to illegal aliens nationwide who can't prove continuous presence in the United States for at least two years. The policy was previously restricted to illegal aliens who had arrived within 14 days and were caught within 100 miles of a U.S. border.
"We are past the breaking point and must take all appropriate action to enforce the law," acting Secretary of Homeland Security Kevin McAleenan said in a statement. "This designation makes it clear that if you have no legal right to be here, we will remove you."