Immigration and Customs Enforcement agents have arrested 199 Iraqis over the past three weeks—the overwhelming majority of whom had criminal convictions for crimes including murder, rape, assault, kidnapping, burglary, drug trafficking, weapons violations and other offenses.
The arrests are part of a deal with Iraq which removed the country from President Donald Trump's travel ban in exchange that it would agree to accept deportees. Deportations are pending for those who have been arrested, agency officials said. 
Some 85% Iraqis practice Islam, according to the 2016 CIA Handbook. Trump promised to battle radical Islamic extremism and terrorism during his campaign. According to Pew Research, 91% of Iraqi favor making sharia the official law of their country. Sharia is a mainstream Islamic law that advocates the use of violence in the family and society in addition to instructions for waging war against other nations.
In the Detroit area, 114 Iraqi nationals were arrested over the weekend, and 85 throughout the rest of the country over the past several weeks, Gillian Christensen, a U.S. Immigration and Customs Enforcement spokeswoman, said in a statement.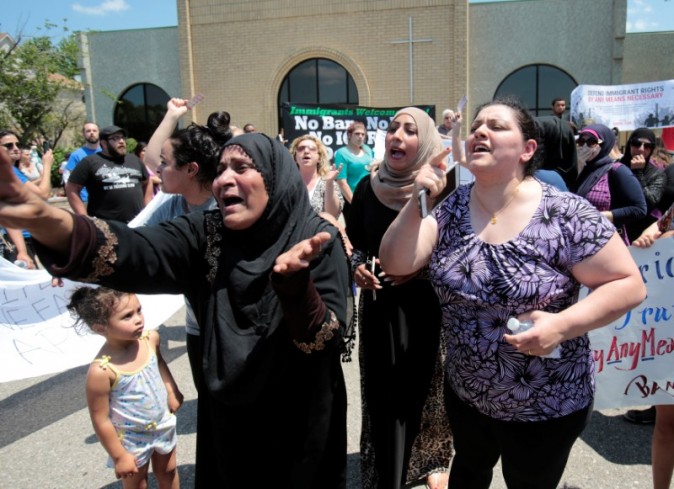 The actions came as part of the Trump administration's push to increase immigration enforcement and make countries, which have resisted in the past, take back nationals ordered deported from the United States.
The crackdown on Iraqi immigrants followed the U.S. government's decision to drop Iraq from a list of Muslim-majority nations targeted by a revised version of Trump's temporary travel ban issued in March.
As of April 17, 2017, there were 1,444 Iraqi nationals with final orders for removal, she said. Since the March 12 agreement with Iraq regarding deportees, eight Iraqi nationals have been removed to Iraq.
Kurdish Iraqis also were picked up in Nashville, Tennessee, attorneys, activists and family members said.
An Iraqi official previously said Iraqi diplomatic and consular missions would coordinate with U.S. authorities to issue travel documents for the deportees.