Ice-Age Carving of Mammoth or Mastodon Found in Florida
June 21, 2011 9:53 pm Last Updated: October 1, 2015 4:27 pm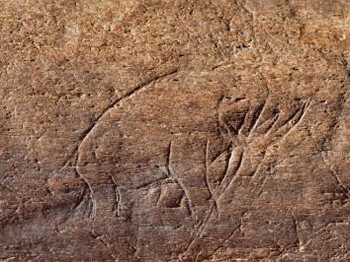 Researchers have identified a carving of what appears to be a mammoth or a mastodon in a bone fragment, estimated to be at least 13,000 years old.
The fragment was discovered in Vero Beach, Florida, making it the only known example of art from the Ice Age depicting such creatures in the Western hemisphere.
The bone fragment was discovered by James Kennedy, an amateur fossil hunter, who did not notice the engraving until he cleaned the specimen in 2009, and contacted researchers at the University of Florida and the Smithsonian Institution.
"This is an incredibly exciting discovery," says Dennis Stanford, scientist at the Smithsonian's National Museum of Natural History and co-author of the study describing the findings, in a press release.
"There are hundreds of depictions of proboscideans (mammals with trunks) on cave walls and carved into bones in Europe, but none from America—until now."
As the specimen was found near the Old Vero Site, where human bones were found next to fossils of Ice Age animals in the 1910s, the team had to determine whether the carving was created during the Ice Age or more recently to mimic prehistoric art.
"There was considerable skepticism expressed about the authenticity of the incising on the bone until it was examined exhaustively by archaeologists, paleontologists, forensic anthropologists, materials science engineers and artists," says lead author Barbara Purdy, professor emerita at the University of Florida, in the release.
Microscopic and chemical analyses showed the engraving was not created with a metal tool and has been aging with the fossil. For example, the carving's edges were worn and the surface coloration was continuous over its grooves, suggesting it was not made recently.
The experts believe the specimen is an authentic carving made by people living in the Americas 13,000 years ago, prior to the extinction of mammoths and mastodons.
The bone fragment itself is postulated to be from a large mammal, such as a mammoth, mastodon, or even a giant sloth.
The findings support findings by geologist Elias Howard Sellards that suggest people hunted animals at modern-day Vero Beach during the most recent Ice Age, a claim that has been debated for almost a century.
A cast of the specimen is currently on display at the Florida Museum of Natural History in Gainesville. The research manuscript was released under the Journal of Archaeological Science online on June 2.