ICANN Holds Public Comment Period as it Transitions to 'Multi Stakeholder' Oversight
April 16, 2014 2:56 pm Last Updated: April 16, 2014 2:56 pm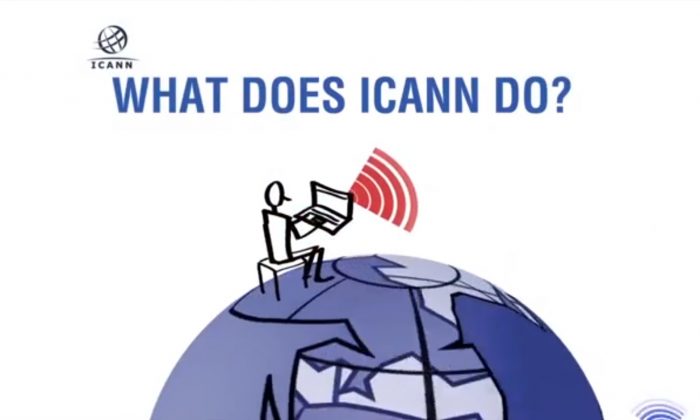 NEW YORK—The Internet Corporation for Assigned Names and Numbers (ICANN) was never the center of any controversy or even any media attention until the U.S. National Telecommunications and Information Administration (NTIA) announced on March 14th it was ceding control of the California-based non-profit.
The nonprofit ICANN is, among other things, tasked with assigning IP addresses, domain names (anything ending in .gov, .com, .net, etc.) and deciding on Internet protocols. According to its website, ICANN does not deal with Internet content, nor does it have the ability to deny connections to Internet users. Through its allocation of domain names, however, it does have an influence on how the Internet expands and evolves.
While many believe that a more international group of stakeholders, which represent the diversity of the World Wide Web community, is a good thing, some have raised alarms at what this would mean in reality.
"The apprehension isn't necessarily the United States losing control, but unanswered questions of what the new governing body will look like and the influence of other governments around the world that could really damage or really inhibit free speech," said Erik Telford, senior vice president at The Franklin Center for Government and Public Integrity.
Already China and Russia have tried to put ICANN under the umbrella of the United Nations' (UN) International Telecommunications Union (ITU). China and Russia both sit on the Security Council, the most powerful body of the UN.
ICANN has said it would not allow itself to be turned over to an intergovernmental body like the ITU, but it did not exclude government involvement.
"We cannot come back to them (the U.S.) with a transition plan that hands our important work to a government, a group of governments (or to) an inter-governmental organization. No, it will not work," said Fadi Chehade, president and CEO of ICANN.
Instead it plans to gather a group of academia, IT organizations, businesses, civilian groups, and governments to be the collective governing force of ICANN.
"U.S. oversight serves an important and valuable role in maintaining the security, stability, and openness of the Internet, and deterring countries who might try to manipulate the [Domain Name System] DNS for political purpose," argues Daniel Castro, a senior policy advisor at The Information Technology & Innovation Foundation.
"It is natural for organizations to want larger budgets, but ICANN is in an unusual position in that it has a substantial amount of authority to independently raise additional revenue. We should be very mindful of creating a global organization with little accountability that can effectively tax the Internet."
Since 1998 the NTIA, under the Department of Commerce, has been the authority over ICANN.
"I think in the ideal world what would happen is it would remain the way it is, and I think it brings up the idea 'If it's not broken, why fix it?'" said Darren Hayes, an assistant professor of cybersecurity and computer forensics at Pace University. At this point, he says, having a more global mix of stakeholders does not pose any threat to cybersecurity or the policing of the Internet.
ICANN's Chehade denies allegations that the U.S. is trying to shed its oversight of ICANN after the backlash it faced as a result of NSA spying leaks. He says it was an eventuality that ICANN would transition to a new regulatory body as its contract is up in September of 2015.
ICANN will be holding an open comment period until April 25th during which the public can submit suggestions online.
Holly Kellum us a special correspondent in New York.