British Prime Minister Boris Johnson on April 12 expressed his thanks to the National Health Service (NHS) staff who treated him for COVID-19, saying he owes them his life.
Johnson, 55, praised the "exemplary" care he has received from staff at the state-run NHS at St. Thomas' Hospital in London, where he was admitted on April 5 and spent three nights in intensive care until April 9.
"I have today left hospital after a week in which the NHS has saved my life, no question," the prime minister said in a five-minute video posted to Twitter on Sunday, adding that his treatment for COVID-19 could have "gone either way."
It is hard to find the words to express my debt to the NHS for saving my life.

The efforts of millions of people across this country to stay home are worth it. Together we will overcome this challenge, as we have overcome so many challenges in the past. #StayHomeSaveLives pic.twitter.com/HK7Ch8BMB5

— Boris Johnson #StayHomeSaveLives (@BorisJohnson) April 12, 2020
Johnson said it was "hard to find the words" to express his gratitude to the frontline NHS staff members who looked after him during his week-long stay, naming two nurses—Jenny from New Zealand and Luis from Portugal—who he said remained by his bedside for 48 hours at a critical time.
"The reason in the end my body did start to get enough oxygen was because for every second of the night they were watching and they were thinking and they were caring and making the interventions I needed," the prime minister said.
"I can't thank them enough. I owe them my life," he continued.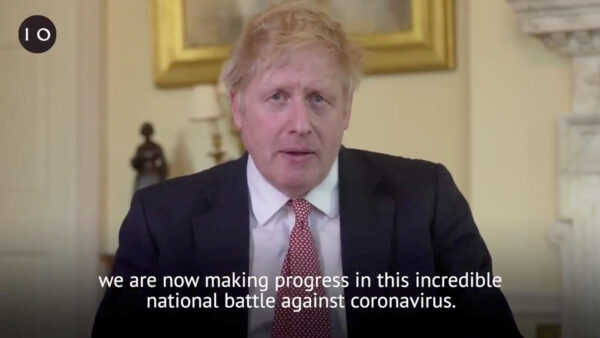 Johnson described the NHS as "this country's greatest national asset," and an organization "powered by love."
At least 19 NHS staff have died after contracting COVID-19, Health Secretary Matt Hancock said Sunday.
Portugal's president, Marcelo Rebelo de Sousa, contacted 29-year-old NHS nurse Luis Pitarma after hearing Johnson's praise, and congratulated him for receiving "special recognition" from the prime minister for his "work and vigilance."
According to local newspaper Expresso, Aveiro-born Pitarma moved to the UK in 2014 and became a senior nurse at London's St. Thomas' Hospital last year, where he has been part of the extracorporeal membrane oxygenation program.
Meanwhile, the brother of 35-year-old Jenny McGee—born in the South Island town of Invercargill—told the New Zealand Herald she had been "blown away" by Johnson's praise.
"Whilst she is blown away by Boris' recognition, she is just really pleased to see the public recognition for the amazing work the NHS is doing—that made her really proud," Rob McGee told the news outlet.
Johnson will not immediately return to work, his office said, but he will, until further notice, continue his recovery at Chequers, the official prime ministerial country residence northwest of London.
I cannot thank our magnificent NHS enough. The staff at St Thomas' Hospital have been incredible. I will never, ever be able to repay you and I will never stop thanking you. 🌈

— Carrie Symonds (@carriesymonds) April 12, 2020
The prime minister's pregnant fiancee, Carrie Symonds, who also displayed symptoms of the CCP (Chinese Communist Party) virus, commonly known as the novel coronavirus, also expressed her gratitude to NHS frontliners.
"There were times last week that were very dark indeed. My heart goes out to all those in similar situations, worried sick about their loved ones," Symonds said on Twitter. "Today I'm feeling incredibly lucky."
"I cannot thank our magnificent NHS enough," she added. "The staff at St Thomas' Hospital have been incredible. I will never, ever be able to repay you and I will never stop thanking you."
The death toll in the UK on Saturday rose to 10,612, up 737 over a 24-hour period, with Hancock describing Sunday as a "sombre day." The nation saw a record rise in daily deaths on Friday and Saturday, with daily increases of 980 and 917.
The alarming rise in figures came as one of the government's leading scientific advisers said the UK could see the worst CCP virus death rate in Europe.
"The UK is likely to be certainly one of the worst-affected if not the worst-affected country in Europe," Jeremy Farrar, director of health foundation the Wellcome Trust and a member of a scientific panel advising the government, told the BBC.
Johnson concluded his video message by thanking the public for the efforts they are making to follow government advice and practice social distancing in order to slow transmission of the CCP virus.
"I want you to know that this Easter Sunday I do believe that your efforts are worth it, and are daily proving their worth," Johnson said.
"Because although we mourn every day those who are taken from us in such numbers, and though the struggle is by no means over, we are now making progress in this incredible national battle against coronavirus."