A teenage emergency call handler spotted a suicidal woman on ledge over a motorway in the dark, only to discover, as she tried to talk her down, that she had received a call about the same woman only minutes earlier.
Her courageous response during the bizarre coincidence earned her a national bravery award.
Megan Brunt, now 20, works at an emergency call-handling centre in Portishead in the south of England.
"Being faced with a situation like that in real life is nothing like taking a call," she told the local newspaper Bristol Post.
Brunt said that she was still able to draw on her training as a call handler to develop a rapport, but in the end trusted her human instincts and simply threw her arms around the stranger.
2_Megan BruntDe Vere Orchard Hotel Conference Centre, Nottingham, Nottinghamshire, United Kingdom, 06 March, 2019. APD…
Finishing a late shift on April 20 of last year, Brunt was heading home in the car with her father, who also works at the call centre. By chance, they spotted a figure in an eye-catching white coat standing on the ledge of a bridge above the M5 motorway, which ferries traffic to and from the southwest of England.
As they swung around the roundabout to go back and check, it never occurred to Brunt that this was the same woman she had heard about just minutes earlier in a phone call from Clevedon Hospital. The woman had arrived at the hospital with self-inflicted injuries, but she left without being treated.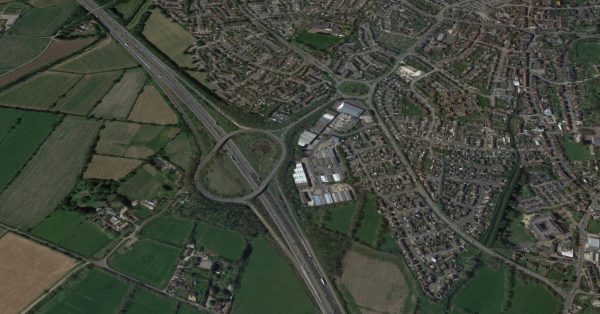 If it hadn't been for the white coat, Brunt says, things might have turned out differently.
"If she had been wearing a different colour I don't think I would have noticed her, it was only really the tiniest glimpse," she told the Post.
'I Didn't Realise the Connection'
"I could tell she didn't really want to do it and I was just telling her again and again nothing was worth taking your life over"https://t.co/PtHsYcYKM6

— Bristol Live (@BristolLive) March 21, 2019
"The second time we went around it still wasn't clear, so dad turned on his full beam headlights and, finally, on the third time I saw her properly. I didn't realise the connection right away."
They pulled over, she got out of the car, and she stepped over the barrier, then started to talk to the woman.
"It wasn't until she told me her name that I realised who she was."
Brunt instinctively held back from telling the woman that she had already heard about her, instead just telling her that she worked for the police.
"In the end I just threw my arms around her and tried to console her while she was crying, I could tell she didn't really want to do it and I was just telling her again and again nothing was worth taking your life over."
Officers and paramedics arrived and were able to escort the suicidal woman to safety, according to a police report.
"I just couldn't believe the coincidence—so many people I work with use the same route to get home and yet I was the one to see her after just logging a call about her. Nobody could believe what had happened, and it's all still so strange to me," Brunt said to the Post.
The incident later helped earn Brunt the national control center award: Special Recognition Award for Bravery and Courage.
The award also recognised her bravery in another incident, when she came across a suspected drunk-driver close to the motorway and took the car keys away from him. He was later arrested after a positive breath test.
The competition  judges said on March 8, in a statement: "In two separate incidents away from work she potentially put herself in harm's way to save a life and prevent risk to life.
"Megan's actions showed considerable courage and remarkable initiative. She is a credit to her force and community."