Interstate 68 in West Virginia was shut down by police after threats were made to kill President Donald Trump and blow up the Pentagon building, according to reports on March 27.
West Virginia State Police confirmed to WCHS-TV that the highway was closed down for several hours near the border with Maryland.
A 42-year-old man was detained for questioning after police searched his vehicle, finding explosive powder and a firearm, said State Police.
#FBI Pittsburgh is assisting our law enforcement partners with an incident on Interstate 68 in West Virginia. No other information is available. pic.twitter.com/2MNWmy9S3s

— FBI Pittsburgh (@FBIPittsburgh) March 27, 2019
State Police, the FBI, and the Secret Service are investigating. According to The Associated Press, the U.S. Bureau of Alcohol, Tobacco, Firearms and Explosives also responded to the incident.
The incident unfolded during a 10:30 a.m. traffic stop near Bruceton Mills, leading to an investigation that led to the highway being shut down, WCHS-TV reported.
Traffic was diverted off the interstate and drivers were asked to find other routes.
It reopened at around 2:30 p.m., the report said.
Other details about the case, including the suspect's name, were not provided.
UPDATE: The closure on I-68 in Preston County Wednesday was due to threats that were made to kill President Donald Trump…

由 WBOY 12News 发布于 2019年3月27日周三
According to the West Virginia State Police: "As a result of the investigation based on a traffic stop that occurred earlier this morning, it had been discovered that threats were made to kill the President of the United States and to blow up the Pentagon. A search of the vehicle revealed a firearm and an explosive powder. A 42-year-old male has been detained for questioning. WVSP in conjunction with the FBI and Secret Service are continuing to investigate," reported WV MetroNews. "The interstate has been reopened."
Dominion Post reporter Ben Conley elaborated to the news outlet about the closure.
BREAKING: I-68 shutdown due to threat to kill President Trump, blow up Pentagon https://t.co/2RQGQJj8oG

— Ryan Saavedra (@RealSaavedra) March 27, 2019
"They've got cones set up kind of ushering you off I-68 at the Bruceton Mills exit, exit 23," he said. "I would say this exit is probably still miles from the actual incident, whatever is going on," Conley added.
"Obviously, there's a lot of people pulling off at the exit up here confused—asking what's going on, talking to one another, trying to give each other directions," he said. "I was just speaking with one lady who was on her way from Kentucky to Ocean City, and she's just kind of sitting here stranded right now like a lot of folks. "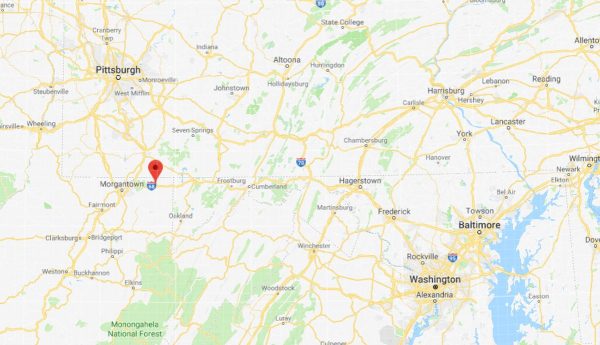 Other Recent Threats
An Illinois man got mental health treatment and substance abuse counseling after pleading guilty to making online threats against President Donald Trump.
Joseph Lynn Pickett of Edwardsville was also ordered to spend six months behind bars for the June threats, though he's already served the time since his arrest last year, according to The Associated Press.
Pickett pleaded guilty in an agreement with prosecutors in October, after authorities said he posted several times online that he wanted to assassinate Trump.
The posts included frequent profanity and detailed death threats. Pickett also taunted federal authorities when he wasn't immediately arrested.
His co-workers reported the threatening posts to the Secret Service. He was later arrested.
Under terms of his sentencing last week, Pickett also will be on supervised release for three years.
The Associated Press contributed to this report.