The National Hurricane Center (NHC) is issuing advisories for Hurricane Willa and Tropical Storm Vicente.
Hurricane Willa
The NHC said in its 8 a.m. update that Hurricane Willa is an "extremely dangerous" storm with 155 mph winds—enough to make it a strong Category 4 system. Hurricane Michael, which hit the Florida Panhandle earlier this month, had 155 mph winds (the above video shows the aftermath of Michael's devastating winds in Florida).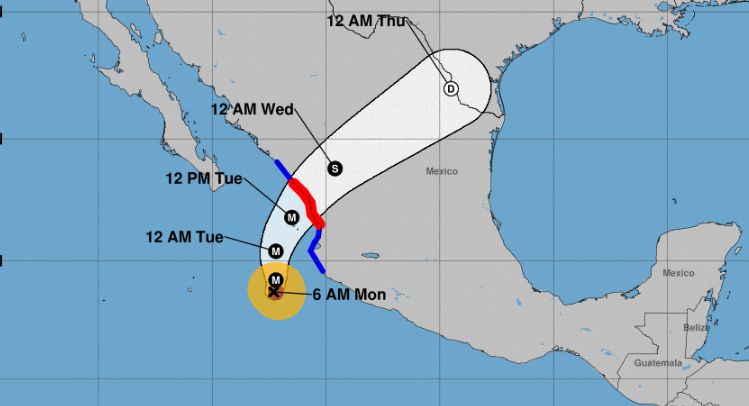 Willa is 200 miles south-southwest of Las Islas Marinas, Mexico, and it is 255 miles southwest of Cabo Corrientes, Mexico. The storm is moving north at around 7 mph, the NHC said.
A hurricane warning is in effect for San Blas to Mazatlan, including Las Islas Marias. A tropical storm warning is in effect for Playa Perula to San Blas and north of Mazatlan to Bahia Tempehuaya.
Take a gander at #Willa. The newest advisory on this powerful but beautiful storm says it is now a high end category 4 hurricane. Winds are up too 155 mph with a minimum pressure of 931 mbs. Just 2 mph away from a caregory 5! #Tropics pic.twitter.com/D1oljuD7I7

— Joey Marino (@WxJmar93) October 22, 2018
The storm is forecast to hit the area on Oct. 23 before moving over central Mexico. By Oct. 25, the storm's remnants will affect Texas.
"Willa is moving toward the north near 7 mph (11 km/h), and this general motion is expected to continue today. Willa is forecast to accelerate toward the north-northeast and move over or very near the Islas Marias early Tuesday and make landfall along the southwestern coast of mainland Mexico in the hurricane warning area late Tuesday or Tuesday night," according to the NHC.
"Willa is an extremely dangerous category 4 hurricane on the Saffir-Simpson Hurricane Wind Scale. Some slight strengthening is possible today, and Willa could become a category 5 hurricane later this morning," the agency said.
Tropical Storm Vicente
Vicente became "a little stronger" and is "expected to produce heavy rainfall" as well as flooding over southern Mexico, the agency said in its latest update.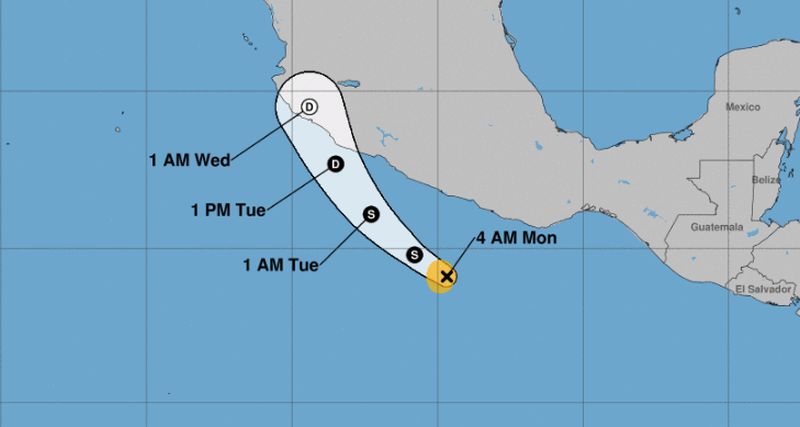 "There are no coastal watches or warnings in effect," said the NHC, but it stressed that "interests along the southern and southwestern coasts of Mexico should monitor the progress of Vicente."
According to the NHC, "A west-northwestward turn is expected later this morning, followed by a turn toward the northwest by late tonight. A northwestward to north-northwestward motion is forecast on Tuesday. On the forecast track, the center of Vicente is expected to approach the southwestern coast of Mexico on Tuesday. Maximum sustained winds have increased to near 45 mph (75 km/h) with higher gusts."
It added: "Little change in strength is expected today. Afterward, weakening is forecast, and Vicente is expected to become a tropical depression by tonight or Tuesday. The cyclone's circulation is expected to dissipate near the southwestern coast of Mexico by Wednesday."