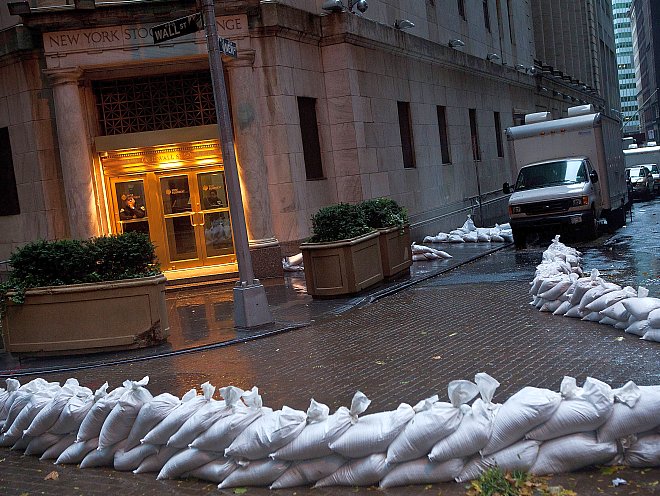 NEW YORK—In a move to protect market participants from Hurricane Sandy, U.S. exchanges suspended equity trading Monday, Oct. 29. Equity futures did not trade during the day and both debt and equity markets will remain shut Tuesday, Oct 30.
Trading in individual stocks and index futures ground to a complete halt Monday and will remain suspended on Oct. 30. "We support the consensus of the markets and the regulatory community that the dangerous conditions developing as a result of Hurricane Sandy will make it extremely difficult to ensure the safety of our people and communities, and safety must be our first priority," the New York Stock exchange said in a press release. It plans to reopen Oct. 31 should conditions permit.
Other markets were also affected. The NASDAQ electronic exchange stopped trading Monday and will remain closed Tuesday. The Chicago Mercantile Exchange (CME), which operates the NYMEX commodity future exchange in New York, had to evacuate its trading floor. NYMEX headquarters are located in Evacuation Zone A, right next to the Hudson River in Lower Manhattan. The hurricane did not interrupt electronic trading in commodities and foreign exchange on the NYMEX and the CME, however.
In coordination with the New York exchanges, the CME did suspend floor trading for equity futures during the day Monday, but futures reopened 6 p.m. for electronic trading.
Uncertainty regarding the hurricane took its toll and December contract for the "E-Mini" S&P 500 future was down 10.25 points at 6:55 p.m., trading at 1,397. Electronic overnight trading will close at 9:15 a.m. EDT as usual and there will be no floor operation during the day session. The CME plans to normalize trading in equity futures again when the other exchanges open Wednesday.
Bankers Work From Home
Most investment banks were also affected by the storm. According to a report by the Financial Times, Goldman Sachs Group Inc. and Citigroup Inc.—both located downtown—and JPMorgan Chase & Co. all prepared backup trading operations in other cities across the globe and had most staff work from home. Reports indicate that most essential staff still made it to the offices.
While it is not quite business as usual, financial companies are not facing severe disruptions due to electronic trading and execution. "With current technology we are able to conduct our regularly scheduled calls with clients, that is, of course, if their phones are working. They were talking about closing the bridge I cross on my daily commute so I chose to work out of my home office today," says Patrick Barry, principal at Joseph Barry Co. an asset manager for private clients in New Bedford, Mass.
Companies are generally well prepared but have to wait until the exchanges reopen, before they can submit their trades. "This year we made a big effort to get our daily workflows operational on the cloud. Our trade rebalancing software, custodial trading platform, CRM, and wealth management software is all cloud based. As long as we can plug into the net we are in business. Any resulting trades will have to wait to be processed until the big board lights up," says Barry.
Europe Closes Red
Since U.S. markets were closed during the day, traders had to look elsewhere for clues to signal future market movements. The EURO STOXX index closed down 0.7 percent at 2,478.84 and the euro currency lost 0.15 percent during the overnight session.
Spain came forward to equip a "bad bank" with $77 billion that will buy assets to relieve stress in the Spanish banking sector, according to Bloomberg, although the state-sponsored bank's 63 percent discount on asset purchases might have spooked investors.
The Toronto Stock Exchange Composite Index was roughly unchanged at 12,313 points.
The Epoch Times publishes in 35 countries and in 19 languages. Subscribe to our e-newsletter.