Hurricane Michael is continuing to strengthen, according to the U.S. National Hurricane Center's (NHC) latest 11 a.m. update on Oct. 9.
The storm has 110 mph winds. Forecasters have said that Michael could make landfall in the Florida Panhandle as a Category 3 storm or possibly greater.
"On the forecast track, the center of Michael will move across the eastern Gulf of Mexico through tonight. The center of Michael is then expected to move inland over the Florida Panhandle or Florida Big Bend area on Wednesday, and then move northeastward across the southeastern United States Wednesday night and Thursday, and move off the Mid-Atlantic coast away from the United States by Friday," the NHC said.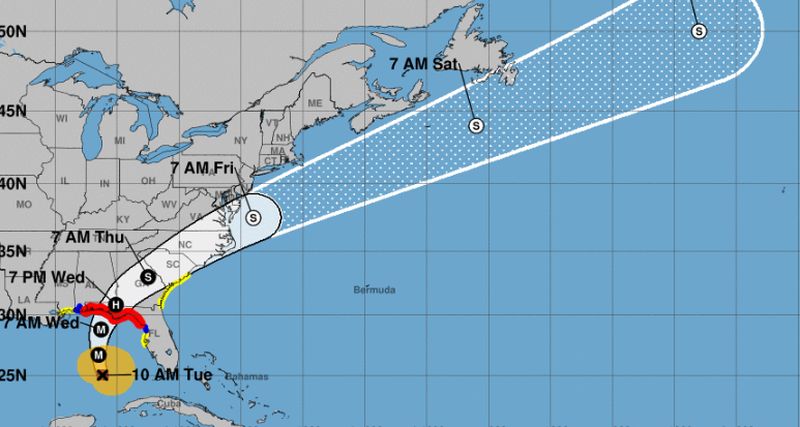 Warnings and Watches
A storm surge warning is in effect for Okaloosa/Walton County Line in Florida to Anclote River in Florida.
A storm surge watch is in effect for Anclote River in Florida to Anna Maria Island in Florida, including Tampa Bay.
From Indian Pass, Florida, to Cedar Key, Florida, 8 to 12 feet of storm surge could inundate some areas, the agency warned.
From Cedar Key to Crystal River, Florida, 6 to 8 feet of storm surge is forecast.
From the Okaloosa/Walton County Line, Florida, to Indian Pass, 6 to 9 feet of storm surge could hit.
Other places along the Panhandle could see several feet of storm surge.
A hurricane warning is in effect for Alabama/Florida border to Suwannee River in Florida.
A hurricane watch for the coast of Alabama was discontinued in the 11 a.m. update.
"Hurricane conditions are expected within the hurricane warning area along the U.S. Gulf Coast by Wednesday, with tropical storm conditions expected by tonight or early Wednesday. Hurricane conditions will also spread well inland across portions of the Florida Panhandle, southeastern Alabama and southwestern Georgia," the NHC advised.
A tropical storm warning is in effect for the Alabama/Florida border to the Mississippi/Alabama border as well as the Suwanee River in Florida to Chassahowitzka in Florida.
A tropical storm watch is in effect for Chassahowitzka to Anna Maria Island Florida, including Tampa Bay as well as the Mississippi/Alabama border to the Mouth of the Pearl River.
A tropical storm watch is also in effect for Fernandina Beach in Florida to South Santee River in South Carolina.
"Michael is expected to become a major hurricane later today, and remain a dangerous major hurricane through landfall. Significant weakening should occur as the center moves inland over the southeastern United States, but re-strengthening as an extratropical low is expected when the system moves over the western Atlantic," reads a discussion of the storm from the NHC.
Mandatory evacuations were ordered in areas of Panama City Beach that started on the morning of Oct. 9, ABC News reported.
"The Panhandle and Big Bend could see winds in excess of 100 mph," Florida Gov. Rick Scott said over the weekend. "Remember, this storm could grow stronger and be a Category 3 hitting our state. This storm will be life-threatening and extremely dangerous."