Hurricane Max has formed off the coast of southern Mexico and is forecast to hit southwestern Mexico later on Thursday, according to a 7 a.m. update from the U.S. National Hurricane Center.
The hurricane, a Category 1 system with winds of 75 mph, is moving 6 mph.
Max is currently located about 55 miles southwest of Acapulco, Mexico.
Hurricane warnings (which means that hurricane-force winds will hit within 36 hours) were issued for Zihuatanejo to Punta Maldonado in southwestern Mexico. In this case, hurricane conditions are expected within the next 12 hours.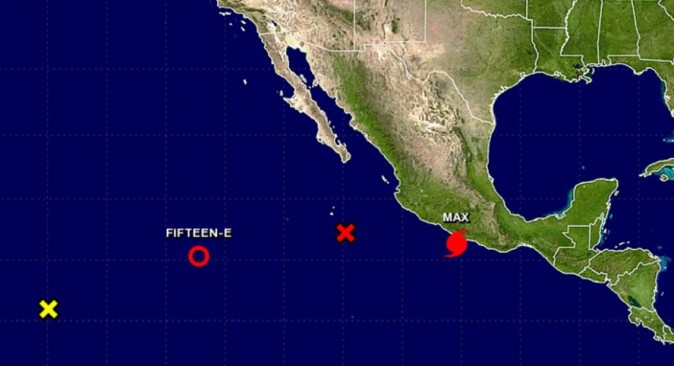 "Preparations to protect life and property should be rushed to completion," the NHC stated.
Max is the fifth hurricane to form during the 2017 hurricane season. Hurricane Katia struck Mexico as a Category 1 storm last week.
According to Accuweather, Max will "weaken very quickly" because it will run into the "mountainous terrain" of southwestern Mexico.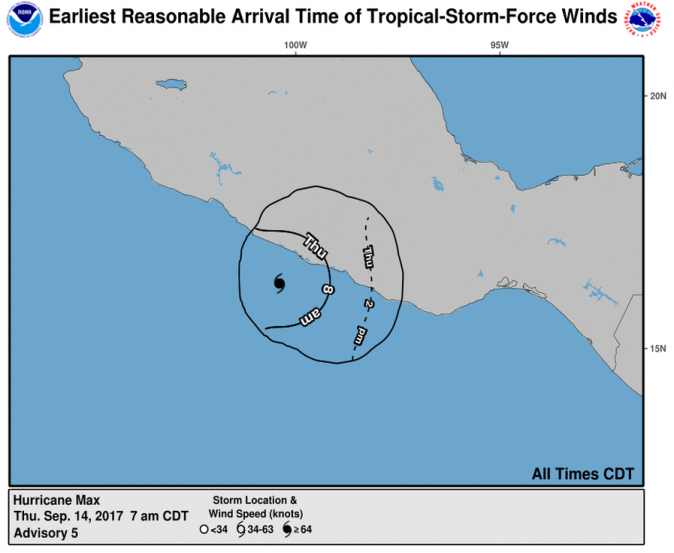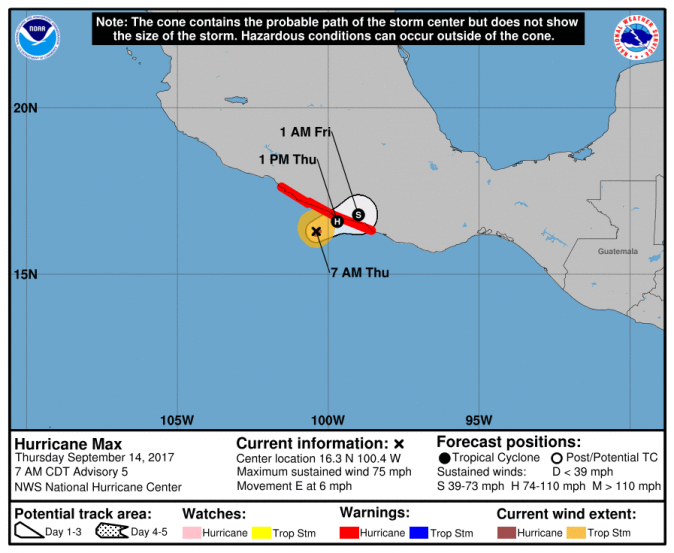 "Max will bring the biggest threat for flooding across the state of Guerrero, including Acapulco, into Friday morning," AccuWeather Meteorologist Steve D. Travis was quoted as saying on his own website.
A total of 1 to 3 inches of rainfall is possible in the area, and Travis added that mudslides could become a very real possibility.
Another area of low pressure has been observed west of Max, and it could put Mexico on alert for another tropical storm or hurricane.
"This tropical low could become organized enough to reach tropical storm strength" said Travis. "While the track is not set in stone, it could move northward toward the Baja Peninsula or western Mexico late in the weekend," Travis noted.