The U.S. National Hurricane Center (NHC) said Hurricane Lorenzo is now a Category 4 storm but is not expected to affect land in the near future.
The storm has 130 mph winds and is moving 13 mph to the west-northwest. It is located 1,055 miles west of the Cabo Verde Islands, located off the African coast.
Lorenzo is slated to move to the north and then northeast.
"Lorenzo is a large hurricane. Hurricane-force winds extend outward up to 45 miles (75 km) from the center and tropical-storm-force winds extend outward up to 255 miles (405 km)," the agency said.
Forecasters said that "there are no significant changes to the guidance since the last advisory, and there are no significant changes to the forecast track either."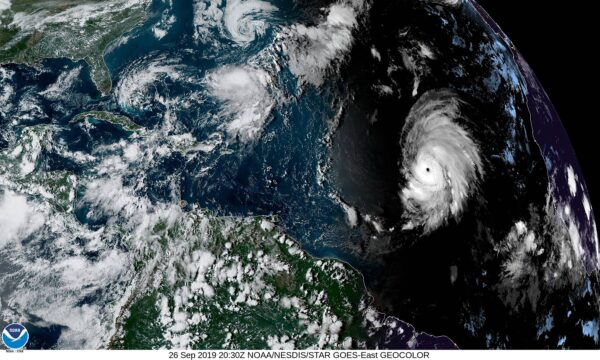 Over the coming days, the storm "will subsequently interact with an upper-level trough during recurvature, which should cause a period of increased shear and some weakening of the cyclone around" two days later, the agency said.
Eric Blake, a meteorologist at the NHC, tweeted that only 10 Atlantic hurricanes have ever formed east of 40 degrees west longitude, with five occurring in the last decade.
When Lorenzo reached Category 4 strength, Blake wrote: "You won't find anything comparable in that part of the [Atlantic] basin for strength and size except for Gabrielle 1989, and that was several degrees west."
Meanwhile, Tropical Storm Karen is moving to north-northeast and "is expected to turn eastward and become nearly stationary by Friday night, and then begin moving westward over the weekend," according to the agency's forecast.
For both storm systems, there are no coastal watches or warnings in effect.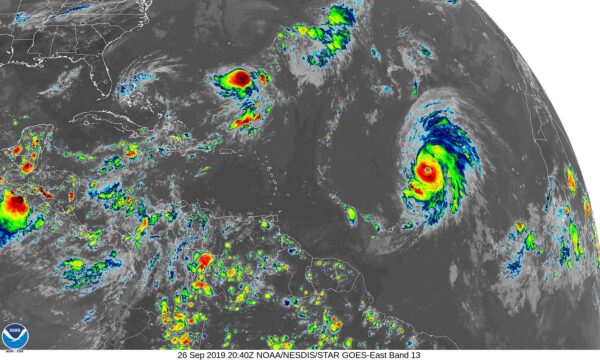 Earlier this week, Karen swept over the isles of Vieques and Culebra in the narrow passage between Puerto Rico's main island and the U.S. Virgin Islands to the east.
Earlier in the week, the storm unleashed floods and damaged properties on other Caribbean islands, including Trinidad and Tobago, according to video images that showed people using shovels to clear mud-covered roadways.
Karen, the 11th named storm of the 2019 Atlantic hurricane season, formed on Sunday afternoon east of the Lesser Antilles.
Puerto Rico, beset with financial woes and political turmoil, averted a potential new disaster last month when Hurricane Dorian skirted past it before laying waste to the northern Bahamas. Two years ago, Puerto Rico was still recovering from Hurricane Irma when it took a direct hit from Hurricane Maria. At least 3,000 people perished in that storm, the deadliest in the island's recorded history.
Reuters contributed to this report.