Hurricane Jose's schizophrenic path might take it to Florida, but it's too early to tell.
Jose, currently a Category 2 storm with winds of 105 mph, could take a path toward the Bahamas by Saturday, and it's too soon to tell if South Florida will be hit.
The storm is currently 255 miles northeast of Grand Turk Island, which is southeast of the Bahamas, according to a U.S. National Hurricane Center in Miami update at 5 a.m. on Monday.
The storm is moving in a bizarre clockwise loop direction before straightening out and going to the southern United States.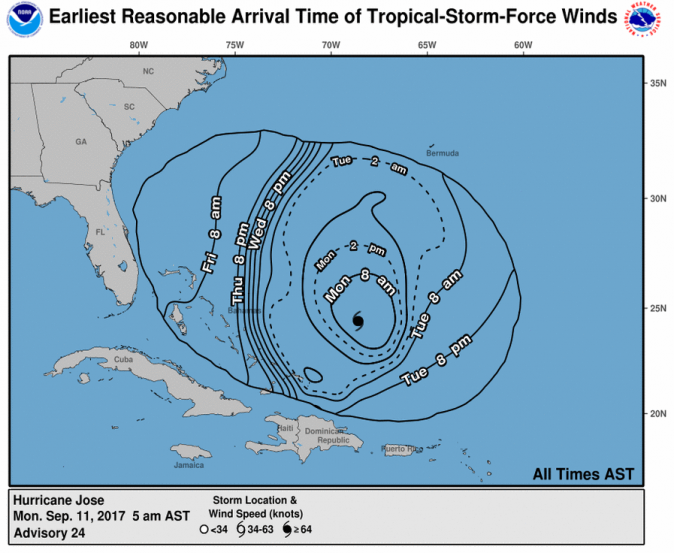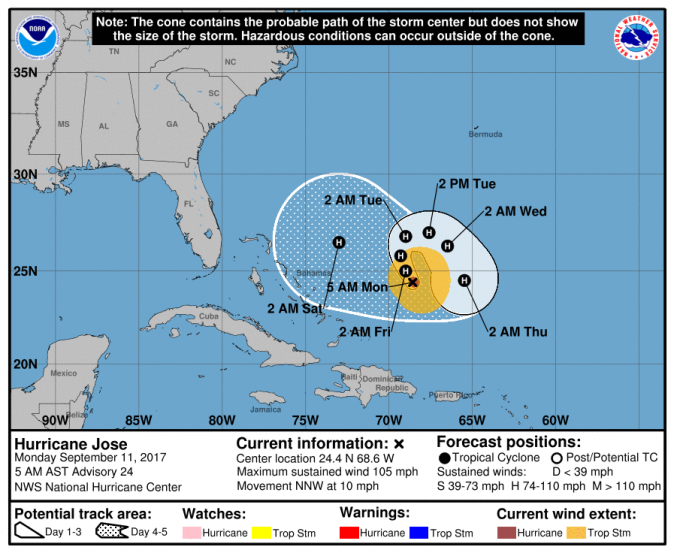 Jose, however, is not forecast to become a major (which means Category 3 and above) hurricane this week. The NHC said that it is weakening, while retaining hurricane strength before weakening to Category 1 strength.
There are no hurricane watches or warnings associated with Jose.
"The expectation is that Jose will complete a small clockwise loop over the open waters of the western Atlantic the next couple of days. Despite the complex forecast track, this general solution is shared by all the reliable model guidance," said hurricane forecasters, according to the Orlando Sentinel.
According to the Sentinel, most forecast models show Jose heading further into the Atlantic Ocean after making the clockwise loop.
In 2004, Hurricane Jeanne made a loop and appeared to be heading out into the Atlantic, but it instead turned around and hit the Florida coast.
On Monday, Hurricane Irma weakened to tropical storm strength, but still brought in devastating winds, rains, and floods.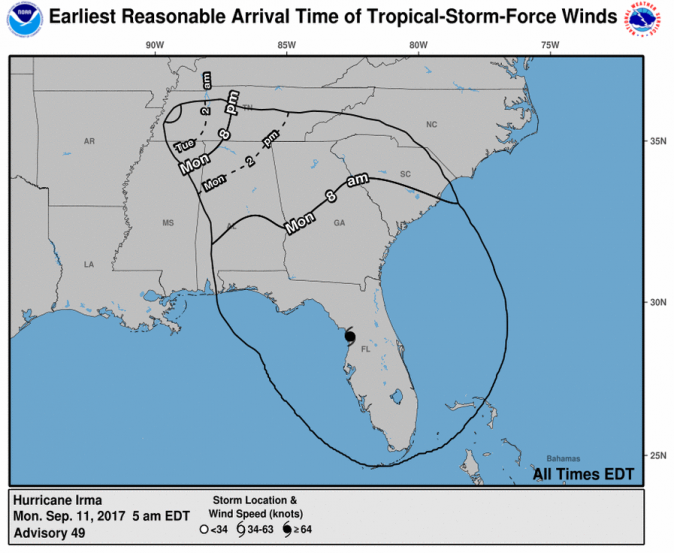 Irma is now a tropical storm with sustained winds of up to 70 miles per hour, located about 35 miles west of Gainesville and headed up the Gulf Coast, the National Hurricane Center said at 8 a.m. ET.
Jacksonville and nearby cities are now facing flash flooding, and the city's sheriff's office is pulling residents from waist-deep water.
"Stay inside. Go up. Not out," Jacksonville's website said. "There is flooding throughout the city and more rain is expected."
The Cuban government reported that 10 people died after Irma slammed the island's northern coast, Reuters reported.