Hurricane Irma weakened from a Category 1 hurricane to a tropical storm on Monday morning, but it's still producing heavy wind gusts and rainfall, the U.S. National Hurricane Center said in an 8 a.m. Monday update.
The storm is "still producing some wind gusts to near hurricane force," the NHC stated.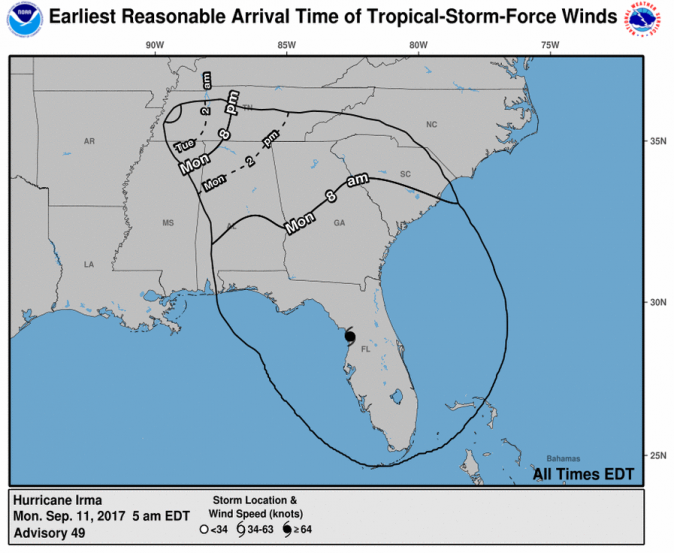 At 10 a.m. ET on Monday, Sept. 11, the Jacksonville Sheriff's Office warned that San Marco, Riverside, Downtown Jax, Southampton, and Landon Park in Jacksonville are under mandatory evacuation.
The storm is located about 30 miles northeast of Cedar Key, 35 miles west of Gainesville, and 105 miles north-northwest of Tampa—with 70 mph winds, the NHC said.
There's a tropical storm warning from Bonita Beach to the Okaloosa/Walton County Line, Jupiter Inlet to the South Santee River, and Lake Okeechobee, the NHC said.
A storm surge warning was issued for South Santee River southward to the Flagler/Volusia County line, Cape Sable northward to the Ochlockonee River, and Tampa Bay, the agency added.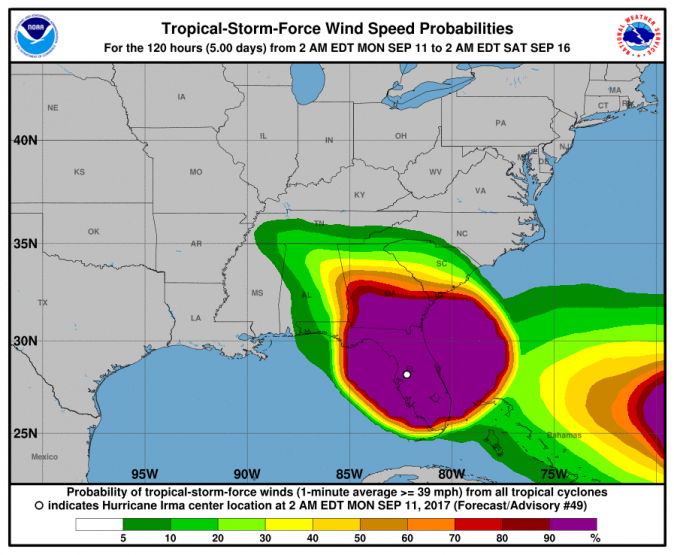 The  hurricane warning at Sebastian Inlet to Fernandina Beach has been changed to a tropical storm warning. The hurricane warning is from Anclote River to Indian Pass has been changed to a tropical storm warning.
The hurricane watch from north of Fernandina Beach to Edisto Beach has been discontinued.
The NHC stated that the storm surge warning was discontinued from south of the Flagler/Volusia County line to Jupiter Inlet.
The National Weather Service, meanwhile, issued a flash flood emergency for downtown Jacksonville until 12:45 p.m. ET, Weather.com reported.
"Stay inside. Go up. Not out," Jacksonville's website warned residents on Monday, Sept. 11. "There is flooding throughout the city and more rain is expected."


That includes San Marco, South Hampton, Landon Park, and Riverside, which could all see a water rise of another 1 to 2 feet.
Reuters reported that nearly 6 million homes and businesses are without power in Florida.
Much of the state's east and west coasts remained vulnerable on Monday to storm surges, when hurricanes push ocean water dangerously over normal levels. That risk extended to the coast of Georgia and parts of South Carolina, the hurricane center said.
Reuters contributed to this report.