The National Hurricane Center said on Sept. 12 that Hurricane Florence is generating giant waves as the storm continues to churn its way to the U.S. East Coast.
The NHC observed wave heights of 83 feet under the northeastern quadrant of Florence.
Wave heights to 83 ft were measured early this morning under the NE quadrant of Hurricane Florence. These enormous waves are produced by being trapped along with very strong winds moving in the same direction the storm's motion. #HurricaneFlorence https://t.co/26J6Uogt6o pic.twitter.com/mdjGD5yibg

— NHC_TAFB (@NHC_TAFB) September 12, 2018
"These enormous waves are produced by being trapped along with very strong winds moving in the same direction the storm's motion," said the NHC.
Florence on Sept. 12 at 2 p.m. was downgraded to a Category 3 hurricane with 125 mph winds, but it is expected to still strengthen. The NHC said that the "peak winds have decreased slightly, but the size of the wind field as increased."
The storm is still expected to bring life-threatening storm surge across most of the North and South Carolina coastline.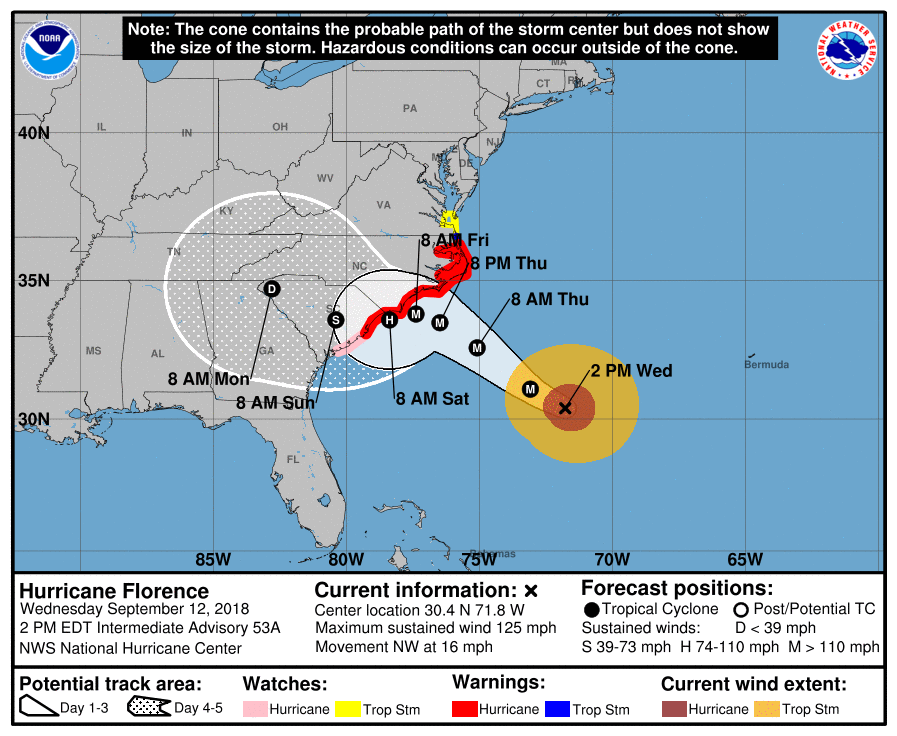 Hurricane and storm surge warnings are in effect for the South Santee River in South Carolina to Duck in North Carolina. Warnings are in effect for Albemarle and Pamlico Sounds, which include the Neuse and Pamlico Rivers.
Hurricane and storm surge watches are in effect from Edisto Beach in South Carolina to the South Santee River in South Carolina. A storm surge watch is in effect at North of Duck in North Carolina to the North Carolina-Virginia border.
Tropical storm warnings were issued for southern Virginia.
"Interests elsewhere in the southeastern and mid-Atlantic states should monitor the progress of Florence," according to the NHC.
Forecast
After hitting land, the storm has been forecast to go west and affect Georgia, eastern Tennessee, and eastern Kentucky.
President Donald Trump called on people to "get out of its way," referring to Florence, according to The Associated Press."Don't play games with it. It's a big one," he said.
Georgia Gov. Nathan Deal declared a state of emergency for the entire state, and he asked for people to pray for those in Hurricane Florence's path. North and South Carolina, as well as Virginia, declared states of emergencies earlier in the week.
The hurricane center's projected track showed Florence hovering off the southern North Carolina coast on the night Sept. 13 before finally coming to shore. That trend is "exceptionally bad news," said University of Miami hurricane researcher Brian McNoldy to AP as it "smears a landfall out over hundreds of miles of coastline, most notably the storm surge."
As of Sept. 14, some 1.7 million residents in North and South Carolina and Virginia were told to evacuate the coast, and hurricane watches and warnings extended across an area with about 5.4 million residents, AP reported.
Florence was first called  Tropical Depression Six by the NHC, forming near the western coast of Africa, on Aug. 31. It was later named Tropical Storm Florence the next day as it moved over the eastern Atlantic Ocean. On Sept. 5, Florence became a Category 4 hurricane after it rapidly intensified over about the span of one day.