Hurricane Dorian might strengthen to become a major Category 4 hurricane when it makes landfall in Florida, according to forecasters on Thursday, Aug. 29.
The storm is forecast to reach Category 3 on the Saffir-Simpson scale by Friday. Now, there is an "increasing likelihood of life-threatening storm surge along portions of the Florida east coast," the National Hurricane Center (NHC) warned. Devastating hurricane-force winds are also forecast, NHC said, Reuters reported.
At its peak, the NHC said on its website, the storm would have 130 mph winds, making it a Category 4, which is the second-strongest on the scale.
"Environmental conditions consisting of warm waters and low vertical wind shear along the path of the hurricane should allow for at least steady intensification during the next 2 to 3 days. With the small inner core and favorable conditions, rapid strengthening also remains a possibility, although not likely in the very short term given the concentric eyewall structure," the agency wrote. "The updated NHC intensity forecast calls for Dorian to become a major hurricane on Friday, and shows a slightly higher peak intensity than the previous forecast. The official forecast is at the upper end of the guidance."
Ahead of landfall, Florida Gov. Ron DeSantis declared a state of emergency.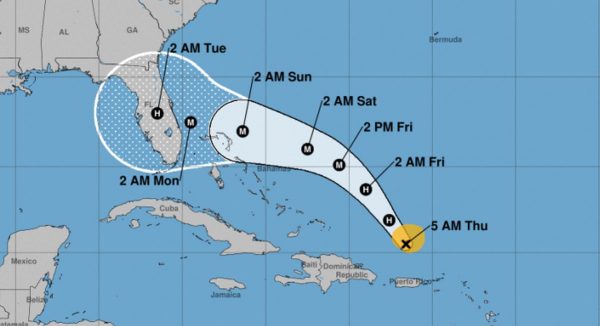 "It's important for Floridians on the East Coast to monitor this storm closely," DeSantis said in a statement. "Every Florida resident should have seven days of supplies, including food, water and medicine, and should have a plan in case of disaster."
"The time to act is now," the governor said. "Do not wait until it's too late."
A Category 4 storm would have 130 mph winds and may cause "catastrophic damage," according to the NHC's website.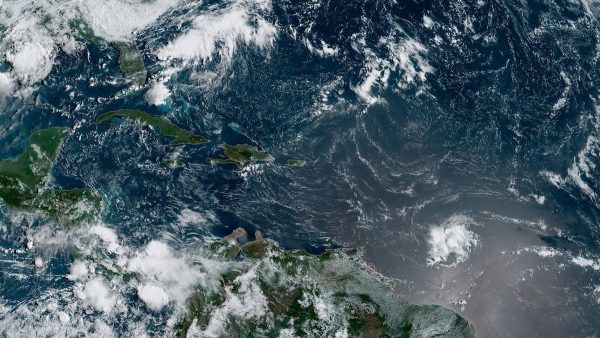 "Well-built framed homes can sustain severe damage with loss of most of the roof structure and/or some exterior walls. Most trees will be snapped or uprooted and power poles downed. Fallen trees and power poles will isolate residential areas. Power outages will last weeks to possibly months. Most of the area will be uninhabitable for weeks or months," the website says.
President Donald Trump called on Floridians to heed official warnings. "Hurricane Dorian looks like it will be hitting Florida late Sunday night," Trump wrote on Twitter. "Be prepared and please follow State and Federal instructions, it will be a very big Hurricane, perhaps one of the biggest!"
Flooding is often an underestimated threat from hurricanes. #Dorian is expected to slow down, and if it turns north near Florida, could result in a large swath of the SE US receiving dangerous amounts of rainfall.

Below is just one *potential* example. Be prepared even inland! pic.twitter.com/YAFmPbDc6R

— Levi Cowan (@TropicalTidbits) August 29, 2019
Hurricane Dorian is now forecast to strengthen to a Category 4 hurricane with 130 mph winds by Sunday, and maintain that intensity through landfall in Florida, according to the National Hurricane Center. https://t.co/JXmuOUViid

Track to storm: https://t.co/nm5ZqcfHHy pic.twitter.com/fPZdBmcN1q

— CNN (@CNN) August 29, 2019
As of 11 a.m., the storm is about 220 miles north-northwest of San Juan, Puerto Rico, according to the NHC, which added it is heading northwest at 13 mph. It has 85 mph sustained winds and higher gusts.
Currently, no coastal warnings or watches are in effect.