Hurricane Dorian has strengthened to a strong Category 2 storm with 110 mph winds as forecasters have warned it might be the strongest hurricane to hit Florida's East Coast since 1992's Hurricane Andrew.
The National Hurricane Center (NHC) said that within a few days, the storm's winds could reach 140 mph, making it a Category 4, before landfall.
According to the Saffir-Simpson scale, "catastrophic damage will occur" in a Category 4 storm.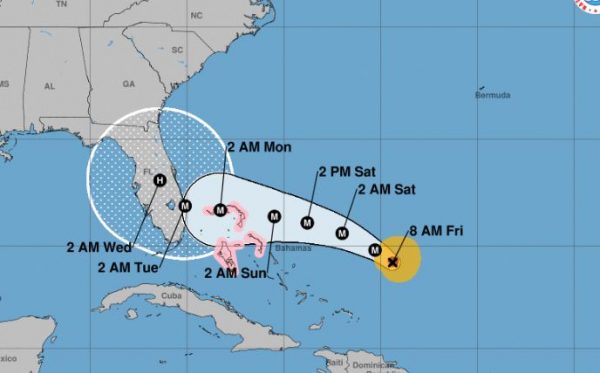 "Well-built framed homes can sustain severe damage with loss of most of the roof structure and/or some exterior walls. Most trees will be snapped or uprooted and power poles downed. Fallen trees and power poles will isolate residential areas. Power outages will last weeks to possibly months. Most of the area will be uninhabitable for weeks or months," the agency said.
The government weather forecaster's cone of probability shows that Dorian will first hit the Bahamas before hitting somewhere in South Florida by the early morning of Tuesday, Sept. 3.
Coastal hurricane watches are in effect for areas in the Bahamas.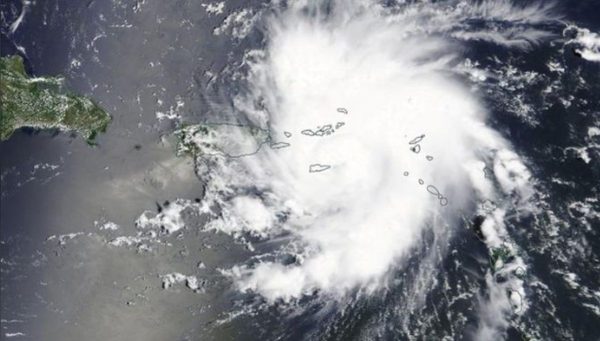 "On this track, Dorian should move over the Atlantic well east of the southeastern and central Bahamas today, approach the northwestern Bahamas Saturday, and move near or over portions of the northwestern Bahamas on Sunday," the NHC said.
"Strengthening is forecast during the next few days, and Dorian is expected to become a major hurricane later today. Dorian is likely to remain an extremely dangerous hurricane while it moves near the northwestern Bahamas and approaches the Florida peninsula through the weekend," according to the agency.
Coastal sections of the southeastern United States and northwestern Bahamas could receive 6 to 12 inches of rain, with isolated areas getting as much as 15 inches.
Comparisons to Andrew
As noted by some forecasters, Dorian could be the worst hurricane to strike Florida's East Coast since Hurricane Andrew in 1992.

"Since the late 1800s, only eight Category 4 and Category 5 hurricanes have made landfall on Florida's east coast. With Hurricane Dorian forecast to become a Category 4 storm as it makes its approach, it may become the ninth. The last hurricane of this magnitude to hit Florida was Hurricane Andrew, which hit 27 years prior in 1992," AccuWeather noted.
AccuWeather Hurricane Expert Dan Kottlowski also noted that Dorian's track is similar to Andrew's. Andrew was a rare Category 5 hurricane with 165 mph winds which left 65 people dead and did tens of billions of dollars in damage.
Hurricane #Dorian Intermediate Advisory 24A: Hurricane Hunters find Dorian a little stronger. https://t.co/CSOdLLF50S? pic.twitter.com/w5pn0XzFu0

— National Hurricane Center (@NHC_Atlantic) August 30, 2019
"They will do different things. No two hurricanes are alike," he said. "One of the reasons why it doesn't happen very often is because most hurricanes, when they approach Florida, tend to re-curve out to sea parallel to the coast," he also said.
The last Category 4 hurricane to make landfall on Florida's East Coast was the Fort Lauderdale Hurricane in 1992.