Continuing to weaken, but still packing 105 mph winds, Hurricane Dorian has picked up a little speed as it buzzes the coast of Florida but remains within its predicted path.
The center of the Category 2 storm was located 90 miles east of Florida at 5 a.m., according to the latest update from the National Hurricane Center (NHC), as storm warnings were lifted for the Bahamas, where the storm made landfall with record wind speeds, tearing apart islands as it stalled for two days, leaving at least seven people dead.
The Florida coast is now free of the "cone of probability" that shows the possible path of the storm's center, although the outer reaches of Dorian's hurricane-force winds are currently beating the sea just 30 miles off Daytona Beach.
Although the fastest wind speeds have dropped, the storm's hurricane-force core has widened since hitting the Bahamas.
Dorian notched up a little speed overnight as it headed north-northeast, currently moving at 8 mph, and is expected to swing to the right as it approaches the United States seaboard.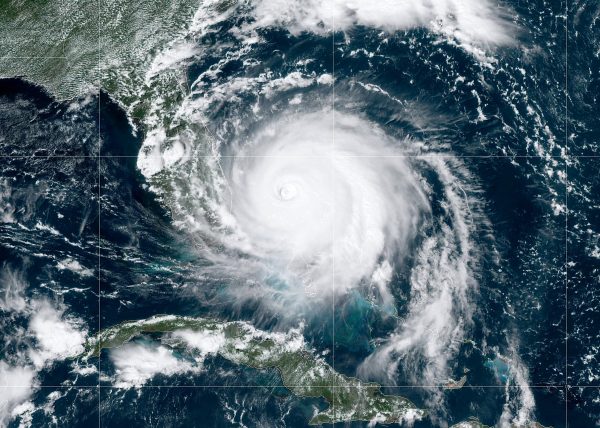 "A turn toward the north is forecast by this evening, followed by a turn toward the north-northeast on Thursday morning," said the NHC statement, in line with the forecasts from the last couple of days.
"On this track, the core of Hurricane Dorian will move dangerously close to the Florida east coast and the Georgia coast through tonight. The center of Dorian is forecast to move near or over the coast of South Carolina and North Carolina Thursday through Friday morning."
The storm's path in the latest "cone of probability" shows little change from previous predictions, but falls a little less far inland on the coasts of Virginia and the Carolinas than before.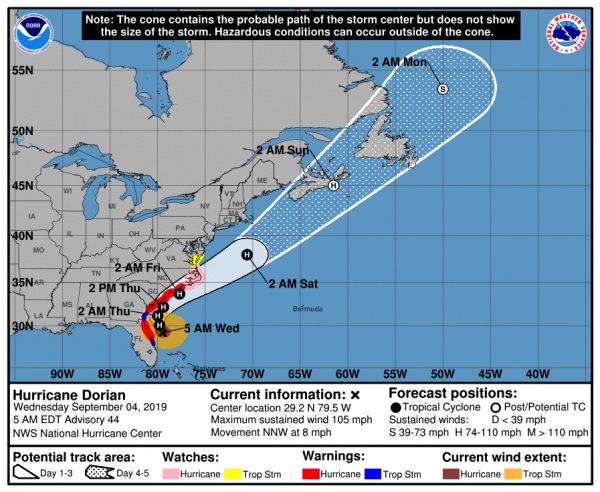 The latest predictions show the storm center potentially grazing the edges of Florida and Georgia, and making clear landfall in the Carolinas and Virginia which lean out into the straight-line path the storm is expected to follow after swinging to the right off the coast of Jacksonville.
The core of the storm that packs hurricane-force winds extends about 60 miles from the center.
The NHC is warning of potential storm surges of up to 8 feet in some areas of South Carolina, and says that total rainfall could reach as high as 15 inches in some isolated areas of the coastal Carolinas.
The heavy rainfall predicted from Florida to Virginia could cause life-threatening flash floods.
Dorian hit the Bahamas as a Category 5 hurricane over the weekend, packing sustained winds of 185 mph, making it the second most powerful hurricane on record, tied with the Labor Day storm of 1935 as the strongest hurricane to make landfall in the Atlantic basin.
According to the NHC, Dorian brought a storm surge of 18-23 feet to the Caribbean island chain, which is still recovering from the powerful Hurricane Irma, which hit the islands in 2017, leaving 47 people dead.
Dorian has so far claimed the lives of at least seven people in the Bahamas, which Prime Minister Hubert Minnis described as being "in the midst of a historic tragedy."