Airplane lovers can rejoice this weekend, as Pacific Airshow is coming back to Huntington Beach for the first time since 2019.
Featuring flyovers and stunts performed by the U.S. Navy Blue Angels, Canadian Forces Snowbirds, the U.S. Air Force ACC F-35 Demo Team, and more, the event seeks to be a celebration of patriotism and awe-inspiring feats of aviation.
The show, which was missed last year during the pandemic, will be unique this year as the U.S. Air Force Thunderbirds will be joining the lineup all three days of the show, marking the second time in U.S. history that three North American jet teams—the Blue Angels, Snowbirds, and Thunderbirds—will perform together at one airshow.
"To say it's an honor to have the Thunderbirds join us again would be an understatement," event director Kevin Elliott said in a press release.  "The lineup of the 2021 Pacific Airshow will become a thing of legend with kids growing up to say, 'I remember when all three North American Jet Teams flew together in Huntington Beach.'  If you know anything about Airshows, or even if you don't, you will not want to miss this spectacle."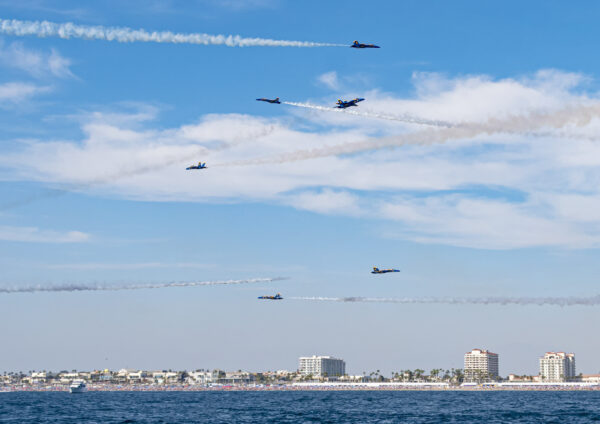 The show began in 2016, attracting hundreds of thousands of people to Huntington Beach for the event, and showing off the best in military and civilian flight from all over the world. The event is so popular it attracts people from as far away as Europe and Asia and generates more than a $100 million economic impact for Huntington Beach.
The Thunderbirds took time to rework their air show performance due to the 2020 season being canceled, and will be debuting their new routine this year with formations that tell a story of patriotism, American ingenuity, teamwork, and inspiration. The audience will also get to see an all-new maneuver called the Rapid Recovery, as well as other modified maneuvers to show off the flying and combat capabilities of the F-16 Fighting Falcon.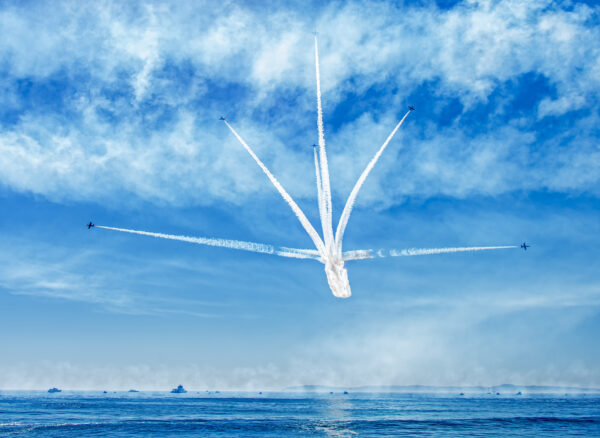 The event will take place Friday, Saturday, and Sunday, Oct. 1–3 from 10:30 am to 4:30 pm, with some ticket options already selling out.
Pacific Airshow was also recognized at the U.S. Airforce Thunderbirds Civilian Show Site of the Year in 2018 and 2019, making it the first air show in history to win the award two years in a row.
While the show can be seen from a distance, the show offers tickets for select seating for as low as $25 for general admission, $40 for pier seating, and higher to purchase a cabana and more.
This year will also feature an Afterburner Music Festival, where live music will be played by popular bands right on the sand on Oct. 1 and 2 from 4:00 to 10:00 pm. The performances include those by Sammy Hagar & The Circle, Sam Hunt, X Ambassadors, and more. Tickets can be purchased for either night for $79 general admission or $179 for VIP.