Commentary
China wants to start a university in Hungary, with Hungary's own money paying for the privilege. On June 5, approximately 10,000 protested in Budapest against the proposed Fudan university campus. China is allegedly corrupting Hungarian leaders, and Hungary's president has close ties to the Chinese Communist Party (CCP). The Hungarian people are right to rise up against any political leaders who are compromised by the Beijing regime. The greatest danger to our democracies today is the risk that for a few bucks, China can buy off presidents, foreign ministers, and treasury officials to do Beijing's bidding, rather than the bidding of the voters.
The controversy in Budapest is indicative of a much broader struggle between democracy and dictatorship. In 2019, Fudan University deleted references to "freedom of thought" in its charter. The expensive project, planned for completion in Budapest by 2024, will be funded by over $1 billion in loans from China. It's price tag is more than the government spends on all other universities together, and will leech government funding from Hungarian higher education and increase Hungary's indebtedness to China.
Hungary's government is led by Viktor Orban and his supposedly right-wing party, Fidesz. But Orban has close ties to Beijing and Moscow, and is pushing a foreign policy of "Eastern Opening."
Huawei has 70 percent of the Hungarian telecommunications market, and Hungary is purchasing a $15 billion nuclear plant from Russia. Just this month, Orban's government blocked a European Union statement against China's abuse of Hong Kong. His actions are those of a Trojan horse for Beijing and Moscow in both the European Union and the North Atlantic Treaty Organization (NATO).
A U.S. official told EuroObserver in 2019 that Hungary's "corruption problem creates pathways for Russian and Chinese influence." He added, "One of the initiatives that we'll be unveiling is US support for efforts to look more closely at the intersections between corruption and Russian and Chinese influence."
Hungary's foreign minister, Peter Szijjarto, claimed in 2019 that Western accusations of Beijing and Moscow corruption in Hungary are hypocritical, given deals with these illiberal regimes in Britain and Germany.
But Hungary has gone much further. According to Reuters, "Orban has built cordial ties with China, Russia and other illiberal governments, while locking horns with Western allies by curbing the independence of scientific research, the judiciary and media."
A university student protester against the Fudan campus told AFP last week, "Orban and Fidesz portray themselves as anti-communists, but in reality the communists are their friends."
Another told Reuters, "I do not agree with our country's strengthening feudal relationship with China." He believes the funds should go "to improve our own universities instead of building a Chinese one."
The liberal mayor of Budapest and economists are against Fudan's proposed campus, which is expensive and lacks transparency. Mayor Gergely Karácsony, who would be a better pick for prime minister of Hungary, told Reuters, "This Fudan project would put in doubt many of the values that Hungary committed itself to 30 years ago" when it became independent of the Soviet Union.
The mayor labeled several streets, which converge on the proposed new campus, with names that commemorate the victims of Chinese communism, including Dalai Lama Street, Free Hong Kong Road, Uyghur Martyrs' Road, and one named after a jailed Chinese Catholic bishop.
A Chinese foreign ministry spokesperson said the renaming should not affect the project, and was "contemptible." In that moment he revealed exactly how the CCP views public opinion in a democracy.
Approximately 66 percent of Hungarians oppose the Chinese university and 27 percent support the idea, according to an opinion poll published on June 1.
Documents leaked to local journalists show that the $1.8 billion project, more than Hungary spent on the entire higher education sector in 2019, will be funded by a Chinese loan of approximately $1.5 billion. The Fudan campus includes plans for 500 faculty and 6,000 students, including in the medical and engineering fields, which raises questions about E.U. technology transfer to China.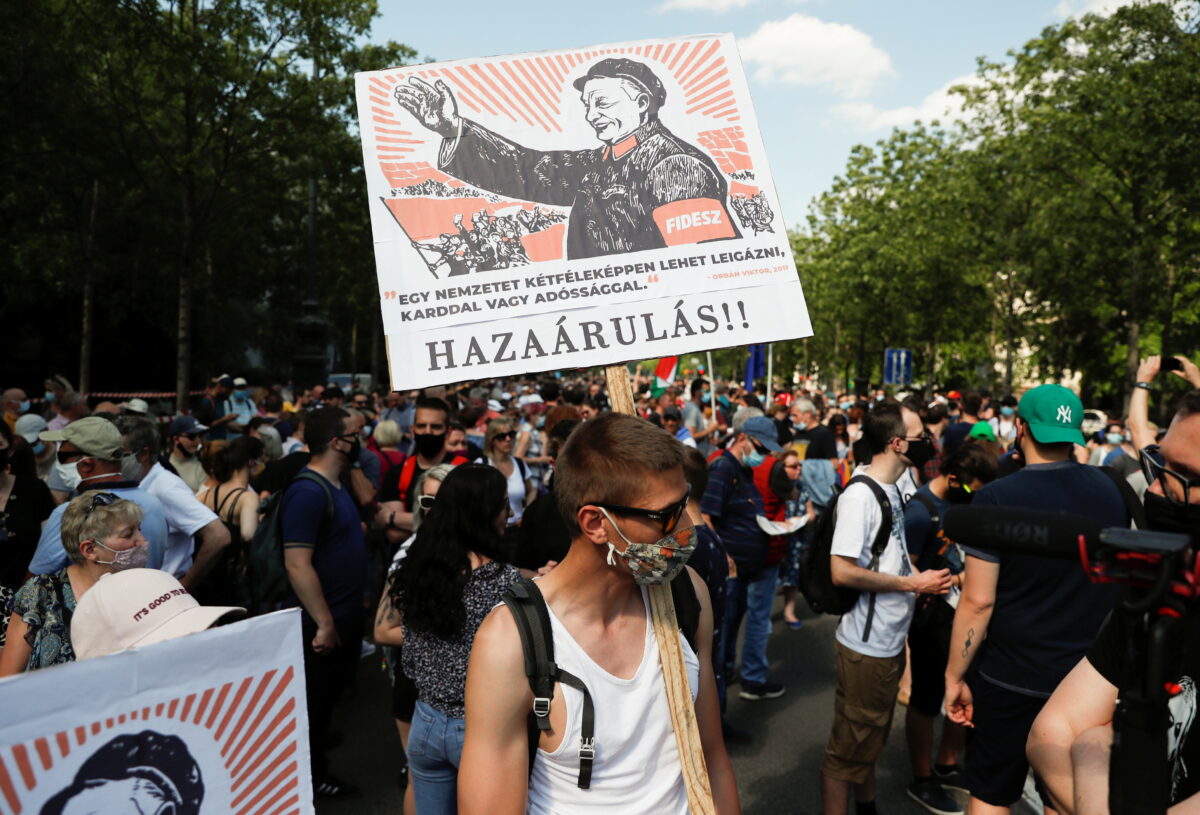 Orban already has a $2.1 billion Chinese loan to reconstruct a Budapest-Belgrade railway. He fast-tracked a Chinese coronavirus vaccine that remains unapproved in the European Union.
Based on my sources, Chinese projects such as these can be accompanied by finders fees of 2-7 percent, paid by consulting contracts in a manner that personally benefits the head of state and his closest associates. If true for these projects, that could amount to as much as $275 million, which would explain why Hungary's political leaders support the project.
In any case, Hungary is becoming a CCP beachhead in the European Union. But the Hungarian people have been there, and done that. Hungarians experienced Soviet communism, including internment and labor camps, and rose up in 1956 to drive out the Russians. When the Soviets realized that the West feared war, they drove right back in and liquidated the anti-communists.
Hungary then suffered under Moscow's yoke until the country's liberation in 1989. Hungarians have not undergone such horrors to easily allow themselves to fall under the yoke of a new communist master, this time in Beijing rather than Moscow. But they, and we, will have to fight harder against Beijing's corruption in our capital cities if we want to guarantee our future freedoms.
Anders Corr has a bachelor's/master's in political science from Yale University (2001) and a doctorate in government from Harvard University (2008). He is a principal at Corr Analytics Inc., publisher of the Journal of Political Risk, and has conducted extensive research in North America, Europe, and Asia. He authored "The Concentration of Power" (forthcoming in 2021) and "No Trespassing," and edited "Great Powers, Grand Strategies."
Views expressed in this article are the opinions of the author and do not necessarily reflect the views of The Epoch Times.