Hungarian President Janos Ader has signed a new law that expands the amount of overtime employees are allowed to work.
Opponents have blasted the new regulations as a "slave law," while supporters argue it removes caps on workers' ability to trade more freely their time for money.
The law increases the amount of overtime employers can request to 400 hours per year from the current 250, with employees having to give written consent and no penalty for saying no.
Ader signed the new law on Dec. 20, with Hungary's parliament having given its seal of approval a week earlier, sparking a wave of protests.
Controversially, payment for the overtime can be delayed by up to three years, although Gyorgy Schopflin, a politician from Hungary's ruling Fidesz party, told the BBC that, in practice, workers would be "paid monthly, not in three years."
Schopflin stressed there would be "no coercion" of employees and that the reforms had been "heavily distorted by the opposition."
Ader further defended the new legislation, telling reporters in a statement, "I studied the changes to the labor law, and its provisions do not run contrary to the constitution."
He added other EU countries' labor laws were no less strict.
Sixteen trade unions were said to be planning strikes.
Mass Demonstrations
At least 10,000 protesters gathered in the capital Budapest on Dec. 16 for a fifth consecutive day of demonstrations.
Prime Minister Viktor Orban's policies have typically enjoyed widespread support, despite rebuke from Brussels over rule of law.
In elections earlier this year, his Fidesz party won a two-thirds majority in parliament.
Fidesz representatives have claimed the protests are, in reality, "astroturfing" operations financed by Hungarian-born U.S. billionaire George Soros. Soros denies that, saying the Hungarian authorities are using him as a scapegoat.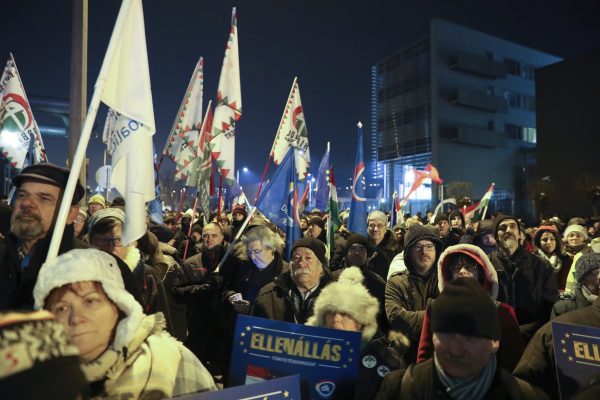 The week-long protests in Budapest have forged fragmented opposition parties into a rare coalition against Orban, drawing young Hungarians into the streets to demonstrate against what they see as his increasingly authoritarian rule.
In addition to the controversial new labor law, Orban has been blasted for setting up new courts controlled by the justice minister, which opponents say could lead to political meddling.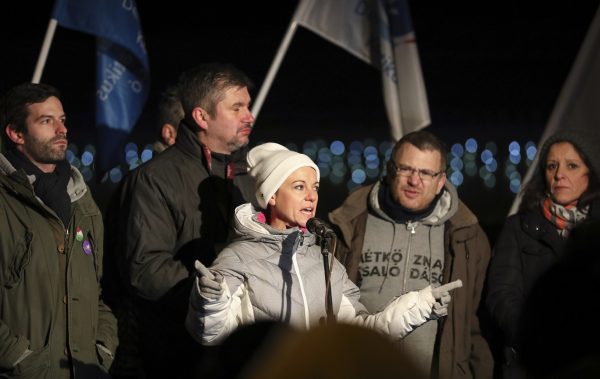 Necessary Reforms?
Fidesz says the laws are needed to address a serious labor shortage. The country's unemployment rate, at 4.2 percent in 2017, is one of the lowest in the EU. Hungary's population has been in decline for years, as deaths outpace births, according to the European statistics agency.
According to Eurostat, an EU statistical agency, 93 percent of industrial companies in Hungary said labor shortages would limit their economic output in the last quarter of 2018.
Other central European countries face a similar dilemma, with 51 percent of companies expressing the same fears in Poland, 37 percent in Slovakia, and 37 percent in the Czech Republic. But in Hungary, the figures betray a rising crescendo of anxiety.
The labor shortage has been made more acute by Orban's fierce opposition to immigration. The problem also is compounded by the "brain drain" of young Hungarians leaving in search of better-paid jobs elsewhere in the EU.
Also, as consultancy Accace argues, the legal climate in Hungary tends to favor workers.
"In the context of labor disputes in Hungary, courts generally protect employees' rights by interpreting the provisions of the Labor Code, collective bargaining agreements and employment contracts often in favor of the employees," it said.
Hungary's regional economic rivals such as Poland, where a large portion of workers is either self-employed or on contracts with limited rights, skew the labor relations balance in favor of business, putting further pressure on Budapest by luring firms away to set up shop closer to Warsaw.
Milan Nic of the German Council for Foreign Relations noted in an interview with the Financial Times that the model of combining cheap labor in central and eastern Europe with western capital, is increasingly coming under strain.
"The whole business model of central Europe for the last 15 years, with Germany as its crown jewel, is running into its limits," said Nic.
"There is a huge structural issue here."