Heavy snow has caused havoc in parts of the UK, with hundreds of stranded drivers being forced to spend the night in their cars.
Snow showers struck Scotland last night, with up to 39 cm (15 in) hitting Dumfries and Galloway, reported the Daily Mail.
Mountain rescue teams were ensuring drivers were OK as they were stuck in their cars on the M74 in Lanarkshire.
Most of Northern Ireland and Scotland were covered in snow and ice, with authorities in the Scottish Borders announcing all schools are shut today.
Over 200 schools are closed in Northern Ireland, according to the Belfast Telegraph.
Some schools have also been closed in Yorkshire, with around 30 closed in Bradford which have either closed or have opened late, reported the BBC.
Commuters across Britain have been warned of the dangerous conditions as Storm Fionn arrived over Ireland.
Drivers in Scotland spoke of their frustration in the treacherous conditions.
Fergus McCann, who was stuck on the M74, told the BBC, "There's been a fair bit of impatient driving going on.
"People are in one queue, then people are cutting out and trying to go down lanes that clearly are not for driving on.
"It's not a surprise that you're getting a few hundred yards down the road and you're seeing them facing the wrong way.
Weather warnings have been issued, with snow and ice forecast until Friday.
First Minister Nicola Sturgeon urged people to be careful, tweeting, "The weather conditions will continue to be very difficult today. Please take care and follow advice from Police Scotland and Traffic Scotland."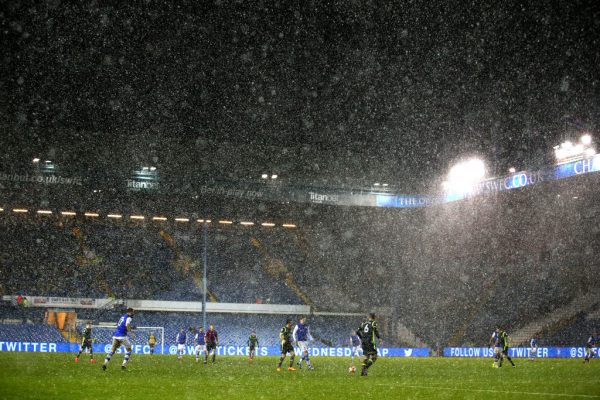 Meteorologist Alex Burkill told the Daily Mail that it was "bleak" in some parts of the UK.
But, he added, "It is going to be quite windy as low pressure pushes through tonight and that could bring some snow across parts of Scotland and in particular northern England.
"Once that clears out, we will return to frequent showers pushing in from the north west through Thursday and Friday."
The Met Office also confirmed there could be heavy shows to come, although it will be sunnier and drier towards the south and east.