HUNTINGTON BEACH, Calif.—Hundreds of parents, teachers, and students rallied near the Huntington Beach pier Oct. 18 as part of the state-wide "walk-out" to denounce California's COVID-19 vaccine mandate for K-12 students.
Protesters gathered along the Pacific Coast Highway and Main Street for the planned statewide school walkout with signs stating "my body, my choice," "respect my choice," and "I can't breathe."
"Let's go Brandon!" was chanted, referencing a joke regarding President Joe Biden as drivers passed by honking and cheering in support.
Judy Booker, a special education teacher at Westminster High School arrived at the pier shortly after being escorted out of her classroom by school officials for not complying with weekly COVID-19 testing and refusing to receive the vaccine.
"I didn't plan to leave," Booker told The Epoch Times. "I'm not sick. I have no symptoms, and I've already had to take 10 days off from someone who had COVID, had the vaccine, [and] came in with COVID and infected 130 of us who had to be taken off-campus."
According to Booker and her colleague Landey Jordan—who was also present at the rally—unvaccinated staff who refuse to be tested will receive eight days of personal pay, followed by unpaid time off.
The testing policy for unvaccinated staff requires all school personnel to show proof of full vaccination or be tested weekly as of Oct. 15.
Both Brooker and Jordan left behind their classrooms without lesson plans for temporary substitute teachers since they were forced to take a leave of absence.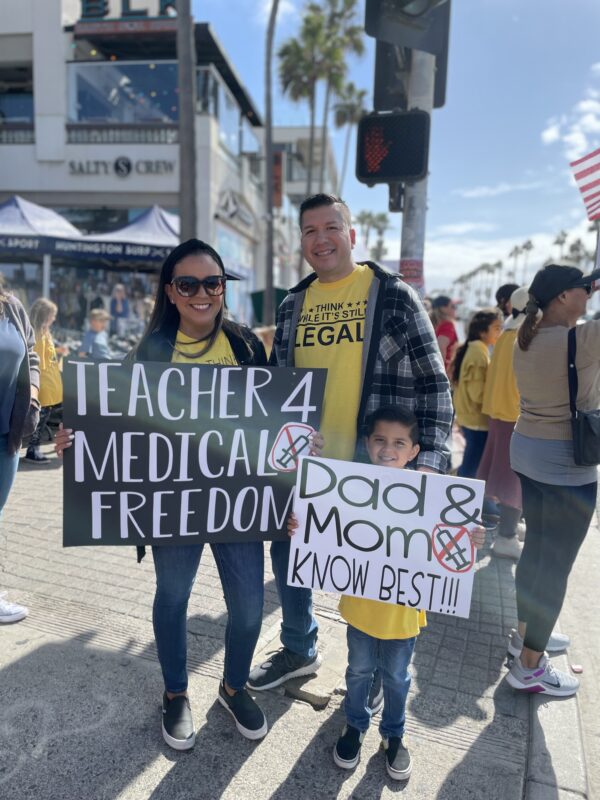 During Monday's walk-outs, Many California parents did not take their children to school in protest of the mandate.
Nena Lopez, a special education teacher in Los Angeles County, said she intentionally scheduled time off to attend the protest alongside her husband and two children.
"We are making a stand and showing our schools, our employers that when and if they impose these mandates, this is what their schools will look like," Lopez told The Epoch Times. "It will look like an empty classroom for my special ed students. It will look like fewer students in their school because they will be homeschooled."
Lopez is prepared to pull both her children out of their Orange County school if the vaccine mandate is enforced.
Another parent rallied with her three sons, in favor of allowing for the choice to choose whether or not to receive the vaccine.
"It's crazy how people can scream my body my choice, but it doesn't apply to our kids," Cathlene Echen told The Epoch Times. "Parents are going to take their kids out of school if they mandate this. Hopefully, school districts will stand up and fight for our kids."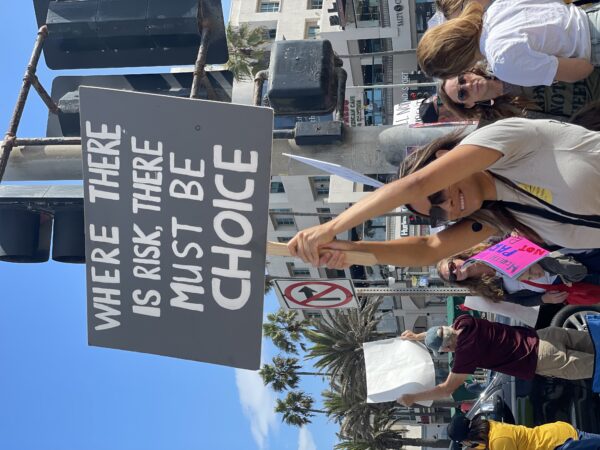 In response to the walkout, Ian Hanigan, a spokesman for the Orange County Department of Education, told The Epoch Times the rules they implement follow directives from the California Department of Public Health, the governor's office, and the Orange County Health Officer.
Despite disagreement from opposing staff, parents, and students regarding the school vaccine mandate, Hanigan stated the county is not authorized to create independent health policies that impact public safety.
"Parents are within their right to protest any state policies or laws with which they disagree," Hanigan said. "At the same time, we strongly believe students should be at school with their peers and teachers during the day."
The statewide school walkout comes weeks after Gov. Gavin Newson announced the requirement for students to receive the jab once the U.S. Food and Drug Administration fully approves the vaccine for each age group.
"While there continues to be encouraging signs and we're continuing to see progress with more and more people who maybe were on the fence that are now getting the vaccine … there's still a struggle to get to where we need to go, and that means we need to do more and we need to do better," Gov. Gavin Newsom said when he announced the mandate.
Pfizer's vaccine has full FDA approval for those 16 years and up and is offered to those as young as age 5 under an emergency use authorization.
Newsom said depending on when full authorizations for the vaccines are granted by the FDA, the mandate would take effect on Jan. 1, or July 1, 2022.