HUNTINGTON BEACH, Calif.—A few hundred concerned parents, children, and friends against vaccine mandates rallied in Huntington Beach, California, on Jan. 3.
The event, named the "Capitol to Coast Stand Up and Sit Out," was put on by Unity Project—a statewide organization founded to fight COVID-19 vaccine mandates for K–12 students—and Moms for Liberty, which shares a similar goal.
"Parents let things get out of control, and it's our job to rescue it before it's too late," one member from Moms for Liberty said to the rally attendees.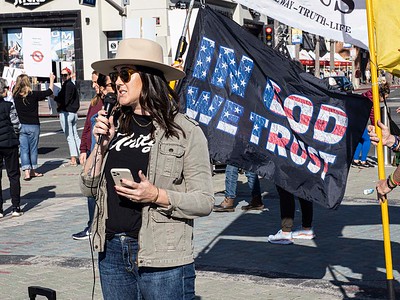 As the state legislature reconvened the same day, rally attendees voiced opposition to the bills being considered, which they claim impose unconstitutional mandates on K–12 students.
These bills, the rally organizers say, include a COVID-19 vaccination requirement for children of public and private schools, as well as HPV (sexually transmitted disease) and meningitis (brain inflammation) vaccination requirements for high school students, and lowering the age of consent for medical treatment to 12 years old.
California Department of Public Health guidelines requires K–12 students to wear masks while indoors.
The nearby Los Angeles Unified School District will require all of its students to receive the COVID-19 vaccine in the fall.