Hundreds Protest Uranium Nuclear Plant in Guangdong
July 13, 2013 9:49 pm Last Updated: July 13, 2013 9:49 pm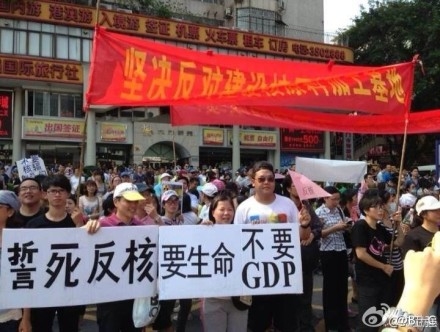 Hundreds walked through a city in southern Guangdong Province on Friday in a rare protest against the potential construction of a uranium power plant factory.
At 8:30 a.m., up to 1,000 residents strolled through Jiangmen city, sixty miles away from Hong Kong, demanding that regime officials cancel the project, which will be the nation's biggest power plant when completed and could reportedly satisfy half of China's atomic energy deficiencies in less than a decade.
Residents held up banners that read, "Against Nuclear Until Death. Want Life Not GDP." and "Life and Health Not Regime Victory" and shouted similar slogans.
One of the protesters, surname Feng, told Epoch Times: "Our fear is that the plant will leak radiation, which will contaminate surrounding lands up to hundreds of miles away. It's like a time bomb. Even if this generation is safe, no one can ensure the next generation will be."
The protesters were able to gather by communicating through WeChat, a phone application that functions like a walkie-talkie, even when officials censored news of the assembly on Sina Weibo, China's Twitter-like platform.
About a thousand policemen blockaded the gate to the city officials' building, a lawyer present at the protest said. More people will gather on Saturday, possibly tens of thousands, said Feng.
It's not dangerous to build a nuclear power plant in the city, according to the safety committee of nearby power plants in Guangdong, cited by Hong-Kong based Asia Television Limited. The committee mentions the lack of nuclear fission involved as a sign of safety.
One netizen from Jiangsu Province commented wryly on Weibo, "Since the nuclear power plant is so good, why don't they build it in Beijing?"
Translation by Amy Lien. Research by Ariel Tian.