SAN FRANCISCO—Hundreds of people gathered at the Golden Gate Bridge on Nov. 11 to protest COVID-19 vaccine mandates. The demonstration was one of many that are being held throughout the month of November as part of the Nationwide Walkout.
California recently adopted vaccine mandates for children aged 5 to 11, in addition to existing vaccine mandates for select jobs and a statewide mask mandate for some indoor facilities. Elected officials say vaccine mandates are meant to reduce transmission and boost immunity.
Several people at the protest shared with The Epoch Times their perspectives on the mandates.
"The vaccine mandates for COVID shots are illegal," Alix Mayer, president of Children's Health Defense. "There are still only three emergency-use authorization shots on the market. The fourth one called Comirnaty is not fully approved and it's not on the market. The reason it's not on the market is because BioNTech has full liability for injuries, disabilities, and deaths.
"And they are scared to put that on the market, because they'll have to pay so much money that they could go out of business. So, they're going to be using our children as pawns to protect themselves from liability."
People attending the protest said they disagree with government mandates.
"I'm seeing a lot of my friends and family being forced to vaccinate to work for jobs and being put in a corner," said Jessica Gogas, a Bay Area law practitioner. "And they say that you have other options, but then your options are few and far between, and you're losing your job anyway. So that's the big reason why I came."
Some say the mandates violate people's freedom of choice.
"The more mandates that come down the line, eventually those people that think it's right now, will find something they don't believe in, that they don't want to do," said Allyx Toney, a stay-at-home mom. "And possibly, by that time, it'll be too late because all of us have just kind of gone with the flow and did what our leaders told us to do."
Matthew Bennett, a cybersecurity sales manager, said, "I have a 7-year-old son, and they're trying to force him to get a vaccine, and I don't believe in that. This is America, not Russia or communist China, and if we don't stand up, we're going to be the frog in the pot of water boiling and wondering how we ended up as a communist country."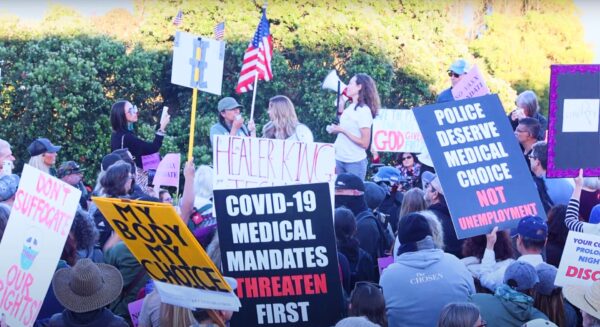 Other protesters cited their religious beliefs.
"What I've discovered is that there's something called natural law, which is above any jurisdiction of any government, and it's even above the republic," said Monica Auburn, a Bay Area engineer. "And it started centuries ago. We have innate God-given rights. And so, we only answer to God, we don't answer to a government; government is lower in jurisdiction."
Leigh Dundas, a human rights attorney and event organizer, told The Epoch Times that opposition to vaccine mandates has united people from all walks of life.
"People are waking up, from the left, from the right. … Tell me the last time you saw BLM, human rights attorneys, Falun Gong survivors [of persecution], human escapees from Fidel Castro's Cuba, all standing, gay women running for governor, all standing lockstep.
"Democrat, Republican, left, right, every color, Native Americans, blue-collar workers, white-collar workers. We are out here in full force, saying it doesn't matter what our political differences are. This thing is too important; we understand we need to come together and say 'No,'" she said.
Unexpected Road Closures
Event organizers estimated around 500 people took part in the protest; they also noted that several shuttle buses carrying more people were unable to enter because of unexpected road closures.
"They wanted to make this look like a tiny event that didn't have the support of the blue-collar and white-collar workers. And they systematically started closing the exits off the Golden Gate Bridge as crunch time occurred here," Dundas said.
Epoch Times and NTD reporters covering the event also encountered heavy traffic and road closures near the bridge. Upon arriving on the bridge, we asked California Highway Patrol officers for access to the protest area, but were denied entry. Along the bridge, signs indicated that parking lots were closed and exits were blocked.
However, some media outlets had vehicles parked in the same area as police cars, and some reporters were seen speaking to California Highway Patrol officers.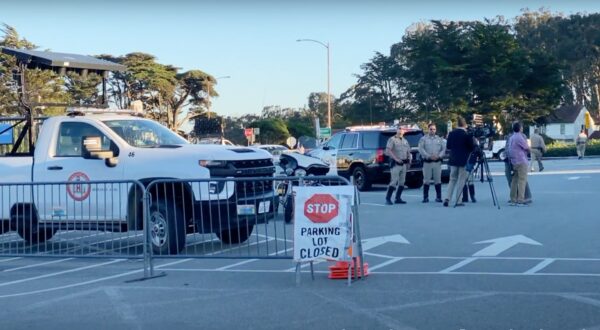 Epoch Times and NTD reporters were forced to drive across the bridge and back to find an entrance via side roads within the Presidio. Upon arriving at the protest location after hiking along Crissy Field, the bathrooms were found to be locked, with only one portable toilet available for hundreds of protesters.
Dundas said that she and other event organizers were aware that certain parking lots would be closed, so they worked with city departments in charge of overseeing large events to organize shuttle buses to transport people to and from the protest area. She said police, however, unexpectedly began closing roads and exits around 3 p.m., when the protest officially began.
More protests are expected later this month throughout California, as well as in other states, including Michigan and Arizona.