Hundreds of Petitioners Arrested on Tiananmen Square
March 7, 2008 12:00 am Last Updated: March 7, 2008 12:00 am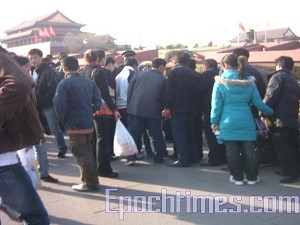 CHINA—A large number of petitioners gathered near Tiananmen Square hoping to submit their petitions to the members of Congress in Beijing on the first day of the 2008 National Congress, Wednesday March 5, were prevented from doing so by police. The petitioners could not break through the police blockade, and were captured when they ventured close to the square.
Several petitioners detained in the Tiananmen police station were interviewed by The Epoch Times at about 3:00 p.m.
When arriving at the west side of Tiananmen Square at about 8:00 a.m, Chen Lianqing and his mother from Hebei Province—the province in which Beijing is located—were stopped by a dozen people from their home town, whose responsibility it is to stop people from appealing to the central regime. The police later took over and sent them to the Tiananmen police station.
"Now the police station is full of people, even the hallway is very crowded. We might be transferred to Majialou Appellant Escort Center or sent back to our hometown for house arrest. There are hundreds of people here. I can't estimate the number." said Chen.
Frustrated with Corruption—Homeless
Huang Liuhong, A pregnant Taiwanese businessman's wife from Southern China's Guangxi Province also joined the appeal. She distributed flyers under the gate tower of Tiananmen with her three other family members at about 11:00 a.m., on Wednesday morning.
"We went to Jinshui Bridge, Tiananmen this morning. We wore clothes with a written complaint on them and spread flyers, hoping the government would arrest the corrupt officials and give us back our house which was taken by them. Four people in my family are arrested. More than 30 people from Guangxi are arrested." said Huang.
"I don't want to live. Most of my family members are dead or injured. The petitioner's village [a temporary shelter built by petitioners themselves] was also demolished. I don't have a home. I wanted to jump off the Jinshui Bridge at about 9:00 this morning, but they did not allow me to die." said Chen Fenglan from Anhui Province.
Mr. Tao, from Zhangzhou, Fujian Province, Southern China, has overseas relatives. His relatives in the United States and Singapore gave him money to buy a house from the government. However, 7 years later, the Zhangzhou government tore down his house without going through any legal process. He filed a complaint in the court, but he said that the court keeps delaying his case. He said he has appealed everywhere without getting any results.
Trying to Get Attention
"I was quite desperate. I carried alcohol and appeal documents to Tiananmen Square at about 10:00 this morning. I distributed the flyers and held a banner to tell the people my story. Now many people have been arrested with me here. They are carrying gasoline [1] . I heard that we would be detained. I don't care." said Tao.