Preparations are continuing for the state funeral of former Prime Minister Shinzo Abe who was assassinated on July 8.
The funeral—Japan's second full-state funeral since World War II—is scheduled for Sept. 27 at the Nippon Budokan in Tokyo.
A private funeral for Abe, 67, was held on July 12, just days after he was killed from behind by a man armed with a homemade firearm.
Large numbers of international dignitaries are expected to attend the state funeral of which a maximum of 6,000 people can attend. The Japanese government will determine the final number of attendees in early September.
Japan's Ministry of Foreign Affairs has sent invitations to 195 countries, four regions, and about 80 international organizations, with a maximum of three people from each country and region and a maximum of two people from each international organization.
There is no standard set for the titles of the attendees, but most of the responses received were from heads of state or ministerial-level officials. The travel and accommodation costs of foreign dignitaries are to be borne by the countries themselves.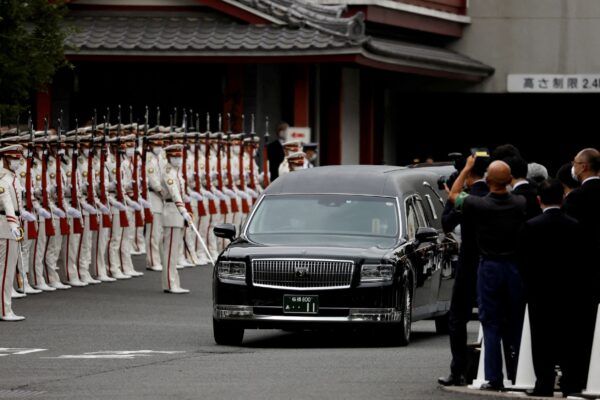 It is expected that U.S. Vice President Kamala Harris will attend.
Former U.S. President Barack Obama, former German Chancellor Angela Merkel, French President Macron, and other dignitaries who had contact with Abe are also considering attending.
South Korea will send its Prime Minister Han Deok-soo to attend.
Russian President Vladimir Putin is banned from entering the country due to the invasion of Ukraine and will not attend.
Former U.S. President Donald Trump, who had a good relationship with Abe, has shown a positive attitude toward visiting Japan, but the Japanese government has not sent any invitations to individuals.
Kishida to Meet Foreign Leaders
During the state funeral, Japanese Prime Minister Fumio Kishida will meet the visiting foreign leaders.
A week after Ade's death, Kishida said that "holding a state funeral ceremony to memorialize former Prime Minister Abe is to demonstrate Japan's determination not to succumb to violence and to stand firm for democratism."
The only other state funeral fully paid for by the government was held for former Japanese Prime Minister Shigeru Yoshida, who died in 1967.
According to Japan's Meiji Constitution, state funerals should be conducted in Shinto style. Although Yoshida was a Christian, the funeral adopted a non-religious form. Abe's state funeral will also adopt a non-religious form.
Controversy
The use of taxpayer funds to pay for the funeral has met some opposition in Japan with much of the criticism aimed at Kishida.
In a poll conducted by Japan's Kyodo News on July 30-31, 45.1 percent of respondents were in favor of the state funeral, while 53.3 percent were against it.
Moves to hold a minute of silence on the day of the state funeral have also stoked some public opposition.