Hundreds of Bahamians had to disembark from a Port Everglades, Florida bound ferry on Sep. 8 due to conflicting reasons.
The people were from Freeport, the main city in Grand Bahamas, and were waiting in line to board Balearia, a ferry service between the Bahamas and Florida, reported the WSVN.
They had left their devastated homes with the documents they were asked to provide, their Bahamian passports and paperwork verifying they had no criminal record.  They were also required to purchase a $100.00 ferry ticket for each passenger.
Just before the ferry was about to leave for Florida, an announcement was made asking people to disembark.
"Passengers who do not have U.S. visas, please proceed to disembark," said a ferry employee, according to WSVN.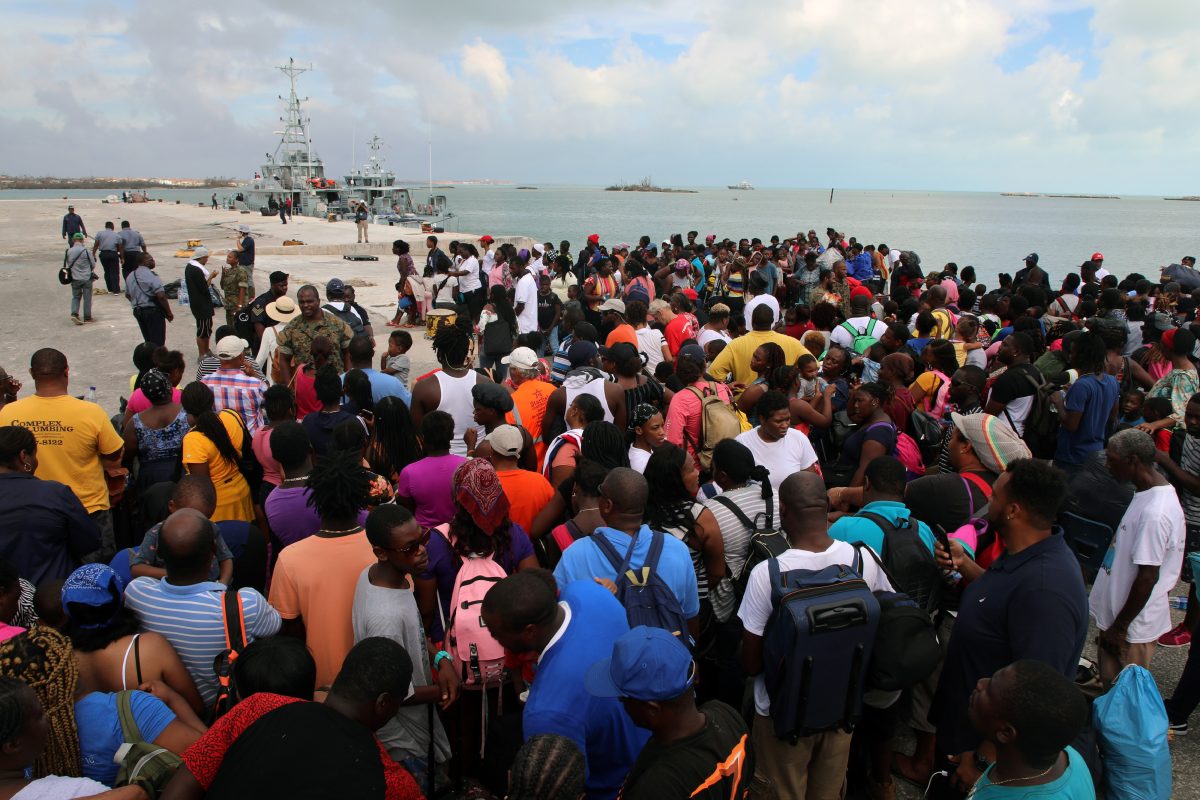 The ferry employees said they were told by U.S. Customs and Border Protection (CBP) that evacuees cannot get off the ferry in Florida if they do not have VISAs.
However, WSVN contacted CBP after the ferry docked on US shores and the CBP officials said that the decision to ask evacuees to disembark was from Balearia.
"I think it's important to note that if those folks did stay on the boat and arrived, we would have processed them, vetted them and worked within our laws and protocols and done what we had to do to facilitate them," CBP Acting Port Direction Stephen Silvestri told WSVN.
"I think it was a business decision by Balearia to remove them. They were not ordered off the boat by any government entity."
CBP Florida spokesperson Michael Silva told Newsweek that the incident broke his heart. "It breaks my heart because it's like when you raise somebody's hopes and then you pop the balloon… That, in my opinion, is what Baleària did," Silva said.
"It raised the expectations of these poor people who have been through an unimaginable situation with the hurricane…They raised their expectations only to then leave them terribly disappointed."
He said that the CBP had asked Balearia to first take the evacuees to Nassau so they could get their US VISAs prior to entering Florida.
Silva said CBP is not discouraging any evacuation efforts.
Newsweek reported that on Saturday, CBP Florida helped 1,200 people rescued from the Bahamas who were onboard the "Grand Celebration" cruise ship after it arrived at the Port of Palm Beach, Florida with no incident.
"It was comforting to see the relief on the faces of the evacuees after they survived such a harrowing experience," said Diane J. Sabatino, CBP's Lead Field Coordinator for Region IV in a press release.
"The Bahamas is facing a long recovery and Customs and Border Protection and the U.S. Government is pleased to do what we can to help our neighbors following this catastrophic storm."
The evacuees arriving at Port of Palm Beach on Saturday were part of the first mass evacuations from the Bahamas.  CBP Florida stated on Twitter, "U.S. Customs and Border Protection officers processed the first mass evacuations from the Bahamas."
🇺🇸U.S. Customs and Border Protection @CBP officers processed the first mass evacuations from the Bahamas @PortofPalmBeach Saturday as Air and Marine Operations🚁crews supported a network of interagency partners in Nassau as part of humanitarian missions. https://t.co/ayaD7vifvV pic.twitter.com/8lPvYYHFUH

— CBP Florida (@CBPFlorida) September 8, 2019
According to the Royal Bahamas Police Force, the death toll in the Bahamas due to Hurricane Dorian rose to 45 on Sunday, reported the ABC News.