Several hundred people rallied in downtown Toronto on Saturday to voice their opposition to the vaccine mandates rolled out in Ontario this week.
The crowd set off from Queen's Park and marched through downtown to protest the new proof-of-vaccination certificates announced by Ontario Premier Doug Ford on Sept. 1. People will need to provide proof of vaccination along with photo ID to access non-essential services such as restaurants, bars, gyms, and other indoor facilities starting Sept. 22.
Some protesters carried signs that read "Preserve and protect our Canadian constitutional rights and freedoms" and "Reject the tyranny of mandatory vaccines" while many chanted "No vax pass."
— Andrew Chen (@AndrewChen55) September 4, 2021
David McLelland, a retired professor who taught at the University of Toronto, said the protesters are "an alliance in protection of human liberty" united by their opposition to the COVID-19 lockdowns and the erosion of freedoms.
"I believe that the reason for [vaccine passports] is simply to introduce a surveillance state and much more social control—to introduce a surveillance society or surveillance protocol so that the government will know where you are all the time," McLelland told The Epoch Times.
"There have been massive demonstrations against vaccine passports in towns all through Europe repeatedly, yet there's virtually no coverage by the mainstream media. You see the same thing going on in Australia but they're basically called thugs and hooligans," he added.
"There is a tremendous amount of dissatisfaction … but it has been apparently the task of the media to make sure that none of that gets crystallized into effective political opposition to the existing government."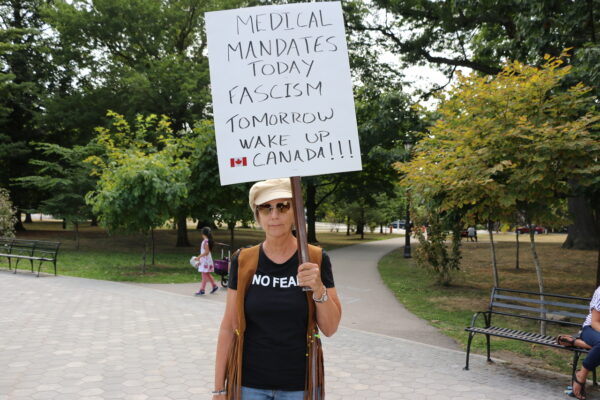 Lorraine Waller, a retired medical lab technician, said she attended the rally to support people who are "being forced to take a substance that they feel is dangerous for themselves."
"For people that are having to work and being held over their heads to take a toxic substance or lose their job, that is so wrong in our free country, and I'm here to protest the way that the government is going," she said.
"I think if the government sees that more people are against [vaccination mandates], then surely goodness they're going to stop and think, 'This is not what Ontarians want, what the people of Canada want. They want the choice of freedom, the freedom of choice.'"
Protests have been taking place in a number of cities over the past few weeks, as several provinces rolled out vaccination passport systems. More demonstrations planned in Montreal on Sept. 5 and Sept. 11 are listed on the Quebec Debout (Stand Up Quebec) Facebook page.
Ford said in his announcement that "COVID-19 vaccine certificates give us the best chance to slow the spread of this virus while helping us to avoid further lockdowns."