Hundreds Gather to Memorialize Petitioner Killed by Police Three Years Ago
January 18, 2010 12:45 pm Last Updated: January 18, 2010 12:47 pm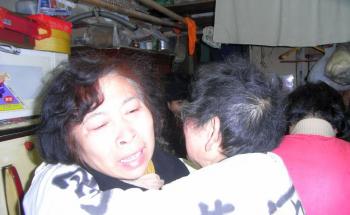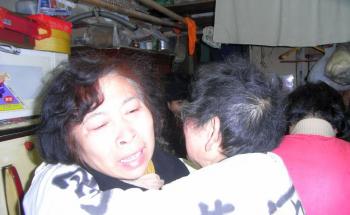 Many petitioners in China travel to Beijing seeking justice. On Jan. 2, hundreds of them gathered in Shanghai to remember Duan Huimin, a petitioner who died three years ago after he was beaten by Beijing police and others whose job it is to stop petitioners. At the memorial service, petitioners shouted: "The police are criminals and killers. Duan Huimin was wronged."
In Nov. 2006, Duan was severely beaten when he traveled from Shanghai to Beijing to appeal the forced demolition of his home. Radio Free Asia (RFA) reported, "The photos of this man before his death would've been censored by major news outlets: his belly grossly ballooned up; blood running out of his eyes, ears, mouth, and nose; hemorrhages in the brain and kidneys." Duan was never hospitalized and died on Jan. 2, 2007, two days after receiving notification that he had been sentenced to one year of forced labor.
Police did not arrest the petitioners this year, as they had during previous memorials for Duan. However, there were reports of police trying to block petitioners from attending.
One of the petitioners, Wan Shimin, told the reporter: "At 7:30 a.m., four policemen sat outside the door of my home and did not let me go out. They did not leave until 12:00 p.m."
Cai Wenjun said there were also many plainclothes police watching the proceedings, and that she was able to recognize about 20 of them.
Duan Huimin Did Not Die in Vain, He Will Be Remembered

Petitioners at the memorial shared their own experiences and feelings. Cai Wenjun said her father and brother-in-law were killed when their home was forcibly demolished. She welcomed the memorial gathering as an opportunity for petitioners to express their will to fight to the end. She said Duan did not die in vain; he will be remembered.
Chen Weihua said her brother was also beaten to death by the Chinese authorities. She came, she said, as a representative of her family to offer support to Duan's family, who, after three years, has never received any formal explanation regarding his death.
Guo Yigui said, "If we do not support Duan's family, the government will be more ruthless." He said petitioners would not give up fighting for their rights.

Wan Shimin had attended memorials for Duan in the two previous years. He urged all petitioners to unite in their fight against corruption. The Chinese Communist Party (CCP) tries to deceive people with scenes of peace and prosperity. They are only trying to cover up the corruption and disasters all over China, he said.
Duan Huimin's mother spoke of the hardships they have endured. She said her son Duan was well-educated with a college degree and was only 49 years old when he went to appeal. He had committed no crimes, and was sleeping in a hotel when he was beaten by the police. She said her daughter and Duan's brother have also been persecuted by the CCP, and now the police have surrounded her home, not allowing her to go out. "Down with the CCP!" she said. "Down with the CCP!"
World Expo a Cause for Concern to Petitioners
Dong Guoqing, an attendee at the service, said that more and more frequently new cases of injustice are never resolved. The authorities ignore petitioners' rights and safety—even their lives. He expressed concern that with the World Expo coming to Shanghai this year, circumstances will become even worse for petitioners.
"The authorities will carry out many policies to achieve the so-called 'stable society,' all of which will obviously put petitioners in a more difficult situation." He advised the petitioners to put forth a united front.
Many of those at the memorial, including Duan's mother and Dong Guoqing, expressed their hope that media in and outside of China will help the people of the world understand the plight of petitioners in China.
Read the original Chinese article