Whales are the largest mammals on Earth and are an awesome sight should you be so lucky to spot them in the wild. Many hopeful whale watchers board charters and spend hours at sea with no guarantees of a show.
Yet, a group of vacationers in Port Hardy, British Columbia, may have found an easier way.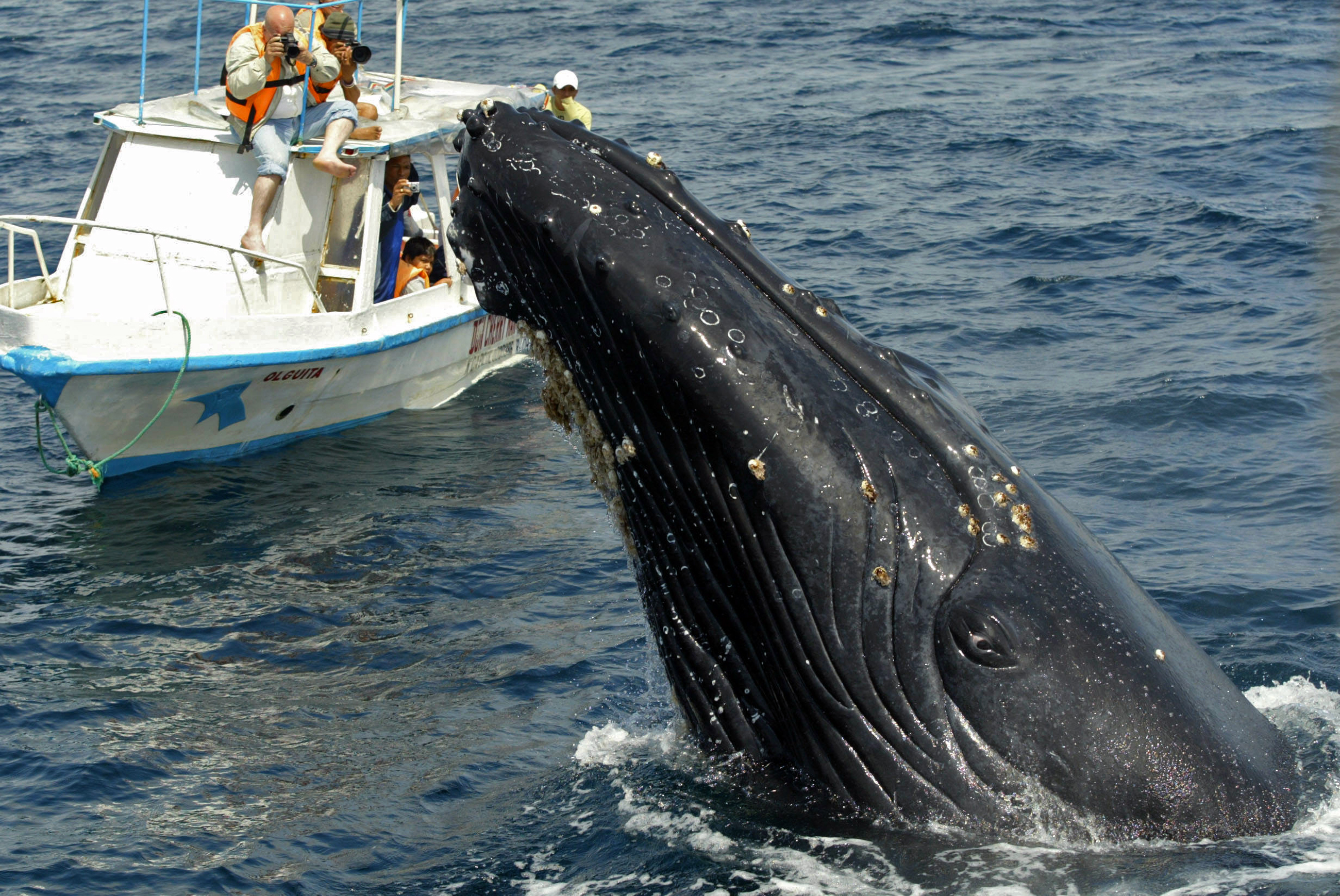 At the Great Bear Lodge on Vancouver Island, visitors are given the chance to go out on tours to see grizzly bears. It's the most common excursion for the people who shell out for a stay at the lodge, as Vancouver Island is a prime location to spot the massive, majestic mammals.
This past year, though, a group of tourists were ushered out onto the docks at 6 a.m. one August morning for breakfast by lodge co-owner Marg Leehane. It was a pretty early wake-up call for the vacationers, but Leehane knew that it was worth it—because there was a group of humpback whales swimming up for a feeding!
In a video that went viral following the August 2018 interaction, the whales are shown engaging in a unique feeding technique known as bubble-netting. In it, the whales create a circle of bubbles around the fish, trapping them so they can gobble up something tasty to start their day.
"One of them will swim in a circle around fish, and as it's doing it, it will release air from its blowhole, and basically create a net of bubbles," Leehan explained, via the Huffington Post.
"Then the fish get more and more concentrated … so (the whales) will get a lot more of them in each mouthful."
For Leehane, the experience was incredible for a number of reasons. To start, bubble-netting isn't an instinctual feeding technique for humpbacks, but rather one that's learned in groups—so not every pod of humpbacks will use it, and therefore not every whale-watching group will get a chance to see it.
It was also a chance to show some tourists an incredibly special experience while vacationing at the lodge, all from the docks. Even for an experienced biologist and tour guide like the lodge's own Marlo Shaw, it was the kind of experience that was joy-evoking—and getting to share it with others was something incredibly special.
"I love watching [Marlo's] body language as much as the whales, because she's so excited to see it," laughs Leehane.
Since Leehane uploaded the video to YouTube to share the incredible experience, it's been viewed nearly 1.5 million times. And although the firsthand experience gained by Leehane, Shaw, and the lodge visitors is impossible to replicate in magnitude, even those who only got a chance to see it online were awed by the immense beauty of the entire encounter.
"Nothing is more beautiful than seeing an animal being themselves, in the environment meant for them," one commenter wrote on YouTube.
Another wholeheartedly agreed. "For the lack of better word … That is beautiful!" they said.