REGINA—Saskatchewan's coroner's service has released its report into the Humboldt Broncos bus crash and it calls for tougher enforcement of trucking rules and mandatory seatbelts on highway buses.
The office has made recommendations to six different government agencies after reviewing the crash.
The coroner also says the Ministry of Highways should review its policy on signs at intersections and Saskatchewan Government Insurance should implement mandatory truck-driver training.
There is a recommendation that the chief coroner creates a mass fatality plan and that the Saskatchewan Health Authority review how it identifies the dead and injured in such an event.
Sixteen people were killed and 13 others were injured in last April's collision.
WATCH LIVE: Coroner comments on Humboldt report calling for mandatory seatbelts on buseshttps://t.co/8dfaYtwLKF

— Globalnews.ca (@globalnews) February 25, 2019
Scott Thomas, whose son Evan died in the April 6 crash, said: "Any time I think I can't get any deeper into this, something happens to continually break my heart."
"From the 29 people on the bus to the billet families to the first responders who were there. There's thousands and thousands of people who were impacted by this and every one of them has a unique story. It's unbelievable."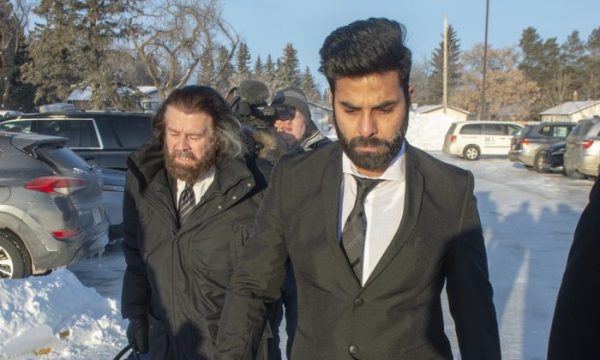 Thomas said his strongest feelings in the case are reserved for a system that allowed Sidhu on the road with little experience and even less training.
"If I harbor long-lasting hard feelings toward anybody it's toward the company that employed him … the trucking industry that allowed this to happen and the governments that allowed a man like him to be behind the wheel," Thomas said.
"I have a horrible feeling there are hundreds of others who are trained just as poorly out on the road right now. He thought he was just doing his job."
A semi-truck barrelled through a stop sign at a rural intersection and was struck by the Broncos hockey bus.
BREAKING: Crown wants truck driver sentenced to 10 years in Humboldt Broncos crash https://t.co/o5iFJG8XbX

— CTV News (@CTVNews) January 31, 2019
The report lists the deaths as accidental and the chief coroner is not calling for a public inquest.
In December, the Saskatchewan government announced it will make training mandatory for semi-truck drivers starting in March. Drivers seeking a Class 1 commercial license will have to undergo at least 121 1/2 hours of training.
Transport Canada announced in June that the department will require all newly built highway buses to have seatbelts by September 2020. Some charter bus companies say many new vehicles already have seatbelts, although there is no way to ensure passengers are wearing them.
Crown wants truck driver sentenced to 10 years in Humboldt Broncos crash https://t.co/Imoj0OklMi pic.twitter.com/NhBSpgpHCz

— National Post (@nationalpost) January 31, 2019