WASHINGTON—Four Chinese women sat at a long oaken table in a hearing room on Capitol Hill on the afternoon of May 19 and asked the world to pay attention. Their husbands have been detained in China because of their work for human rights.
Rep. Chris Smith said they had come together to "shine a light" on the brutal treatment given human rights advocates such as these in China.
Light needs to be shone. These men are not well known in the United States, and telling their stories about events in a far-off and strange land is not easy. Among other problems, their names are difficult for English speakers to pronounce or remember.
Tang Jingling, Xie Yang, and Jiang Tianyong are human rights lawyers. Li Ming-Che is a member of a Taiwanese NGO that works for human rights in China.
Greeting cards say "Better to light a candle than to curse the darkness."
This treacly cliché finds serious and hard-edged expression in these men, except that they themselves are the candles that shine in the darkness of today's China. They have each made the sober decision to risk their life, health, income, profession, and reputation, while also putting their families at risk, for the sake of a better China.
Each of their stories is different and impressive in its own way, but there are common features among them. The case of Jiang Tianyong can shed light on the plight of this group and of rights defenders more generally in China.
Belief
When Jiang Tianyong's wife, Jin Bianling, begins to speak, she leans forward in her chair. The Chinese words are spoken earnestly and each one with emphasis, as though Jin hopes by force of will to impress their meaning on the representatives who are listening to an English translation.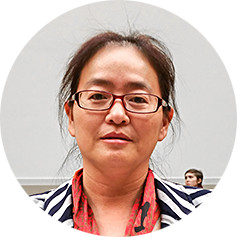 "The Chinese government forbids its citizens to comment on events concerning human rights," Jin said. "Therefore, the support and attention from the international society is crucial to suppressed individuals and groups."
After the hearing is over, Jin, with a rueful smile, said she had wanted her husband Jiang to go into commercial law, not into human rights law.
She said he told her, "If I am just being a lawyer for money, then my conscience would not survive. I hear so many stories of people's human rights being deprived. I couldn't sleep at night no matter how much money I make."
Jiang is a Christian, as are many of the human rights lawyers in China. A belief in something that transcends this world may be necessary to do this work. The deck is otherwise heavily stacked against someone making an independent judgment about life in China or taking such a risk to help someone else.
A belief in something that transcends this world may be necessary to be a human rights lawyer in China.
The Communist Party isolates the individual, having torn down all the structures that exist in Western society that are independent of the government, such that each person stands alone, dominated by an almighty state.
Increasing this isolation is the one moral imperative widely accepted in today's China: Everyone should try to get rich. Each person competes with everyone else, with no limits on what can be done to make a yuan.
For most people, the regime's suffocating propaganda gives a death blow to the individual's chance to understand what is good or bad. The Party is "great, glorious, and correct."
In an interview given just days before Jiang was disappeared, he said, "We were taught to love our country since childhood, to care about politics and have a sense of social responsibility. But that's all a lie."
Despair
The average Chinese might think someone like Jiang is doubly or trebly foolish for becoming a lawyer who defends those the Communist Party victimizes. But the example of someone like Jiang shows there is an alternative to the despair and nihilism borne of the Party's oppression and lies.


Among others, Jiang has represented migrant laborers, Tibetans, adherents of the spiritual practice Falun Gong, and people who contracted HIV through tainted blood transfusions.
His first case involved assisting the blind lawyer Chen Guangcheng in 2005 in filing a class-action lawsuit against the authorities in Shandong Province for brutal enforcement of the one-child policy. Chen attended the May 19 hearing on Capitol Hill to show support for his good friend Jiang and the other rights advocates.
Underneath the surface of an often cynical populace, there is a hunger for goodness and justice. The rights defense movement began with just a few lawyers in the early 2000s, but the power of their example inspired dozens to imitate them, and dozens became hundreds.
On May 9, 2015, more than 300 human rights lawyers and their staff were arrested in China, nearly silencing the movement.
Jin wants Americans to understand the reality of China.
Oppression
Chinese rights defense lawyers have always been at risk. In August 2005, after suing Shandong officials, Chen Guangcheng was put under house arrest. He escaped and made his way first to Shanghai and then Beijing.
A wide smile creases the blind Chen's face as he recalls how, with hundreds of agents closing in on them, Jiang took his hand and together the two lawyers ran through a subway station in Beijing.
I imagine that Jiang and Chen, in the midst of their terror, snatched a few moments of joy in their run for freedom. Each rapid step was an act of defiance. Jiang is "a fellow friend in war," Chen said.
Of course, the hundreds of agents eventually caught them, and Chen went back to a house arrest that would continue for seven years.
The officials usually catch those they chase. Chinese police officers have a hand-held device that allows them to read someone's identity card from several meters away. They can then download everything the state knows about that person, with the victim none the wiser.
Hundreds of thousands of cameras in cities throughout China are hooked up to computers with facial recognition software. Phones and email are monitored. In villages, apartment buildings, and housing tracts, someone is paid to look through a cracked door or from behind a slightly pulled curtain at whoever comes and goes.
Torture
Chen said Jiang has a lot of experience with being tortured.
In one case, Jiang was made to sit on a stool. One of the prison guards would hit him in the face with such force that it would knock him off the stool, Chen said. When he would get back on the stool, the guard would hit him again.
In March 2014, when Jiang sought to investigate the detention of Falun Gong practitioners in a black jail in Jiansanjiang, Heilongjiang Province, he was beaten and suffered eight broken ribs.
At the hearing, Jiang's wife Jin recounted the case of the lawyer Li Heping, who was recently released from detention. Li and several other rights defense lawyers have been given drugs, she said. Li was forced to take drugs for hypertension—a disease he doesn't have—and suffered pain throughout his body and blurred vision.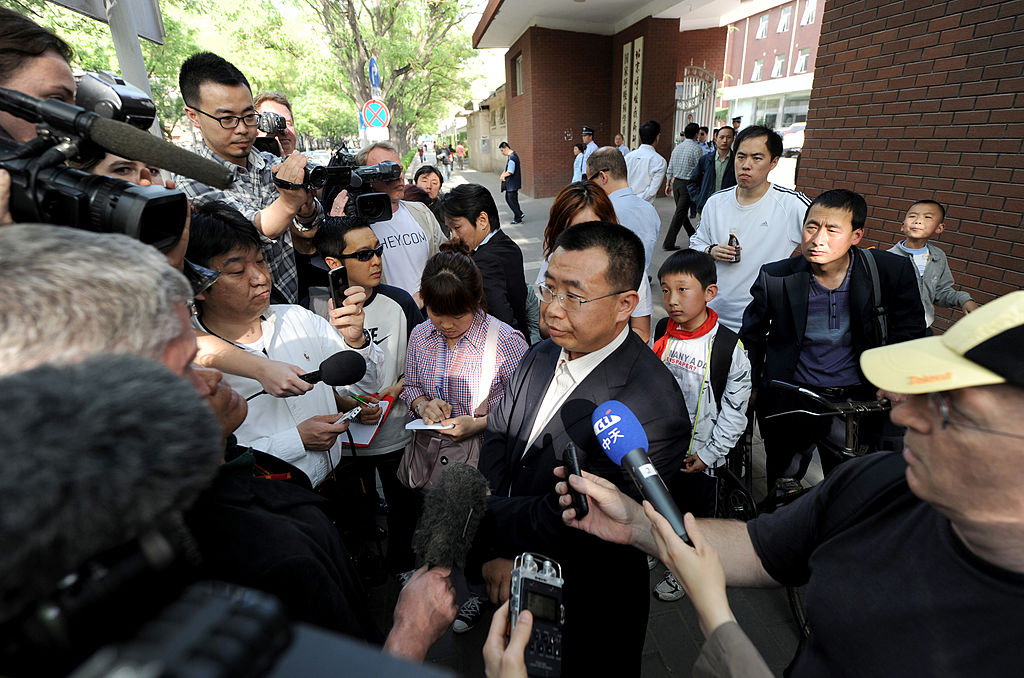 International attention can help ameliorate the brutality in Chinese jails, but woe betide those who claim international support prematurely.
In 2009, Jiang thought that he had arranged for him and some other lawyers to meet with President Barack Obama, who was in Beijing. Obama, though, sent a message saying he didn't have time. Very soon after, hundreds of agents showed up, and Jiang was detained.
In September 2007, rights lawyer Gao Zhisheng wrote an open letter to the U.S. Congress about human rights in China and, in particular, the persecution of Falun Gong. Soon after he published the letter online, he was kidnapped and subjected to 50 days of torture that included hours-long sessions of enduring shocks all over his body with electric clubs, having cigarette smoke blown into his eyes, and toothpicks inserted into his genitals.
The regime does not seem to want to snuff out the lawyers it tortures, though. Instead, it wants to turn the power of their example in its favor.
According to the U.S. Commission on International Religious Freedom, a video of Gao's torture has been used to intimidate other lawyers.
In August 2014, Gao was released from prison. Due to being held for three years in solitary confinement in a darkened cell, Gao had lost the ability to speak. He has since recovered and says he has delivered two book manuscripts to the West.
Lists
Rep. Smith recounted how effectively President Ronald Reagan used lists of Soviet dissidents. Whenever he would meet Soviet officials, he would bring out the list of names. Harsh treatment would grow lighter, and sometimes an individual would be released.
Smith and Sen. Marco Rubio have started a #FreeChinasHeroes campaign with a list of 25 priority political prisoners and prisoners.
Smith and Sen. Marco Rubio have started a #FreeChinasHeroes campaign with a list of 25 priority political prisoners and prisoners of conscience, which they hope President Donald Trump can use in a similar fashion.
Smith said he will try to arrange a meeting between the four wives from the hearing and President Trump so that he can look them in the eyes and hear for himself their stories.
In 2016, Smith introduced the Global Magnitsky Act, which became law. That act authorizes the president to bar entry to the United States to individuals guilty of gross human rights abuses and to freeze assets they hold in the United States.
Smith has compiled a list of 22 torturers provided by the detained lawyer Xie Yang. He said he would send those names to President Trump and other top administration officials, and also call for the United Nations to investigate China's abuses of rights lawyers.
Arrest
Jiang is a leader of China Lawyers for Human Rights and has worked to support those arrested on July 9, 2015.
On Nov. 21, he was arrested and to date no one knows his whereabouts. He is being held on charges, involving state secrets, that the state usually trots out when it arrests dissidents. No one takes such charges seriously.
Jiang had been in Changsha to meet with the wife of Xie Yang to try to arrange for his defense, which might have been the cause of his arrest.
U.N. officials have called for an investigation, concerned that Jiang's arrest may have been due to his cooperation in August with a U.N. special rapporteur.
Jin said May 19 was Jiang's birthday. He turned 46.
In order to help Jiang and the other human rights lawyers, Jin asked that the press not just report on how many rich Chinese come to the West. She wants Americans to understand the reality of China, and especially hopes the media will expose the torture and drugging of prisoners of conscience.
Jiang has been accepted for asylum. Chen said he could have "come to the land of freedom, but he persistently believes the black power in China should be restricted."
In 2009, Jiang testified before the same committee that his wife appeared before. Secretary of State Hillary Clinton had recently given a speech in which she said concern for human rights would not get in the way of negotiations with China on issues like climate change.
Jiang expressed disappointment and quoted Martin Luther King: "In the end, we will remember not the words of our enemies, but the silence of our friends."
Views expressed in this article are the opinions of the author and do not necessarily reflect the views of The Epoch Times.