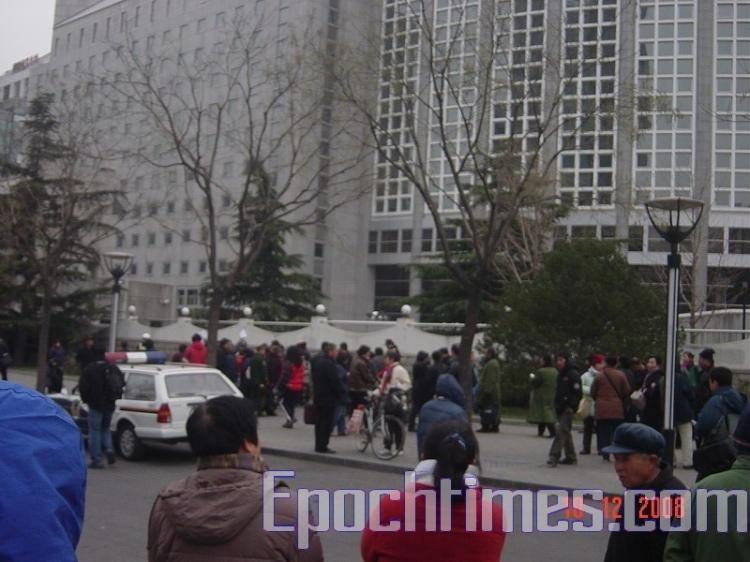 December 10 was International Human Rights Day, the 60th anniversary of the publication of the "Universal Declaration of Human Rights." In the morning, more than 100 people from all over China gathered in front of the entrance of the Ministry of Foreign Affairs (MFA). They represented the socially disadvantaged groups in China who wanted to submit a petition. Reporters from a dozen foreign media interviewed them on the scene.
The petition letter is titled "A Letter from Beijing Human Rights Defenders to the Ministry of Foreign Affairs." People from Shandong, Tianjin, Heilongjiang, and Hebei Provinces accepted interviews on the scene by foreign media. Some petitioners knelt in tears, talking about the unjust treatment they had suffered. They hoped the world could pay attention to their difficult situation.
A petitioner, Mr. Li, said, "More than 200 people were there. Some petitioners knelt outside the Ministry of Foreign Affairs. They let media read their indictments. There were 40 or 50 policemen, and a dozen police vehicles. Many people, about 80 or 90, were arrested and sent away in the vehicles. There were about 20 foreign reporters, including the BBC."
Li Guizhi, a petitioner from Hebei Province, said, "Today is Human Rights Day. We came to fight for justice. Many media took video for me. I gave them my petition. Then, the police said I had committed a crime. I said, 'I did not break the law. Please release me. My son has been wronged and died. I've been detained 12 times and sent to the labor camp once. I was beaten seriously in the labor camp, which caused me to become blind in one eye and deaf in one ear."
The MFA did not accept the petition letter, but according to Sun Liwei, one of the representatives, "Two people from the department of appeal of the Ministry of Foreign Affairs received our five representatives. We made two requests: one is that the government would make the first 'National Plans And Actions for Human Rights.' We requested that the representatives of the socially disadvantaged participate in making the plans. The other is that in 2009, the United Nations will have a discussion on China's human rights plan. We request that the living situation and the submissions of human rights defenders can be party to the discussion."
Before World Human Rights Day, the Chinese Communist Party made great efforts to suppress dissidents and human rights defenders in China. Following the arrest of Zhang Zuhua, the constitutional scholar in Beijing, and the writer Liu Xiaobo, the famous Shanghai human rights lawyer Zheng Enchong, was taken away by police on World Human Rights Day.