Human Rights Activist's Wife Besieged By Beijing Police
January 7, 2008 12:00 am Last Updated: January 7, 2008 12:00 am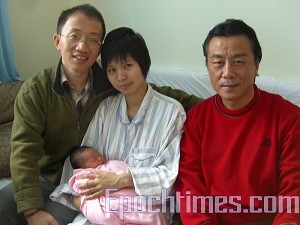 On Jan 2, 2008, around 10 squad cars with 30 to 40 police officers raided Hu Jia's home in Beijing. Hu is a human rights activist who was arrested several days ago on the charge of inciting subversion of state power. At the time, police did not let his wife, Ms. Zeng Jinyan, make any outside contact. She later invited lawyers and friends to visit, and she was able to share more details of Hu Jia's detention.
According to reliable sources, dozens of police officers surrounded Hu Jia's home at 6:50 a.m. on Jan 2, to prevent his wife from making outside contact.
In the early morning of Jan 2, approximately 40 police officers entered the neighborhood where Zeng lives, in Liberty City, East Orchard, Tong Zhou District, Beijing. Police occupied the neighborhood, and filled the corridor and both floors of Jinyan's apartment building. She was harassed whenever she opened the door.
Many people came back from the New Year's holiday on Jan 2. Some of them tried to interview or visit her, but were driven away by the police.
Police had been isolating Hu and Zeng from the outside since around 3 p.m. on December 27. A few police officers silently broke into Hu's home while Zeng was giving a bath to her daughter. She realized something was going on when she saw a strange man standing in her bedroom. Hu didn't even get a chance to put his shoes and jacket before when police took him away.
Police searched the entire home. They seized the computers and all of the media devices including a fax machine, camcorder, tape recorder, books and telephone numbers. The police threatened Zeng with the safety of their new-born if she did not cooperate with them.
Human rights activist Hu and his wife have been working on the environment, AIDS issues and human rights protection. Hu had been kidnapped, detained and placed under house arrest by police many times. His latest house arrest started last May. Their daughter had been born just a little over a month beforehand.
Hu and Zeng were awarded the 2007 annual "Freedom of the Press Special Award" by the "Reporters Without Borders—the French Foundation" based in Paris on the December 5, 2007. Zeng had been selected as one of the "World's 100 Most Influential People" by TIME Magazine last year.
The day after Hu was taken away, his mother saw 20 to 30 police officers in front of his home. The police searched Hu's mother, and seized all her belongings before she was allowed to enter Hu's home. There were six police officers inside. They showed her the "Criminal Detention Notice". She was visited by the Beijing Municipal Public Security Bureau's National Security Squad that night, and was told not to accept any interviews or to reveal any information.
Hu's mother said:" The whole thing has been covered up." Retained by Hu Jia, lawyer Li Jinsong, the director of the Beijing Yi Tong Law firm, said:" He was charged with 'inciting the subversion of state power', and incarcerated at the Bejing Detention Center in the Dou Ge Zhuang, Chaoyang district. His criminal detention notice was signed by the Beijing Municipal Public Security Bureau."
On Jan 2, Zeng, besieged by dozens of police officers, had expressed her hope that lawyers and families would visit Hu as soon as possible, due to worrying about his health condition. In 2006, Hu was detained for 41 days. After his release he was diagnosed with cirrhosis of the liver. Hu not only needs to take medication on time everyday, but also needs special care. Zeng worries that his health condition will deteriorate during the detention. She also hopes that friends visit her at home for the sake of the protection of herself and the baby and family.
Although under heavy siege, the visitors and Zeng tried their best to meet. On Jan 2, some Beijing-based foreign journalists who went to interview her were intercepted in the area. She made every effort and was allowed to only to exchange a few words with them across the fence.