Human Rights Activist Sentenced to Five Years
April 1, 2008 12:00 am Last Updated: April 1, 2008 12:00 am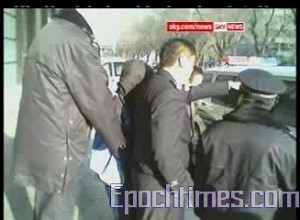 On March 24, Jiamusi Municipal Intermediate court held a hearing for Yang Chunlin, a human rights activist known for the slogan, "We don't want the Olympics, we want human rights." Since Yang didn't think the CCP's judicial system was legal or valid, he refused to sign the sentencing document, and insisted not to appeal. When he was taken from the courtroom, police beat him with electric batons in front of his family.
Yang's attorney Li Fangping stated that his client received a sentence that was unduly harsh. He says they will arrange to have a meeting with Yang in 10 days to confirm whether he should appeal.
The sister of the human rights activist, Yang Chunping, explained that the court hearing began at 3 p.m. on the afternoon of March 24, and lasted about 20 minutes total.
"The court announced that Yang Chunlin is guilty of instigating the destabilization of the regime, and sentenced him to five years in prison, two of which would be without political rights," recalled Chunping. "When asked for his opinion of the verdict, [my brother] declared that the Chinese judicial system isn't legal at all. So what kind of opinion could he have over the sentence? Because his behavior is in complete compliance with the country's freedom of speech laws, his sentencing was not legal. Therefore, he refused to sign on the sentence document. He also expressed that he would not appeal—a decision he had already determined."
Police Beat Yang with Electric Batons On Site
After the hearing, Chunping said her brother was quickly taken downstairs. His family members wished to say a few words to him, urging him to reconsider an appeal. But court police prevented any contact with his family by shocking and beating Yang with electric batons. Yang was hurt so badly that he used his hands to cover his abdomen.
"Although my brother didn't sign the sentence document after the hearing, the court forced my sister to sign a copy for relatives. We don't know whether this will have any legal effect." The court was contacted following the hearing, but no one answered the phone.
With no signature, was Yang's sentence still valid? Attorney Li Fangping said that since the court had an open hearing, ruling that Yang's sentence was still effective, signed or not.
If Yang chooses to appeal, Li said he will still continue to represent him. Since Yang has openly expressed that he would not appeal, this case looks to be over.
Yang Chunlin is a 53-year-old worker who lost his job. He also is a free lance writer under the pen name "Wei Hongren." At the end of 2006, Yang got involved in a case in which farmers lost their farm lands in Fujin, Heilong Jiang Province. He visited the farmers one family at a time and collected over 10,000 signatures on an appeal letter titled, "We want human rights, not Olympics." On July 6, Yang was arrested by the National Security Bureau in Jiamusi. On August 13, he was formally arrested for instigating the destabilization of the regime.