Drew Pavlou, an anti-Chinese Communist Party (CCP) activist and former Senate candidate, was allegedly ordered by Australian Federal Police (AFP) to leave Parliament House in Canberra or risk facing arrest.
Pavlou, who is famous for his criticism of the CCP's human rights atrocities and Chinese leader Xi Jinping, was due to meet Liberal Senator James Paterson, a former chair of parliament's intelligence committee, and Labor MP Peter Khalil, the committee's current chair on Nov. 23 to discuss him facing harassment and intimidation directed by pro-Beijing activists. He also talked to the Uyghur activists protesting on the lawn in front of the Parliament House.
"An Australian federal police team interrupted me while I was quietly having lunch at Parliament House and directed me to leave parliament or face trespass charges as a 'high-risk individual,'" Pavlou said in a Twitter post. "I was just having lunch after meeting with MPs and Senators about the CCP."
A video Pavlou posted on social media appears to corroborate his claim.
In the video, two AFP officers approached Pavlou and asked him to leave the premise, a publicly accessible part of the building, saying he is an "active protestor" and "higher ups" wanted him to leave "right now."
"We don't allow active protesters in the House," one officer was heard saying in the video.
Pavlou replied that he would not protest because he had been invited to meet MPs.
I recorded the moment an Australian Federal Police team ordered me to leave Parliament House or risk being arrested for trespass. They ordered me to leave because "higher ups" seemed me "high risk" due to my past protests against the Chinese government pic.twitter.com/gGPEEuUfjp

— Drew Pavlou (@DrewPavlou) November 23, 2022
Pavlou agreed to leave in the end but said he was shocked by the AFP's request.
"Some people think I'm a troublemaker … But this was a day where I was literally not seeking out any trouble whatsoever. I was not there to protest. I was trying to keep a low profile," he told Sydney Morning Herald.
"I'm someone who's testified before parliament before. I've been to parliament multiple times. I've met dozens of MPs and never [had] any problems so it's just bizarre."
The 23-year-old activist is known for his support of pro-democracy Hong Kong students at the University of Queensland and for appealing for Peng Shuai at the Wimbledon tennis final in July.
He was arrested in London in the same month over a fake bomb threat framed by the Chinese embassy in London.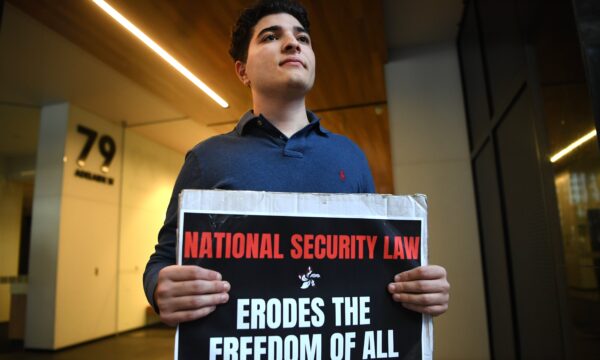 Paterson, who is the shadow minister for countering foreign interference, said he is concerned with Pavlou being asked to leave by AFP.
"Australian citizens who protest frequently visit Parliament House for meetings, including union officials and environmental activists, without being asked to leave by the AFP," he said.
"I am concerned that Mr Pavlou's lawful activism is being cited as a reason why he was not permitted in areas of Parliament House open to the public, particularly as he had bipartisan meetings in the secure area of the building without incident."
Khalil, who appeared on the Australia Broadcasting Corporation (ABC) shortly after the incident, said he hadn't met with Pavlou yet, and that it's a matter for the presiding officers to determine.
"I think it's with them at the moment, the Speaker and the President, who have control of the security or preside over the security of the House and the Parliament and the Senate," he said.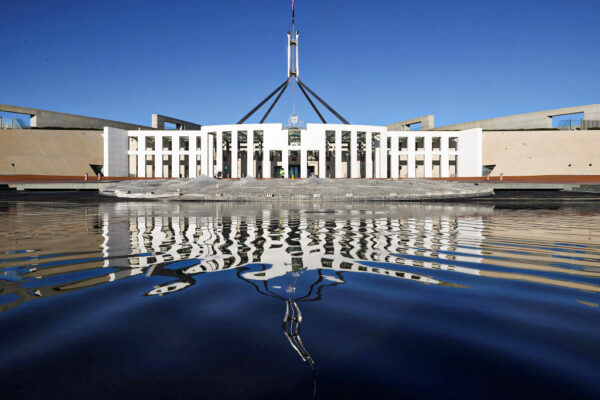 Parliamentary Speaker Milton Dick, a presiding officer with responsibility for control and management of Parliament House, told ABC that the directive to remove Pavlou did not come from his office and was a matter of the AFP.
The AFP declined to explain why its officers asked Pavlou to leave.
"The AFP can confirm that they engaged a male at Parliament House today who then departed the building voluntarily," an AFP spokesperson said in a statement to The Epoch Times. "No arrests were made as a result of this incident. No further comment will be made on this matter."
The AFP further made an update on the incident one day later.
"The AFP asked an individual to leave Australian Parliament House (APH) after a direction was issued by the AFP security controller at APH," reads a statement on Nov. 24. "The individual referred to was not banned from APH yesterday, and was told yesterday he could return closer to his appointment at APH."
"The AFP has engaged today with the individual, who was clear about his intentions at APH (Australian Parliament House) and gave an undertaking about his conduct while at APH.
"The job of the AFP is to ensure the safety and security of APH."