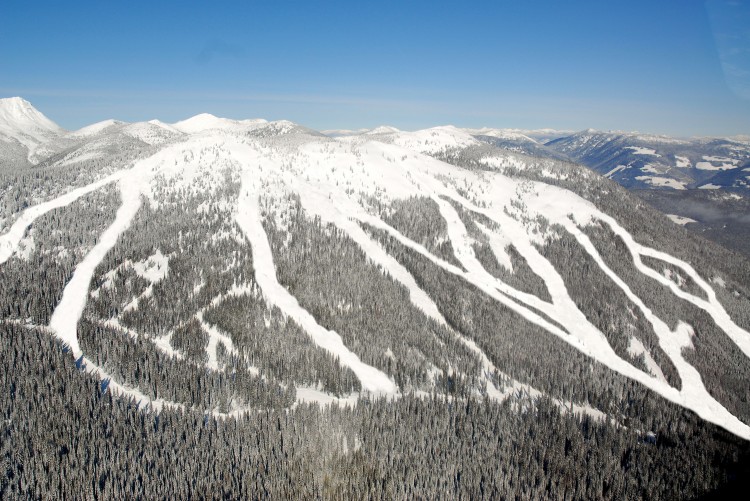 Rossland, B.C., hometown of Olympic alpine ski champion Nancy Greene, is in the midst of what is said to be one of the largest single-season ski area expansion projects in North America in recent decades.
Red Mountain Resort has begun ambitious plans to add nearly 1,000 acres—and an entire mountain—to its existing operation of 1,685 acres.
The expansion to include Grey Mountain will make the resort larger than the famed Jackson Hole Mountain Resort in Wyoming and about the same size as the Mt. Baker Ski Area in Washington State.
"The scale of this expansion is a true game-changer for Red Mountain Resort and for the community of Rossland," Howard Katkov, president and CEO of Red Mountain Resort, said in a news release.
"The management team has spent the last eight years carefully reinforcing the company's infrastructure, investing $50 million in the facilities, and completing world-class slope-side accommodations. Now we're truly ready for prime-time."
The expansion will open up numerous intermediate runs and offer what Red Mountain calls "3-D skiing."
"Grey, like Granite (Red's other peak), is volcano-shaped, which allows for 360-degree skiing around the peak from a single lift, a topographical feature few resorts in the world are lucky to have," Katkov noted.
At the completion of the two-year expansion, Grey Mountain will have 22 ski runs, "leaving plenty of trees and terrain variations for riders to express themselves on," according to the release.
'Whole New World for Red Skiers'
Rossland is one of North America's oldest ski hills, located just north of the U.S.-Canada border in the former southeastern B.C. gold mining town that dates back to 1897.
Skiing was first introduced to Rossland by Scandinavians who came to work in the mines, and the first Canadian downhill ski championships were held here in 1897, as documented by the Rossland Historical Museum.
Greene grew up in Rossland and did her early skiing, starting at age of 3, on Red Mountain.
"[Grey Mountain] adds wide terrain variety—from groomed cruising runs to tree glades and alpine chutes—that will create a whole new world for Red skiers," said Chris Cushing, principal at Snow Engineering (SE) Group.
SE is experienced in ski area design and resort planning with a focus on preserving and enhancing the natural environment, including at fragile sites.
"This project is one of the most dramatic transformations of an existing major ski area that we've seen and it is one of the largest—if not THE largest—single-season ski area expansion projects in North America in several decades," Cushing said.
Last year, the New York Times rated Red Mountain as one of the top three ski resorts in North America for advanced skiers.
The Epoch Times publishes in 35 countries and in 19 languages. Subscribe to our e-newsletter.