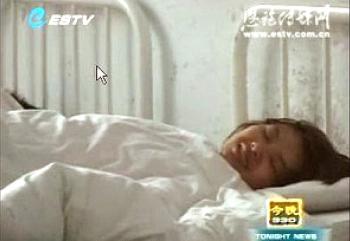 A legal case in Hubei Province of a karaoke bar waitress charged with stabbing to death a Chinese Communist Party (CCP) official believed to be sexually assaulting her has posed an unprecedented challenge for the Chinese authorities amidst public demands for justice.
Sympathy for the waitress has grown nationwide as the state has issued conflicting accounts of what happened and, according to bloggers, tried to rig a cover up. The public's anger draws upon outrage not only at the CCP;s pervasive corruption, but in particular at a growing number of rapes of young women by Party officials.
In response to the growing public outcry, China's state authorities decided 11 days after the incident to rein in the media's coverage of the case, referred to as "May 10" by Hubei's Public Security office.
According to a Radio Free Asia report, a reporter in China said that a memo issued last Friday afternoon (China time) by Hubei's Propaganda Department complained about the media hype around the case and told the province's media "not to send people to interview, hype, or report."
China's State Council Information Office issued a similar notice the same afternoon to all of the country's news Web sites demanding their "cooling off" about the case.
Changing Stories
Public support for the waitress gained momentum largely as a reaction against the changing official accounts of what happened. Many believe that the CCP is keeping away from them a story of serious sexual assault committed by its members.
On May 10, three officials of the town Yesanguan in the Badong county, Hubei province, went into a karaoke-spa shop after supper. According to a May 12 statement released by Badong's public security office, the three men, named Deng Guida, Deng Zhongjia and Huang Dezhi, got into a row with a 21-year-old waitress named Deng Yujiao because of a "language barrier."

In the process, the statement says, the waitress took a table knife and stabbed the official Deng Guida in four places, including his neck and chest. The latter died before reaching the hospital while another official Wang Dezhi was wounded on his arm.
Another statement released the following day says that Wang approached the waitress with a request for "special service," which is understood to be sexual service. When the waitress refused, Deng held her down on a sofa. In her second attempt to get up, she attacked Deng with a knife.
Among the many changes made via another statement, released on May 18, the "special service" requested was replaced by "bathing service" (a young woman giving a man a bath). Two attendants at the karaoke-spa were said to be trying to stop the quarrel. The waitress was described as being followed by Deng Guida into another room where she was struck at her head and shoulders by Deng Guida with a stack of money. She then was "pushed to sit on a sofa," instead of being "held down on a sofa."
Deng Yujiao is currently detained at a mental hospital for evaluation on the grounds that she has a history of depression. In a local TV program on May 16, the waitress was seen to be tied to a bed in a hospital painfully crying, "Dad, Dad, they beat me … Dad …"
CCP Rapists
If Deng Yujiao was in fact sexually assaulted on May 10, as she reportedly told her two lawyers, her case may appear to be just an addition to the long list of recently uncovered rapes committed by CCP officials.
The more infamous cases include the raping of about a dozen high school students by four public officials and one teacher in Xishui county of Guizhou province between October 2007 and July 2008. The case has just been advanced to the level of Intermediate People's Court this month.
During last October and November, Chi Quansheng, former Vice-Director of the Weather Bureau of Linhai City in Zhejiang Province, and Wang Zongxing , the city's former Deputy to the People's Congress, each raped a different 13-year-old school student.
Last December, Lu Yumin, Director of a county's taxation department in Sichuan, had sex with 13-year-old student after paying a go-between RMB 6,000 (c. $880).
In February, at least 10 high-school students of 13-16 years old in Lishui County of Zhejiang province were raped by a group of adults including some public officials. Some of the students have contracted sexual diseases while some became pregnant and had abortions that may have rendered them sterile.
Last month, in Zhejiang's Yixing County a head officer of the City Administration and Law Enforcement Bureau named Jiang Jianwei was accused of raping a 19-year-old girl.
The far-spreading news about these cases has fuelled public resentment toward the CCP not least because many of the rapists either were not charged with rape or were given very light penalties. The Guizhou officials, for instance, were charged with "visiting a young prostitute." The taxation department director in Sichuan was only fined RMB 5,000 (c. $732) and detained 15 days on the ground that he was not informed about the girl's age. Jiang Jianwei's case in Zhejiang was simply dismissed.
Cover Up
"What are the Hubei officials trying to cover up in the 'May 10′ case?" China's bloggers ask. At 12:30 p.m. on May 21, according to a Southern Metropolis Daily report, Deng Yujiao's two volunteer lawyers, emerging from their first meeting with their client, made the remark "utterly heartless" in front of the media and then, to the reporters' great surprise, started sobbing. Since then, people have been wondering what moved the two lawyers so deeply.
The lawyers were also quoted saying that Deng Yujiao told them she was sexually assaulted by official Wang Dezhi and that the evidence could be found on her bra and underwear.
Later that afternoon, according to a May 23 report by Guangzhou Daily, a group of Badong police accompanied Deng Yujiao's mother to her apartment for the purpose of "collecting evidence." By night, the report says, all of the waitress's underwear had been washed by the mother. It was not until the following day that the police took away the "evidence."
Deng Yujiao's lawyer Xia Lin, says the report, claimed that Deng Yujiao's underwear had been kept intact at her mother's apartment for 11 days and that he was amazed at their being washed all of a sudden.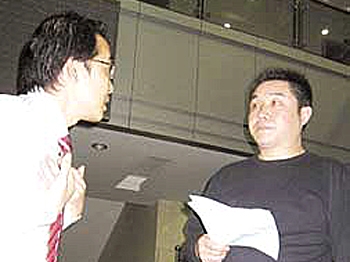 On the morning of May 23, an unexpected press statement from Badong's Government Information Office announced that Deng Yujiao's mother Zhang Shumei had terminated her contract with the two lawyers. Zhang initially denied the news but subsequently confirmed it to be true.
The incident, according to a May 24 Southern Metropolis Daily report, made Deng Yujiao's two lawyers believe that Deng Yujiao's parents were already "being controlled."
In the evening of Monday, May 25, in presence of many reporters, Deng Yujiao's two lawyers officially submitted to Badong's public security office a document "Defendant Huang Dezhi is Suspected of Rape" while claiming that since they had not formally signed termination papers with Deng Yujiao's parents, Deng Yujiao was still their client. They also claimed Deng Yujiao does not have any mental problems.
One hour 20 minutes later, the report says, the Badong public security office announced the names of the two lawyers with whom Deng Yujiao's mother was said to have signed a contract for defending her daughter.
Fighting Back
The key legal issue in the "May 10" case is that if the waitress was indeed sexually assaulted, her stabbing the official, the offender, was an act of self-defense. Under such circumstances, as most Chinese bloggers understand what China's Criminal Law says, even if the action leads to the death of the offender, it should not bring upon the defender any criminal responsibility.
But so far the public security office's handling of the case has caused the bloggers to speculate that the Chinese authorities will not honor the rule of law. Behind their outpouring of sympathy for Deng Yujiao is a deep sense of resentment for the Chinese communist regime.
Many postings about "May 10" are satirical about the CCP and mock the dead official, Deng Guida, as a "model party member" who "died in glory." Many speak of Deng Yujiao as the "female Yang Jia," referencing the young man who killed six Shanghai police last July in revenge for the maltreatment that he had received in a mistaken arrest, which had permanently ruined his genitalia. Just as Yang Jia was called a hero, they call Deng Yujiao a "heroine."
If Deng Yujiao's lawyers, whoever they may be, succeed in proving that she was raped or sexually assaulted on May 10, her case will pose an unprecedented challenge to the CCP. Doing justice to the waitress, symbolically, amounts to endorsing the people's attempts to fight back in the face of the CCP's widespread abuses.
This is, many believe, the CCP's real concern behind "May 10."