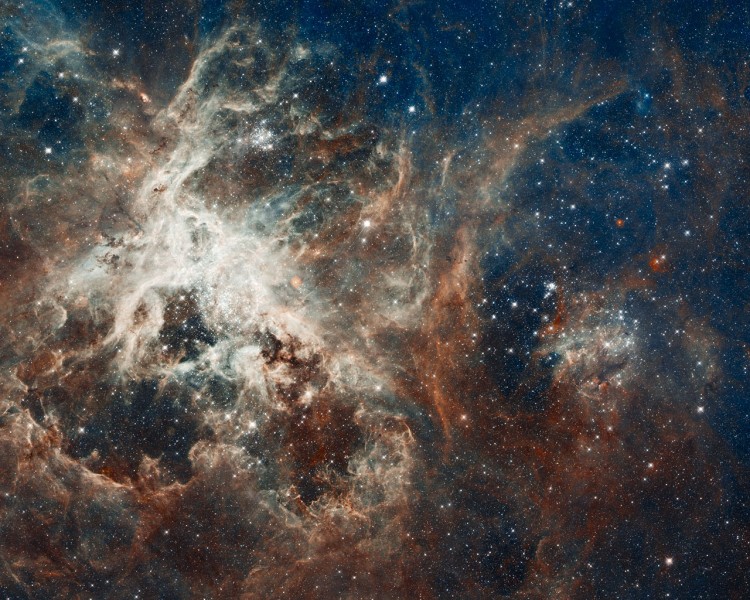 This mosaic image of the bright starforming region, 30 Doradus, has been released to celebrate the 22nd anniversary of the NASA/ESA Hubble Space Telescope (HST).
Situated in the Large Magellanic Cloud, 170,000 light-years away, the nebula contains some massive stars with a combined mass millions of times larger than our sun. The picture spans a width of about 650 light-years and includes one of the fastest rotating stars as well as the most massive and fastest runaway star.
Hubble's Advanced Camera for Surveys and Wide Field Camera 3 each captured 15 separate fields to create this composite, overlaid with data from the European Southern Observatory's MPG/ESO 2.2-metre telescope to locate glowing gases with hydrogen in red and oxygen in blue.
Stellar evolution at all stages is occurring here; from infants only a few thousand years old, inside wreaths of dust and gas, to stars aged around 25 million years old.
At the center lies NGC 2070, a large 2 to 3 million-year-old star cluster that contains about half a million stars, including some young behemoths. Their powerful ultraviolet radiation has created gaps in the hydrogen gas cloud, forming ridges, valleys, and pillars.
As their intense light meets with the gas, it also produces shock waves that may create a new generation of stars.