VANCOUVER—Future court dates for Huawei executive Meng Wanzhou were set in a Vancouver court today, and the judge also allowed her to move to one of her homes in a more upscale area.
Meng has been out on bail for five months after being arrested in Vancouver in December 2018. Her bail conditions include living in Vancouver while wearing an electronic GPS tracking device and being monitored by private security.
On May 8 at the British Columbia Supreme Court, a judge signed a bail variance order allowing Meng to move from her home in Dunbar, Vancouver, to her $15 million home in Shaughnessy. This house, Meng's second in Vancouver, is gated and larger, and her defense argued that it would "enhance security."
As well, the judge allowed a surety substitution, as one of Meng's sureties who had put up their house as part of her bail has to sell their home.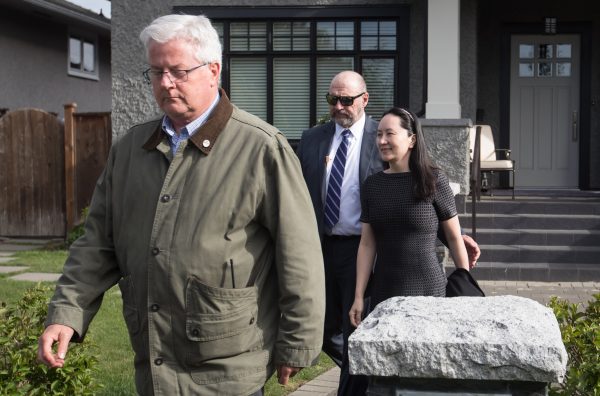 The court also set the dates for disclosure applications for Meng's case: Sept. 23–25 and Sept. 30–Oct. 4. Justice Heather J. Holmes said she was not keen to defer applications for too long, as the court has an obligation to "move expeditiously," but the defense had made a strong case for needing more time.
Disclosure is a copy of facts and evidence that the Crown and police have gathered for prosecution that is given to the accused, as it is a constitutional right to know what evidence will be used. Further applications may be brought up before Meng's extradition hearing date is set.
Meng was arrested at the request of U.S. authorities, who want her extradited to the United States to face charges of fraud. They allege that Huawei attempted to circumvent U.S. sanctions against Iran in their business dealings with U.S. banks, with Meng herself directly accused of having made misrepresentative comments to the banks. Both Huawei and Meng deny the allegations.
Meng's defense team raised a number of what they called "substantive issues" regarding her case:
Her detention by Canadian Border Services Agency and RCMP at the Vancouver International Airport for three hours without being told why was an abuse of process. The defense is still pursuing access to information requests;
The so-called politicization of her case by the United States and President Donald Trump;
The "absence of double criminality," as there are differences in what constitutes fraud in the United States versus in Canada. Canada doesn't have sanctions against Iran, so according to Canadian law, Meng's remarks to U.S. banks may not necessarily contravene Canadian laws.
Meng's defense lawyer says they will argue that she didn't misrepresent Huawei's business activities in Iran with the banks.
According to the Canadian Department of Justice, a person can be extradited from Canada only if the alleged criminal conduct in question, for which the extradition is requested, is recognized as criminal by both countries.
Meng's arrest was the catalyst for tensions between Canada and the Chinese regime, who detained two Canadians, Michael Kovrig and Michael Spavor, in China shortly after Meng's arrest. In the following months, Beijing created obstacles for Canadian companies that trade with China, revoking the licenses of two major Canadian canola exporters and reportedly lengthening the processing times of others, though their actions were never officially tied to Meng's case.
In response, Canada has maintained it is following the rule of law in Meng's case, as set out by its extradition treaty with the United States. Ottawa has said it is looking into resolving the trade issues.
Extradition Process So Far
There are three steps to the extradition process in Canada, according to the Canadian Justice Department.
The first step, the Authority to Proceed, was granted on March 1 by the Justice Department after having received the formal extradition request from the United States at the end of January.
The second step is the judicial phase, including the actual extradition hearing itself. This step, which is where Meng's case is right now, includes the actual extradition hearing itself.
The third step would be the ministerial phase. This is the formal decision to surrender Meng to the United States, which under the Extradition Act must be made by the Minister of Justice, currently David Lametti.